5 Apps To Chat Offline In 2020:Internet Shutdown
Do you also wish to chat offline in 2020?
With increasing Internet penetration with more people using messaging apps like WhatsApp, as an essential part of their day to day work, it's hard to communicate in the case of Internet shutdown.
Not just that, a recent report suggests that the Internet shutdowns have cost around ₹21,000 crores to our entire nation.
So we recently witnessed a similar situation over the past couple of days when we actually faced frequent Internet shutdowns in several parts of the country to curb the spread of information during the mass protests against CAA and NRC.
This has prompted some people to switch to platforms that do not need an Internet connection in order to work. If you are living in such an area where the Internet connection is down, here are some apps that you can try using.
Chat Offline With FireChat: Apart from its regular chats that use the Internet, FireChat also lets its users communicate with nearby devices without the Internet. This app uses your phone's Wi-Fi and Bluetooth network to communicate with other devices. The app also lets people use the standard Internet connectivity to participate in a running conversation with FireChat users anywhere in the world. The app uses your device Bluetooth to connect to nearby phones that also have the app installed. The company defines it as "crowdsourcing the connectivity of those around you."The innovative  "Serval Mesh" software works by using the phone's Wi-Fi and Bluetooth to communicate with other phones. You also have an 'Everyone' mode, from where you can actually see what all the people are talking about. It allows one to make private phone calls, send secure text messages even when cellular networks fail or are unavailable.
Bridgefy
This is another very useful app to chat offline that can help you in some situations when you don't have cellular networks. This app gives you three ways to chat offline, a user can chat one-on-one, use your phone's Wi-Fi to chat with multiple people and a broadcast mode. This is just another app that also works offline and can be used when you're at a music event, natural disaster or even travelling abroad, and you don't want to pay for the roaming charges. This app caters to three of the ways to chat offline for the user. You can chat one-to-one, using the mesh mode, you can connect with multiple people (by creating a Wi-Fi signal) and third is the broadcast model, which allows anybody in your vicinity to see messages, even if they are not on your contact list.
Signal Offline
It is a Wi-Fi direct based app that you can use to communicate with and also to chat offline with others, with the Signal Offline users can either choose to chat one-to-one or chat in a group. However, do keep in mind that the app is just not developed by Signal Foundation which made the original Signal app.
With this app, one can communicate without the internet or local network in a range of up to approximately 100 metres. You can chat with one person or a group using this app. The company says that all the chats done via the app are secured.
"Users can share the audio, text, photo and also video messages to nearby users over Wi-Fi Direct".
But it's worth informing that this app is not the same as the main Signal app (made by Signal Foundation). Do you know that this offline Signal app has been developed by a Bengaluru-based firm called Khokho Developer?
Briar
To keep your conversation going, this app uses your phone's Bluetooth and Wi-Fi networks. As per the developer, when the Internet is up, this app can sync via the Tor network to protect user's privacy.
Vojer
Vojer lets you make very high-quality voice calls even when there's no cellular network in your area. Developers of this app used to say that their app does not need phone book permissions and can still work if it can access the Wi-Fi, Bluetooth, Microphone and camera.
Download any one of these apps so that you don't face problems in communication to people nearby, next time when the Internet is shut down in your area.
Read More: Delhi To Get Free Wifi Hotspots
Controversy Around The Tanishq Ad
The new Tanishq Ad film 'Akavatam', which quite tastefully and delicately portrayed an inter-faith couple who are entering another new phase of life has been taken down after the social media bombarded it with hate comments and threats of inflicting violence. One of the Tanishq stores in Gujrat's Gandhidham was threatened by the fringe group and the store manager was forced to write a note of apology for broadcasting an advertisement based around the theme of inter-faith marriage.  As observed by many, the problem is not the content that was being presented but the theme itself. The Right-wing supports found it offensive that ad film promoted love jihad by showing a Hindu girl who was married to a Muslim family.
The Issue With Freedom Of Speech In India
The banning of such books, films, shows, and plays is not new in India. Books like Satanic Verses by Salman Rushdie had been banned during the time when Rajiv Gandhi was in the office. The excuse that was dished out was to protect the citizens from inflicting violence on each other. But in doing so, India is barring the citizens to express themselves freely and utilizing their fundamental right of free speech. As long as the book or a movie follows the rulebook of the government, banning is not imposed. Thus, the entire idea behind freedom of speech and expression collapses.
Western Governments on the other hand has come to terms with the fact that the simplest issues will create a rupture among the mass. The world is filled with bigots and will remain so and no banning of books or movies or ad films will bring them ultimate satisfaction. Western Governments, thus, decided to protect free speech and free expression knowing that certain sectors will resort to violence.
The Effect Of  The Online Hate Campaign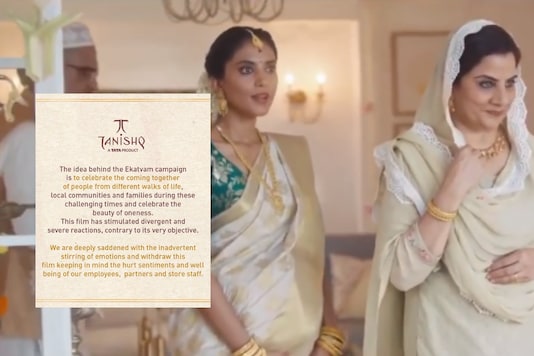 The Tata group also decided to pull down the ad film in the face of dissent and after they saw that people are trying to boycott the brand. The Spokesman of Tata group released a statement after pulling down the ad film, "The idea behind the Ekavatam campaign is to celebrate the coming together of people from different walks of life, local communities and families during these challenging times and celebrate the beauty of oneness. This film has stimulated divergent and severe reactions, contrary to its very objective. We are deeply saddened with the inadvertent stirring of emotions and withdraw this film keeping in mind the hurt sentiments and well-being of our employees, partners, and store staff." They clarified that the only reason they have decided to take down the ad film is to safeguard the interests of their employees who have been assaulted.
Celebrities Reaction
Indian actor Kangana Ranaut, who usually speaks in favor of the right-wing Supports claimed that it glorifies the concept of "Love Jihad and sexism" and vehemently emphasized the point that: civilization needs to be protected. Whereas, Actors like Richa Chadha and Divya Dutta said that they found the ad film to be quite unique and beautiful.