5 Facts About Corona Virus
It's highly unlikely that you don't already know a lot about coronavirus, the global pandemic currently rolling across the globe, killing thousands and infecting hundreds of thousands, including world leaders and movie stars. In fact, we'd bet an hour doesn't go by that you don't hear about some new Corona Virus information. But while you've no doubt read plenty of alarming headlines about the novel virus known as COVID-19, you may have missed some of the fine print. We consulted scientific research and medical professionals to gather the facts about Corona Virus you likely haven't heard.
1.COVID-19 can live on surfaces for up to three days.
Sure, you know that you don't want to grab the seat at the coffee shop next to someone who's coughing away, but have you stopped to think about who was sitting at your table before you… even as long as three days ago? The truth is, coronavirus can live on surfaces long after an infected person has left. A new study from the National Institutes of Health, which has not yet been peer-reviewed, found that coronavirus can live on plastic and stainless steel for as long as three days.
2. It poses a greater risk to people with obesity.
While it's well known that the elderly and those with compromised respiratory systems are at a greater risk of contracting and dying from corona virus, less discussed is the fact that obesity and diabetes can also make people more susceptible.
"Patients with diabetes are more susceptible to severe complications from viral infections of any kind, and as a result, are considered a high-risk population for COVID-19," says Rocio Salas-Whalen, MD, of New York Endocrinology. "Due to the pathophysiology of diabetes, patients can take longer to heal, putting them at risk for developing complications from the virus. This is true with any type of infection in diabetes."
Salas-Walen also points to research that has found that excess weight changes the efficacy of the flu shot. Considering that more than two-thirds of Americans are overweight, that could have important repercussions as coronavirus spreads in the States.
3. It won't diminish in warm temperatures
Since most associate the regular flu season with the colder months of the year, many assume that COVID-19 will taper off as temperatures rise. But Salas-Whalen emphasizes that it's not as simple as that.
"Unfortunately, the virology of COVID-19 does not diminish in warm temperatures," she says. "Although the corona virus may have a seasonal cycle, it is not reasonable to expect a huge decline in transmission due to warmer weather alone. We see the largest decrease in infections when people refrain from being in locations with poor ventilation and/or large crowds."
4. Coronavirus has cousins.
According to an article from the Coronavirus Study Group (CSG) of the International Committee on Taxonomy of Viruses, which has not yet been peer-reviewed, COVID-19 is a variant of the coronavirus that caused the outbreak of severe acute respiratory syndrome (SARS) in 2002-2003. As a result, its official name is: severe acute respiratory syndrome-related coronavirus 2, or SARS-CoV-2. It's also a relative of the coronavirus Middle East respiratory syndrome, also known as MERS, which surfaced in the Middle East beginning in 2012.
5.COVID-19 refers to the disease that the virus causes, not the virus itself.
The World Health Organization (WHO) realized that calling the novel virus SARS-CoV-2 might lead to some confusion and anxiety. As Tedros Adhanom Ghebreyesus, head of WHO, put it in February: "From a risk communications perspective, using the name SARS can have unintended consequences in terms of creating unnecessary fear for some populations, especially in Asia, which was worst affected by the SARS outbreak in 2003."
For that reason, WHO opted to refer to it by the name of the disease it results in—COVID-19—rather than by the name of the virus itself.
Read More:Salman Khan Has Pledged To Support To Financially Support Workers
Government Answer On Migrant Crisis
With the starting of the Monsoon session as the parliamentary activities are finally moving, members are all set with their questions for the ruling party. Trinamool Congress MP Mala Roy has questioned Home Ministry about steps taken for the protection of Migrant crisis. Due to the imposition of stringent lockdown in wake of Co-Vid19 labors faced the most of heat. Lack of employment, lack of funds to survive and no transportation to move have contributed to their woes. Mala Roy asked in her question that what actions the Government took to protect them.
Centre says, "No data of migrants"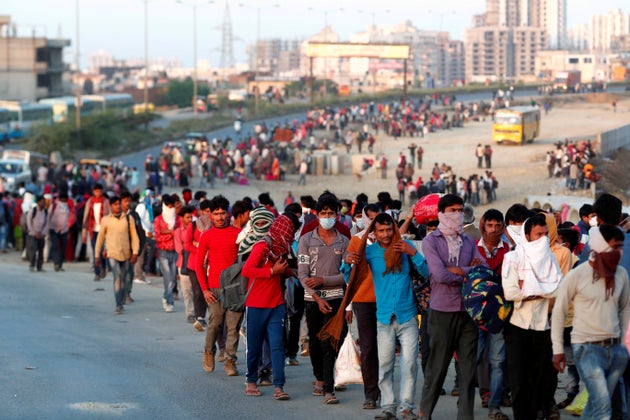 Centre informed in Parliament there is no such data available. Replying to Mala Roy's question and several such questions Ministry of Labour and Employment said that there is no recorded data about the death of Migrants available. A report by World Bank states that due to April's lockdown in the nation about 40 million internal migrants have been hit by employment crisis. Furthermore, to the question, whether any steps are taken for the protection of migrants or any compensation was given? Centre answered that since there is no data no question of compensation. No recorded data of the unemployment due to Covid is found.
Steps taken by the center
One after other shocker is received as Centre has no data of Migrants. Fruit sellers, hawkers, daily wage workers and unskilled labours working in factories are worst hit. The government said that as a country India responded by the local bodies, state governments, NGOs and many others. Government has started special Shramik trains for the labourers. Many facilities are made to help them survive. As the distribution of Cereals, Pulses, Sugar, vegetable spices and water for free.
In some places, cooked food is also distributed for free. Labour Ministry chief said that 1164 trains have operated to help migrants reach their homes. Almost 10.4 million labours have returned. Most of the labours or migrants who have been successfully dropped to their homes are in states of Uttar Pradesh and Rajasthan. On questions of deaths of migrants while on their way to home or even in trains center replies as- non-availability of data.
Data from states are found that almost 63.7 lakh stranded labours are returned to home by Shramik special train. Other migrants who set their journey on foot or by hitch-hiking is still not found. In trains 110 deaths are found to report. The reasons are many some because if illness, some due to accidents, lack of food and non-availability of water. In June the Chief of Labour Commission is ordered to meticulously record data of migrants from various sources under the orders by Central Information Commission. In many states and union territories the advisory guidelines are invoked. Orders are been given to maintain updated labour laws.
The state of labours and migrants is still bad. There seems to be no significant improvement. Due to the labour employment crisis financial wellbeing of country has also taken a hit. In upcoming sessions, the labour crisis and government's actions on it will de looked into with even more depth.