5 Facts About Corona Virus
It's highly unlikely that you don't already know a lot about coronavirus, the global pandemic currently rolling across the globe, killing thousands and infecting hundreds of thousands, including world leaders and movie stars. In fact, we'd bet an hour doesn't go by that you don't hear about some new Corona Virus information. But while you've no doubt read plenty of alarming headlines about the novel virus known as COVID-19, you may have missed some of the fine print. We consulted scientific research and medical professionals to gather the facts about Corona Virus you likely haven't heard.
1.COVID-19 can live on surfaces for up to three days.
Sure, you know that you don't want to grab the seat at the coffee shop next to someone who's coughing away, but have you stopped to think about who was sitting at your table before you… even as long as three days ago? The truth is, coronavirus can live on surfaces long after an infected person has left. A new study from the National Institutes of Health, which has not yet been peer-reviewed, found that coronavirus can live on plastic and stainless steel for as long as three days.
2. It poses a greater risk to people with obesity.
While it's well known that the elderly and those with compromised respiratory systems are at a greater risk of contracting and dying from corona virus, less discussed is the fact that obesity and diabetes can also make people more susceptible.
"Patients with diabetes are more susceptible to severe complications from viral infections of any kind, and as a result, are considered a high-risk population for COVID-19," says Rocio Salas-Whalen, MD, of New York Endocrinology. "Due to the pathophysiology of diabetes, patients can take longer to heal, putting them at risk for developing complications from the virus. This is true with any type of infection in diabetes."
Salas-Walen also points to research that has found that excess weight changes the efficacy of the flu shot. Considering that more than two-thirds of Americans are overweight, that could have important repercussions as coronavirus spreads in the States.
3. It won't diminish in warm temperatures
Since most associate the regular flu season with the colder months of the year, many assume that COVID-19 will taper off as temperatures rise. But Salas-Whalen emphasizes that it's not as simple as that.
"Unfortunately, the virology of COVID-19 does not diminish in warm temperatures," she says. "Although the corona virus may have a seasonal cycle, it is not reasonable to expect a huge decline in transmission due to warmer weather alone. We see the largest decrease in infections when people refrain from being in locations with poor ventilation and/or large crowds."
4. Coronavirus has cousins.
According to an article from the Coronavirus Study Group (CSG) of the International Committee on Taxonomy of Viruses, which has not yet been peer-reviewed, COVID-19 is a variant of the coronavirus that caused the outbreak of severe acute respiratory syndrome (SARS) in 2002-2003. As a result, its official name is: severe acute respiratory syndrome-related coronavirus 2, or SARS-CoV-2. It's also a relative of the coronavirus Middle East respiratory syndrome, also known as MERS, which surfaced in the Middle East beginning in 2012.
5.COVID-19 refers to the disease that the virus causes, not the virus itself.
The World Health Organization (WHO) realized that calling the novel virus SARS-CoV-2 might lead to some confusion and anxiety. As Tedros Adhanom Ghebreyesus, head of WHO, put it in February: "From a risk communications perspective, using the name SARS can have unintended consequences in terms of creating unnecessary fear for some populations, especially in Asia, which was worst affected by the SARS outbreak in 2003."
For that reason, WHO opted to refer to it by the name of the disease it results in—COVID-19—rather than by the name of the virus itself.
Read More:Salman Khan Has Pledged To Support To Financially Support Workers
Controversy Around The Tanishq Ad
The new Tanishq Ad film 'Akavatam', which quite tastefully and delicately portrayed an inter-faith couple who are entering another new phase of life has been taken down after the social media bombarded it with hate comments and threats of inflicting violence. One of the Tanishq stores in Gujrat's Gandhidham was threatened by the fringe group and the store manager was forced to write a note of apology for broadcasting an advertisement based around the theme of inter-faith marriage.  As observed by many, the problem is not the content that was being presented but the theme itself. The Right-wing supports found it offensive that ad film promoted love jihad by showing a Hindu girl who was married to a Muslim family.
The Issue With Freedom Of Speech In India
The banning of such books, films, shows, and plays is not new in India. Books like Satanic Verses by Salman Rushdie had been banned during the time when Rajiv Gandhi was in the office. The excuse that was dished out was to protect the citizens from inflicting violence on each other. But in doing so, India is barring the citizens to express themselves freely and utilizing their fundamental right of free speech. As long as the book or a movie follows the rulebook of the government, banning is not imposed. Thus, the entire idea behind freedom of speech and expression collapses.
Western Governments on the other hand has come to terms with the fact that the simplest issues will create a rupture among the mass. The world is filled with bigots and will remain so and no banning of books or movies or ad films will bring them ultimate satisfaction. Western Governments, thus, decided to protect free speech and free expression knowing that certain sectors will resort to violence.
The Effect Of  The Online Hate Campaign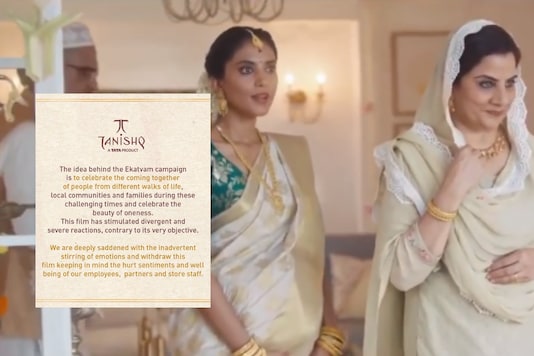 The Tata group also decided to pull down the ad film in the face of dissent and after they saw that people are trying to boycott the brand. The Spokesman of Tata group released a statement after pulling down the ad film, "The idea behind the Ekavatam campaign is to celebrate the coming together of people from different walks of life, local communities and families during these challenging times and celebrate the beauty of oneness. This film has stimulated divergent and severe reactions, contrary to its very objective. We are deeply saddened with the inadvertent stirring of emotions and withdraw this film keeping in mind the hurt sentiments and well-being of our employees, partners, and store staff." They clarified that the only reason they have decided to take down the ad film is to safeguard the interests of their employees who have been assaulted.
Celebrities Reaction
Indian actor Kangana Ranaut, who usually speaks in favor of the right-wing Supports claimed that it glorifies the concept of "Love Jihad and sexism" and vehemently emphasized the point that: civilization needs to be protected. Whereas, Actors like Richa Chadha and Divya Dutta said that they found the ad film to be quite unique and beautiful.