Air India needs to shut down if not privatized: Aviation Minister to Parliament
In all countries, Air India pilots are very well looked after and their salaries in relation to what other air carriers are offering are really very good. As far, as resignations are concerned, Puri said that he hasn't heard of any single case where anybody has resigned.
Minister of Civil Aviation Hardeep Singh Puri told the Parliament ton Wednesday that Air India,
which has a debt burden
of over Rs 58,000 crore, would have to cease its operations if the state-run airline was not privatised.
Replying to a supplementary question in the Rajya Sabha, Puri also said that the government would also secure a fair deal for all the Air India employees. The Union minister also said that "Your airlines would have to be closed down, unless not privatised".
Hardeep Singh Puri also rejected all reports suggesting that several pilots of Air India were leaving the airline as their salaries were not being paid on time at all.
In the month of  September, a Group of Ministers (GoM), chaired by Home Minister Amit Shah and attended by Finance Minister Nirmala Sitharaman, Commerce and Railways Minister Piyush Goyal and Puri, held a meeting to discuss the modalities for the sale of Air India.
"Officials are still deliberating over some details. Once they are finalised, the government will invite the bids," Puri said. Last year, Air India failed to attract any bidders when it tried to sell a 76 per cent stake in the airline.
 In 2018-19 alone, Air India also incurred losses of around Rs 7,600 crore.
The minister said the government was now re-evaluating some of the terms and was open to selling the airline in its entirety, Reuters reported. "It is also significantly reducing its debt to make it more attractive," Puri said.
Air India has about 9,400 permanent staff and 4,200 contract workers. Puri also assured that there would be no job loss in Air India till privatisation.
"Issues which are being related to current employees, their health cover, how many would remain and what would happen, we are committed to secure a favourable deal for all employees. I would go to that extent," he said.
Read More: All about fashion, news and lifestyle
Controversy Around The Tanishq Ad
The new Tanishq Ad film 'Akavatam', which quite tastefully and delicately portrayed an inter-faith couple who are entering another new phase of life has been taken down after the social media bombarded it with hate comments and threats of inflicting violence. One of the Tanishq stores in Gujrat's Gandhidham was threatened by the fringe group and the store manager was forced to write a note of apology for broadcasting an advertisement based around the theme of inter-faith marriage.  As observed by many, the problem is not the content that was being presented but the theme itself. The Right-wing supports found it offensive that ad film promoted love jihad by showing a Hindu girl who was married to a Muslim family.
The Issue With Freedom Of Speech In India
The banning of such books, films, shows, and plays is not new in India. Books like Satanic Verses by Salman Rushdie had been banned during the time when Rajiv Gandhi was in the office. The excuse that was dished out was to protect the citizens from inflicting violence on each other. But in doing so, India is barring the citizens to express themselves freely and utilizing their fundamental right of free speech. As long as the book or a movie follows the rulebook of the government, banning is not imposed. Thus, the entire idea behind freedom of speech and expression collapses.
Western Governments on the other hand has come to terms with the fact that the simplest issues will create a rupture among the mass. The world is filled with bigots and will remain so and no banning of books or movies or ad films will bring them ultimate satisfaction. Western Governments, thus, decided to protect free speech and free expression knowing that certain sectors will resort to violence.
The Effect Of  The Online Hate Campaign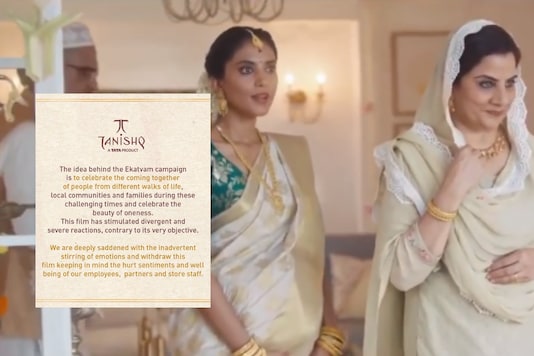 The Tata group also decided to pull down the ad film in the face of dissent and after they saw that people are trying to boycott the brand. The Spokesman of Tata group released a statement after pulling down the ad film, "The idea behind the Ekavatam campaign is to celebrate the coming together of people from different walks of life, local communities and families during these challenging times and celebrate the beauty of oneness. This film has stimulated divergent and severe reactions, contrary to its very objective. We are deeply saddened with the inadvertent stirring of emotions and withdraw this film keeping in mind the hurt sentiments and well-being of our employees, partners, and store staff." They clarified that the only reason they have decided to take down the ad film is to safeguard the interests of their employees who have been assaulted.
Celebrities Reaction
Indian actor Kangana Ranaut, who usually speaks in favor of the right-wing Supports claimed that it glorifies the concept of "Love Jihad and sexism" and vehemently emphasized the point that: civilization needs to be protected. Whereas, Actors like Richa Chadha and Divya Dutta said that they found the ad film to be quite unique and beautiful.