'Can't Stay Silent Any Longer', Anurag Kashyap Breaks onTwitter Over Violence in Jamia
Filmmaker Anurag Kashyap, who took a break from Twitter a few months ago, broke his silence over the clash between students and the police at Jamia Millia Islamia over the Citizenship Amendment Act.
Protests against the Citizenship Amendment Act 2019, that started in the  Assam and Bengal last week have now also spread to Delhi and Uttar Pradesh. Universities in the cities of Hyderabad and Mumbai also witnessed solidarity marches.
You will be surprised to know that Jamia Millia Islamia university in Delhi turned into a battlefield on Sunday as police entered the campus and also used the force, which is following this protest against the Citizenship Amendment Act, which led to the violence and arson. The situation remained extremely tense on Monday morning as well.
Expressions of solidarity from all the quarters  poured in, with many personalities associated with the film world came up speaking up on the issue and condemning the violence. 
Anurag kashyap  said "This has gone too far… can't stay silent any longer. This government is clearly fascist,and it makes me very angry to see voices that can actually make a difference stay quiet,".
He also proceeded to retweet several  of his posts on the police crackdown at the university on Sunday, as well as videos of the violence at other places like Aligarh Muslim University.
A few days back, Kashyap, who is known to be vocal about his opinions on all such matters was asked about his reaction to the Citizenship Amendment Bill. Speaking to The Quint, the filmmaker had also said, "My instant reaction to it? My instant reaction to it is why and how and it's not going to just stop. We have voted for that , we should keep getting it. We will keep getting it. I've  literally switched off, I do not endorse anything."
He also added, "Either you get into  this whole hog or just let it be. We have to go through this vicious cycle so that we can understand it can happen to any person, the consequences of something like this. Only then will we grow as a society."
Kashyap had gone off the Twitter on August 10, after his parents received the threat calls and his daughter Aaliyah was threatened with rape online.
Hollywood star John Cusack also took note of these videos from inside the campus, which have gone viral all over the social media. He first asked about the context of the protests and wrote, "Reports from Delhi are – it was a war zone last night – Fascism is not just a joke – we use this word with the understanding, it's deadly."
"On the  behalf of all the students of Jamia & AMU, request at least one of you to tweet or message Mr Modi condemning this act of police brutality and violence against students. The time has come   up to speak up guys. Yes? No? May be?" tweeted actor Sayani Gupta, tagging all the fellow actors Ranveer Singh, Ayushman Khurana, Rajkjumar Rao and director Karan Johar.
Actor Rajkummar Rao seriously condemned all this police action while appealing for peaceful protests.He said that  "I strongly condemn the violence that the police have shown in dealing with the students. In a democracy, the citizens have all the right to peacefully protest. I also condemn this kind of act of destruction of public properties. Violence is not the solution for anything!," he wrote on Twitter.
The day after all  these images and videos of police brutality at Jamia Millia Islamia, a university in Delhi, surfaced all online, noted members of the film fraternity have taken to Twitter to abolish  the way the administration handled the situation. 
Anurag had last tweeted in August 2019, where, in a goodbye note, he revealed that he was quitting the microblogging site because he wasn't allowed to speak his mind.
Aligarh Rajkummar Rao, who recently wrapped up the shoot of The White Tiger opposite Priyanka Chopra,  too condemned the violence against Jamia students, and tweeted, "I strongly condemn against the violence that the police has shown in dealing with the students. In a democracy the citizens have all the right to peacefully protest.I also condemn any kind of act of destruction of public properties. Violence is not a solution for anything!"
Read More: Delhi To Get Free Wifi Hotspots
Government Answer On Migrant Crisis
With the starting of the Monsoon session as the parliamentary activities are finally moving, members are all set with their questions for the ruling party. Trinamool Congress MP Mala Roy has questioned Home Ministry about steps taken for the protection of Migrant crisis. Due to the imposition of stringent lockdown in wake of Co-Vid19 labors faced the most of heat. Lack of employment, lack of funds to survive and no transportation to move have contributed to their woes. Mala Roy asked in her question that what actions the Government took to protect them.
Centre says, "No data of migrants"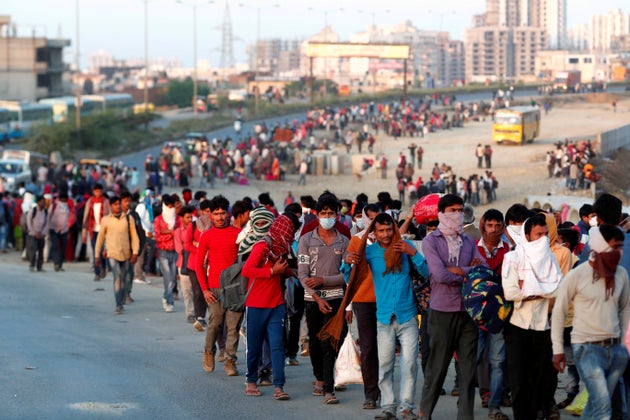 Centre informed in Parliament there is no such data available. Replying to Mala Roy's question and several such questions Ministry of Labour and Employment said that there is no recorded data about the death of Migrants available. A report by World Bank states that due to April's lockdown in the nation about 40 million internal migrants have been hit by employment crisis. Furthermore, to the question, whether any steps are taken for the protection of migrants or any compensation was given? Centre answered that since there is no data no question of compensation. No recorded data of the unemployment due to Covid is found.
Steps taken by the center
One after other shocker is received as Centre has no data of Migrants. Fruit sellers, hawkers, daily wage workers and unskilled labours working in factories are worst hit. The government said that as a country India responded by the local bodies, state governments, NGOs and many others. Government has started special Shramik trains for the labourers. Many facilities are made to help them survive. As the distribution of Cereals, Pulses, Sugar, vegetable spices and water for free.
In some places, cooked food is also distributed for free. Labour Ministry chief said that 1164 trains have operated to help migrants reach their homes. Almost 10.4 million labours have returned. Most of the labours or migrants who have been successfully dropped to their homes are in states of Uttar Pradesh and Rajasthan. On questions of deaths of migrants while on their way to home or even in trains center replies as- non-availability of data.
Data from states are found that almost 63.7 lakh stranded labours are returned to home by Shramik special train. Other migrants who set their journey on foot or by hitch-hiking is still not found. In trains 110 deaths are found to report. The reasons are many some because if illness, some due to accidents, lack of food and non-availability of water. In June the Chief of Labour Commission is ordered to meticulously record data of migrants from various sources under the orders by Central Information Commission. In many states and union territories the advisory guidelines are invoked. Orders are been given to maintain updated labour laws.
The state of labours and migrants is still bad. There seems to be no significant improvement. Due to the labour employment crisis financial wellbeing of country has also taken a hit. In upcoming sessions, the labour crisis and government's actions on it will de looked into with even more depth.