Apple Time Flies Event- All You Need To Know!
Recently held Apple Time Flies event, there were a lot of speculations around this event about how and when it's going to take place and many others. The event finally took place on September 11. This years' event was different from every other year, as the situation demands. It similarly took place as this year's World Wide developer's Conference (WWDC), all the announcements and the product launch took place through online streaming. But Apple still managed to organize a remarkable event. We are very excited to share all the details with you. So, here is your complete guide of what all products are launched, features. So, get ready to choose what best for you and add it to your 2020 gadget list.
However, we are still waiting for the new iPhones, but we got all lot of info on the new Apple smartwatches and the new iPad.
Apple series 6 watch
Apple announced a new range of smartwatches, series 6. The all-new series 6 comes with the feature which allows you to measure your blood oxygen saturation. Along with this highlight feature, series 6 also comes with these following features:
The new series 6 is powered by the s6 chip introduced by Apple. S6 is a dual-core processor based on the A13 Bionic technology used in iPhone11.
Apple claims that the screen of the Series 6 watch gets almost 2.5 times brighter outdoors for easy visibility when you are out in the bright sun.
The watch comes with an always-on Altimeter to measure the altitude. The New series comes in a wide range of colours. Newly added to the selection of colours are  Blue aluminium case ad gold stainless steel, grey stainless steel called graphite and for the first time Apple product red model.
Apple also introduced a new type of wrist bands called Solo loop. As the name suggests, it is a solo stretchable loop without any clasps. The loop is made of silicone. The loop will be available in multiple sizes to fit every size. Along with this, a braided loop option is also there available in five colours. The braided loop is completely made of recycled yarn.
The watch has numerous new options when it comes to watching faces, including a watch face that shows a Memoji.
The Apple watch series 6 is available for preorder starting at 399$.
The Apple SE
Apple also introduced a low- priced Apple watch for the first time called the Apple watch SE. The features of Apple SE are almost similar to that of Apple series 6. However, the chip used for this watch is S5, which is similar to the Series 5 model launched last year. One major difference is the missing Always-on screen. Other than these few, built-in accelerometer, gyroscope, always-on altimeter and fall detection are similar to Series 6.
The SE series can be preordered, starting at $279. However, other yet low-price model like Series 3, starting at $199 is also available.
\One of the major feature introduced by people in the new watch series is the feature of Family Setup. This feature helps you to easily track multiple watches from one iPhone. It is very useful if you have kids and elders in your family. This feature is, however, available only on series 4 and newer devices.
New iPad Air
Apple has launched a new iPad Air, which looks very similar to the Apple iPad pro. The features of this new iPad pro are mentioned below:
It comes with a bigger 10.9-inch Liquid Retina display of 2360X1640 resolution.
The touch ID button has also been moved to the top Sleep/Wake button from the front.
It contains a newly -designed 5nm A14 Bionic chip. The company says it has a 6-core CPU, a new 4-core GPU architecture, and a 16-core neural engine.
The device has a 12-megapixel rear camera with a Front-facing 7-megapixel Face time HD camera. The new iPad Air comes with improved video stabilization. Lighting port has been switched out for USB-C.
The new range is available in five colours – Sky blue, green, silver, space grey and rose gold.
The new iPad will be available at price starting at $599. The company said this model will be available from next month.
Eight generation iPad
Apple also announced a new Eight generation iPad with a similar design to the previous one. However, this one has a bigger top and bottom bezels with the touch Id button on the front. It also has an updated An A12 Bionic chip.
This device is available starting with a price of $329 and can be preordered. 
Fitness plus Subscription
Apple announced that is launching a new premium Subscription plan called the Fitness plus. The company said that s launched for the Apple watch but will also integrate Apple TV, iPhones and iPads. Currently, it has around 10 workouts available including yoga, cycling and dance etc. Apple also announced that they will keep adding new workouts every week providing the users with a range of choices.
The price of Subscription will cost $9.99 per month and $79.99 annually.
Apple One subscription
Apple also launched another subscription called the new "Apple one". This subscription will make bring the various Apple services together on one platform at different prices.
Package costing $14.95 per month, being the cheapest one will include Apple Music, Apple TV plus, Apple Arcade and 50 GB of iCloud storage. Family plan costing $19.95 per month will include an additional 200 GB of iCloud storage. The package allows sharing with 6 people.
The premier bundle costing $29.95 per month will also include Apple news plus, Fitness plus and additional 2TB of iCloud storage. It also allows sharing of up to 6 people.
Many more to come
Along with this, Apple is yet to release more software including ioS 14, iPadOS 14, WatchOS 7, and tvOS 14. Apple also announced that all the products launched will have new software on board. For now, Apple has launched all the above-mentioned products but there is yet a lot coming. So stay tuned to know further announcements by the company.
Controversy Around The Tanishq Ad
The new Tanishq Ad film 'Akavatam', which quite tastefully and delicately portrayed an inter-faith couple who are entering another new phase of life has been taken down after the social media bombarded it with hate comments and threats of inflicting violence. One of the Tanishq stores in Gujrat's Gandhidham was threatened by the fringe group and the store manager was forced to write a note of apology for broadcasting an advertisement based around the theme of inter-faith marriage.  As observed by many, the problem is not the content that was being presented but the theme itself. The Right-wing supports found it offensive that ad film promoted love jihad by showing a Hindu girl who was married to a Muslim family.
The Issue With Freedom Of Speech In India
The banning of such books, films, shows, and plays is not new in India. Books like Satanic Verses by Salman Rushdie had been banned during the time when Rajiv Gandhi was in the office. The excuse that was dished out was to protect the citizens from inflicting violence on each other. But in doing so, India is barring the citizens to express themselves freely and utilizing their fundamental right of free speech. As long as the book or a movie follows the rulebook of the government, banning is not imposed. Thus, the entire idea behind freedom of speech and expression collapses.
Western Governments on the other hand has come to terms with the fact that the simplest issues will create a rupture among the mass. The world is filled with bigots and will remain so and no banning of books or movies or ad films will bring them ultimate satisfaction. Western Governments, thus, decided to protect free speech and free expression knowing that certain sectors will resort to violence.
The Effect Of  The Online Hate Campaign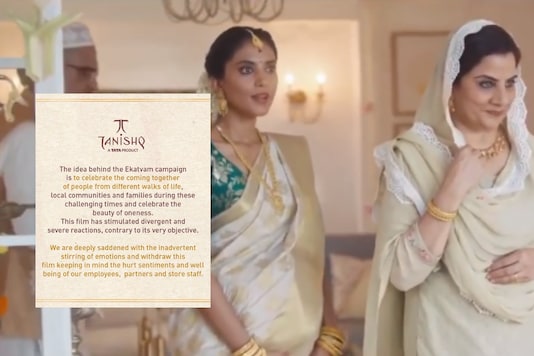 The Tata group also decided to pull down the ad film in the face of dissent and after they saw that people are trying to boycott the brand. The Spokesman of Tata group released a statement after pulling down the ad film, "The idea behind the Ekavatam campaign is to celebrate the coming together of people from different walks of life, local communities and families during these challenging times and celebrate the beauty of oneness. This film has stimulated divergent and severe reactions, contrary to its very objective. We are deeply saddened with the inadvertent stirring of emotions and withdraw this film keeping in mind the hurt sentiments and well-being of our employees, partners, and store staff." They clarified that the only reason they have decided to take down the ad film is to safeguard the interests of their employees who have been assaulted.
Celebrities Reaction
Indian actor Kangana Ranaut, who usually speaks in favor of the right-wing Supports claimed that it glorifies the concept of "Love Jihad and sexism" and vehemently emphasized the point that: civilization needs to be protected. Whereas, Actors like Richa Chadha and Divya Dutta said that they found the ad film to be quite unique and beautiful.