'Black Panther' Star, Chadwick Boseman, Dies Of Colon Cancer, Aged 42
2020 is continuously giving bad news. Recently, Chadwick Boseman, the actor famous for his role as Black Panther in marvel series died at the age of 42. The cause of death is colon cancer. Chadwick Boseman has played several iconic roles in Hollywood. He has always given a famous speech at 2019's Screen Actors Guild Awards. Chadwick's death has been confirmed by his family through his social media handle.
Chadwick and his iconic performances
Chadwick Boseman is best known for his performance as Black Panther in Marvel Series. Bur he has also played several iconic roles. He is best known for his roles as baseball player Jackie Robinson, music icon James Brown, and Marvel superhero T'Challa also known as Black Panther. Chadwick was born and raised in South Carolina.  He has studied directing at Howard University. After his education, he soon began his acting career playing historic Black icons like Thurgood Marshall in Marshall, Brown in getting on Up, and Robinson in 42.
Boseman's speech about Black Panther's legacy
Boseman delivered a famous speech about the representation and legacy of Black Panther at 2019's Screen Actors Guild Awards. In his speech, he said, "We know what it's like to be told there's not a screen for you to be featured on, a stage for you to be featured on. We know what it's like to be the tail, but not the head. We know what it's like to be beneath, but not above. And that is what we went to work with every day. Because we knew not that we would be around during awards season or that it would make a billion dollars, but we knew that we had something special that we wanted to give the world — that we could be full human beings in the roles that we were playing."
Confirmation of death
Chadwick's death has been confirmed by his family on his Twitter handle. They confirmed that Chadwick Boseman was suffering from colon cancer, the fourth stage. He was diagnosed with stage three of colon cancer in the year 2016 and it progressed with time. The statement says, "A true fighter, Chadwick persevered through it all and brought you many of the films you have come to love so much," the statement said. "From Marshall to Da 5 Bloods, August Wilson's Ma Rainey's Black Bottom and several more, all were filmed during and between countless surgeries and chemotherapy. "It was the honour of his career to bring T'Challa to life in Black Panther. He died in his home, with his wife and family by his side."
Final Words
It is a hard time as a superhero in real life has lost us. He has managed to work better everyday battling with cancer but cancer won the battle. Chadwick was a real hero who is still alive in the hearts of his family, friends and fans. He will always be remembered for his iconic performances.
Controversy Around The Tanishq Ad
The new Tanishq Ad film 'Akavatam', which quite tastefully and delicately portrayed an inter-faith couple who are entering another new phase of life has been taken down after the social media bombarded it with hate comments and threats of inflicting violence. One of the Tanishq stores in Gujrat's Gandhidham was threatened by the fringe group and the store manager was forced to write a note of apology for broadcasting an advertisement based around the theme of inter-faith marriage.  As observed by many, the problem is not the content that was being presented but the theme itself. The Right-wing supports found it offensive that ad film promoted love jihad by showing a Hindu girl who was married to a Muslim family.
The Issue With Freedom Of Speech In India
The banning of such books, films, shows, and plays is not new in India. Books like Satanic Verses by Salman Rushdie had been banned during the time when Rajiv Gandhi was in the office. The excuse that was dished out was to protect the citizens from inflicting violence on each other. But in doing so, India is barring the citizens to express themselves freely and utilizing their fundamental right of free speech. As long as the book or a movie follows the rulebook of the government, banning is not imposed. Thus, the entire idea behind freedom of speech and expression collapses.
Western Governments on the other hand has come to terms with the fact that the simplest issues will create a rupture among the mass. The world is filled with bigots and will remain so and no banning of books or movies or ad films will bring them ultimate satisfaction. Western Governments, thus, decided to protect free speech and free expression knowing that certain sectors will resort to violence.
The Effect Of  The Online Hate Campaign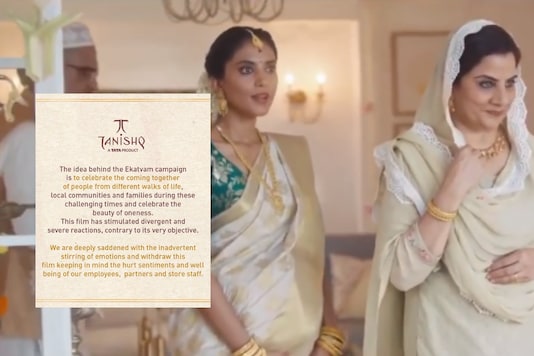 The Tata group also decided to pull down the ad film in the face of dissent and after they saw that people are trying to boycott the brand. The Spokesman of Tata group released a statement after pulling down the ad film, "The idea behind the Ekavatam campaign is to celebrate the coming together of people from different walks of life, local communities and families during these challenging times and celebrate the beauty of oneness. This film has stimulated divergent and severe reactions, contrary to its very objective. We are deeply saddened with the inadvertent stirring of emotions and withdraw this film keeping in mind the hurt sentiments and well-being of our employees, partners, and store staff." They clarified that the only reason they have decided to take down the ad film is to safeguard the interests of their employees who have been assaulted.
Celebrities Reaction
Indian actor Kangana Ranaut, who usually speaks in favor of the right-wing Supports claimed that it glorifies the concept of "Love Jihad and sexism" and vehemently emphasized the point that: civilization needs to be protected. Whereas, Actors like Richa Chadha and Divya Dutta said that they found the ad film to be quite unique and beautiful.