Candy Crush Still Winning Over PubG Mobile?
It is observed over the years that people easily get bored of a particular video in a short amount of time. The desire to explore new and diverse things keep them changing the choices. But one game came, conquered and never left the market. Candy Crush Saga was first launched in 2012 and faced huge popularity and success. This game became an addiction, it was so eye-catching and interesting. But the market keeps on changing and games become old pretty quickly so why this game still makes more money than PubG. Players Unknown Battleground or commonly identified as PubG was launched in 2017 and took the video game market by a cyclone. But couldn't vanish the craze of Candy Crush Saga. Candy Crush Saga apparently still makes more money than PubG. Let's study this subject in detail.
The success of Candy Crush Saga
Candy Crush Saga was introduced at the time when Android mobile phones were a new thing. Many people were buying their first smartphone and hence, resulted in exploring the game life. Candy Crush reported 409 million active users by 2016. There are multiple reasons due to which Candy Crush Saga was preferred over other games. Some of them were:- 
No advertisement:- 
The game does not showcase any advertisement while playing. On studying a bit deeper we found out that it was a special policy of the creators to keep the users engaged and uninterrupted. You do get advertisements while playing PubG.
Free:- 
Unlike many other games, Candy Crush Saga was completely free of cost. The game has around 2000 levels and is considered to be never-ending. Still, the owner does not ask for a single penny.
Simple:-
Candy crush is easy to play and understand. It's so simple that any kid can play it without any problem.  PubG, on the other hand, is complex and a person requires time to actually fully understand it.
Facebook:-
Another really interesting feature of candy crush is that you can connect it through the Facebook id and invite other people to play along. Many people got to know about candy crush through Facebook itself. The social platform added to it's already growing popularity.
Why Candy Crush over PubG
People still choose Candy Crush Saga over PubG. Especially people who are not that into complex video games that constitutes fighting, arms handling, etc. People who prefer sweet, simple games to pass the time still opt Candy Crush Saga. Although it's hard to exactly tell how much money is candy crush is still making, it certainly has 10 million daily active users. Candy Crush is addictive that's why some people cannot get rid of it. For some, it's like a nostalgia, like going 5-6 years back and experiencing it once again. It won't be wrong to say that PubG is designed and built for a certain group of audience, but Candy Crush Saga is evergreen and targets all kinds of audiences. 
Thus, we can safely say that candy crush is still making much more money as compared to PubG because of its expertly formulated marketing strategies and attractive features. 
Controversy Around The Tanishq Ad
The new Tanishq Ad film 'Akavatam', which quite tastefully and delicately portrayed an inter-faith couple who are entering another new phase of life has been taken down after the social media bombarded it with hate comments and threats of inflicting violence. One of the Tanishq stores in Gujrat's Gandhidham was threatened by the fringe group and the store manager was forced to write a note of apology for broadcasting an advertisement based around the theme of inter-faith marriage.  As observed by many, the problem is not the content that was being presented but the theme itself. The Right-wing supports found it offensive that ad film promoted love jihad by showing a Hindu girl who was married to a Muslim family.
The Issue With Freedom Of Speech In India
The banning of such books, films, shows, and plays is not new in India. Books like Satanic Verses by Salman Rushdie had been banned during the time when Rajiv Gandhi was in the office. The excuse that was dished out was to protect the citizens from inflicting violence on each other. But in doing so, India is barring the citizens to express themselves freely and utilizing their fundamental right of free speech. As long as the book or a movie follows the rulebook of the government, banning is not imposed. Thus, the entire idea behind freedom of speech and expression collapses.
Western Governments on the other hand has come to terms with the fact that the simplest issues will create a rupture among the mass. The world is filled with bigots and will remain so and no banning of books or movies or ad films will bring them ultimate satisfaction. Western Governments, thus, decided to protect free speech and free expression knowing that certain sectors will resort to violence.
The Effect Of  The Online Hate Campaign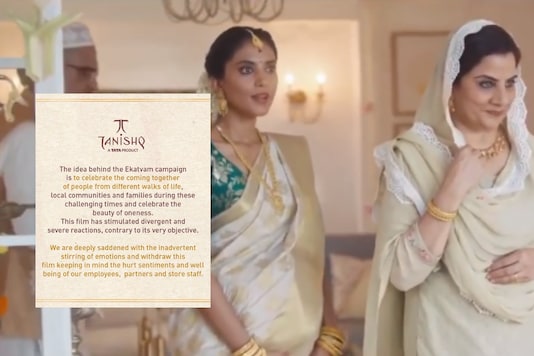 The Tata group also decided to pull down the ad film in the face of dissent and after they saw that people are trying to boycott the brand. The Spokesman of Tata group released a statement after pulling down the ad film, "The idea behind the Ekavatam campaign is to celebrate the coming together of people from different walks of life, local communities and families during these challenging times and celebrate the beauty of oneness. This film has stimulated divergent and severe reactions, contrary to its very objective. We are deeply saddened with the inadvertent stirring of emotions and withdraw this film keeping in mind the hurt sentiments and well-being of our employees, partners, and store staff." They clarified that the only reason they have decided to take down the ad film is to safeguard the interests of their employees who have been assaulted.
Celebrities Reaction
Indian actor Kangana Ranaut, who usually speaks in favor of the right-wing Supports claimed that it glorifies the concept of "Love Jihad and sexism" and vehemently emphasized the point that: civilization needs to be protected. Whereas, Actors like Richa Chadha and Divya Dutta said that they found the ad film to be quite unique and beautiful.