Corona Virus 19 Complete Guide:Do;s and Don'ts
Let's see What is social distancing in the world of Corona Virus ?
While it may be disappointing to hear that so many sports events, cruises, festivals and other gatherings are being cancelled, there is a public health reason for these measures. These cancellations help stop or slow down the spread of disease allowing the health care system to more readily care for patients over time.
Cancelling events that are likely to draw crowds is an example of social distancing. Social distancing is deliberately increasing the physical space between people to avoid spreading illness. Staying at least six feet away from other people lessens your chances of catching Corona Virus.
Other examples of social distancing that allow you to avoid larger crowds or crowded spaces are:
Working from home instead of at the office
Closing schools or switching to online classes
Visiting loved ones by electronic devices instead of in person
Cancelling or postponing conferences and large meetings
Coronavirus: What do I do if I Feel Sick?
If you are concerned that you may have COVID-19, follow these steps to help protect yourWhile it is important to not worry, it is also important to NOT take this lightly as well.There is currently no vaccine to prevent coronavirus disease 2019 (COVID-19).The best way to prevent illness is to avoid being exposed to this virus.The virus is thought to spread mainly from person-to-person.Between people who are in close contact with one another (within about 6 feet).Respiratory droplets produced when an infected person coughs or sneezes.
These droplets can land in the mouths or noses of people who are nearby or possibly be inhaled into the lungs.
Take steps to protect yourself
Clean your hands often
Wash your hands often with soap and water for at least 20 seconds especially after you have been in a public place, or after blowing your nose, coughing, or sneezing.
If soap and water are not readily available, use a hand sanitizer that contains at least 60% alcohol. Cover all surfaces of your hands and rub them together until they feel dry.
Avoid touching your eyes, nose, and mouth with unwashed hands.
Avoid close contact
Avoid close contact with people who are sick
Put distance between yourself and other people if COVID-19 is spreading in your community. This is especially important for people who are at higher risk of getting very sick.
Take steps to protect others
Stay home if you're sick
Stay home if you are sick, except to get medical care. Learn what to do if you are sick.
Cover coughs and sneezes
Cover your mouth and nose with a tissue when you cough or sneeze or use the inside of your elbow.
Throw used tissues in the trash.
Immediately wash your hands with soap and water for at least 20 seconds. If soap and water are not readily available, clean your hands with a hand sanitizer that contains at least 60% alcohol.
Wear a facemask if you are sick
If you are sick: You should wear a facemask when you are around other people (e.g., sharing a room or vehicle) and before you enter a healthcare provider's office. If you are not able to wear a facemask (for example, because it causes trouble breathing), then you should do your best to cover your coughs and sneezes, and people who are caring for you should wear a facemask if they enter your room. Learn what to do if you are sick.
If you are NOT sick: You do not need to wear a facemask unless you are caring for someone who is sick (and they are not able to wear a facemask). Facemasks may be in short supply and they should be saved for caregivers.
Clean and disinfect
Clean AND disinfect frequently touched surfaces daily. This includes tables, doorknobs, light switches, countertops, handles, desks, phones, keyboards, toilets, faucets, and sinks.
If surfaces are dirty, clean them: Use detergent or soap and water prior to disinfection.
Read More:Narendra Modi's Speech On Corona Virus
Controversy Around The Tanishq Ad
The new Tanishq Ad film 'Akavatam', which quite tastefully and delicately portrayed an inter-faith couple who are entering another new phase of life has been taken down after the social media bombarded it with hate comments and threats of inflicting violence. One of the Tanishq stores in Gujrat's Gandhidham was threatened by the fringe group and the store manager was forced to write a note of apology for broadcasting an advertisement based around the theme of inter-faith marriage.  As observed by many, the problem is not the content that was being presented but the theme itself. The Right-wing supports found it offensive that ad film promoted love jihad by showing a Hindu girl who was married to a Muslim family.
The Issue With Freedom Of Speech In India
The banning of such books, films, shows, and plays is not new in India. Books like Satanic Verses by Salman Rushdie had been banned during the time when Rajiv Gandhi was in the office. The excuse that was dished out was to protect the citizens from inflicting violence on each other. But in doing so, India is barring the citizens to express themselves freely and utilizing their fundamental right of free speech. As long as the book or a movie follows the rulebook of the government, banning is not imposed. Thus, the entire idea behind freedom of speech and expression collapses.
Western Governments on the other hand has come to terms with the fact that the simplest issues will create a rupture among the mass. The world is filled with bigots and will remain so and no banning of books or movies or ad films will bring them ultimate satisfaction. Western Governments, thus, decided to protect free speech and free expression knowing that certain sectors will resort to violence.
The Effect Of  The Online Hate Campaign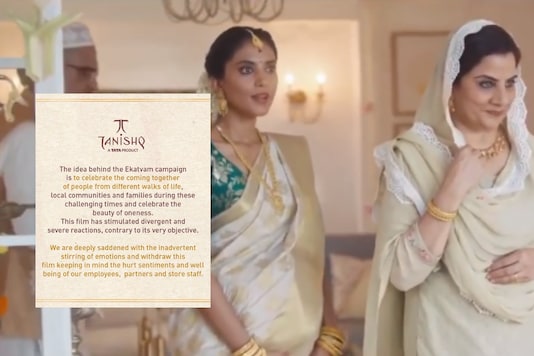 The Tata group also decided to pull down the ad film in the face of dissent and after they saw that people are trying to boycott the brand. The Spokesman of Tata group released a statement after pulling down the ad film, "The idea behind the Ekavatam campaign is to celebrate the coming together of people from different walks of life, local communities and families during these challenging times and celebrate the beauty of oneness. This film has stimulated divergent and severe reactions, contrary to its very objective. We are deeply saddened with the inadvertent stirring of emotions and withdraw this film keeping in mind the hurt sentiments and well-being of our employees, partners, and store staff." They clarified that the only reason they have decided to take down the ad film is to safeguard the interests of their employees who have been assaulted.
Celebrities Reaction
Indian actor Kangana Ranaut, who usually speaks in favor of the right-wing Supports claimed that it glorifies the concept of "Love Jihad and sexism" and vehemently emphasized the point that: civilization needs to be protected. Whereas, Actors like Richa Chadha and Divya Dutta said that they found the ad film to be quite unique and beautiful.