Corona Virus Spreading Across The World
Corona Virus Outbreak-Some of the major and busiest international airports in the world started announcing preventive safety measures against the spread of the 2019 Wuhan coronavirus, which the WHO calls Covid-19, after its outbreak in China and quickly spread to 77 more countries.
The virus that was first found in Wuhan, the capital and the most populated city of Hubei Province, in Central China, has been spreading at a rapid pace despite various preventive measures being taken by the Chinese authorities. Deaths caused by the 2019 novel coronavirus (2019-nCoV) have been increasing at a rapid pace from the mere two reported initially to 170 in less than a month.
The reported deaths due to the infection more than doubled in four days to 362 by 02 February, and rose sharply to more than 1,800 as of 18 February. International passengers travelling from China are naturally the biggest risk to the countries they arrive to.
The US Department of State has issued a level-4 travel advisory to China, meaning that the public is not advised to travel to China. The CDC earlier had issued a level-3 warning recommending to avoid travel, unless essential, to Wuhan and level-2 warning to the rest of China. But given the fast spread, the CDC revised the travel warning to level-3 for entire China.
Corona virus impact on airlines operators
The International Air Transport Association (IATA) announced that the Covid-19 outbreak is expected to result in 13% full-year loss of passenger demand for airline operators in the Asia-Pacific region. The loss is expected to cause a revenue loss of $27.8bn in 2020 for the carriers.
Majority of the impact is projected to be on those carriers registered in China, who are expected to lose $12.8bn in the domestic market.
Corona virus – how airports and airlines are ensuring a safe travel
The corona virus has crossed borders, with cases confirmed in 25 more countries including the US, Canada, UK, Russia, Germany, France, Japan, India, South Korea, Hong Kong, Macau, and Thailand.
With the Center for Disease Control (CDC) having confirmed the first case of a Wuhan coronavirus on 21 January followed by a second on 24 January, three international airports each in the US and Canada officially announced measures for coronavirus prevention, with European airports too taking similar steps. The CDC expanded the screening to 20 airports within a week due to the growing spread of the virus.
United Airlines announced the cancellation of a number of scheduled flights from US hubs to Beijing, Hong Kong, and Shanghai from 1 February anticipating lower demand due to the nCoV fears.
The airline also announced travel waiver from 24 January to 29 February, initially to China and later included Hong Kong. The world's largest airline, American Airlines, too followed suit and announced similar cancellations to Beijing and Shanghai but for an even longer period, through March.
Air Canada announced similar cancellations of select flights to optimise its capacity based on the reduced deBritish Airways suspended direct flights to and from China, following confirmed cases of coronavirus infection in France and Germany.
The Changi Airport in Singapore has started thermal screening for passengers arriving from China, in addition to isolating those with the disease symptoms.
Indigo Airlines and Air India have cancelled majority flights to China, even before the first case was confirmed in the country on 30 January.
Corona virus in Europe: Airport measures for passengers arriving from Italy
Prague airport in the Czech Republic has designated separate gates for all passengers arriving from Italy. Airport employees have been directed to closely monitor passengers arriving from Italy and report any signs of respiratory disease to airport security. Frequent disinfection of arrival gates, buses and other areas handling passengers from Italy are also planned.
Bratislava airport in Slovakia has implemented strict screening measures for passengers arriving from Italy, who are required to fill out a questionnaire to enable officials to identify any suspected cases.
Similar screening measures have been implemented at Marco Polo Airport in Venice, and airports in Bosnia, Serbia, Croatia, Moldova, and Albania for passengers arriving from China and Italy.
Bulgaria has cancelled all flights to Milan, Italy and implemented screening measures at the Sofia airport.
Ryanair has reduced its flights to Italy by 25%, following a spike in cases across the country.
Read more:Luxembourg to become first country to make transport free
Government Answer On Migrant Crisis
With the starting of the Monsoon session as the parliamentary activities are finally moving, members are all set with their questions for the ruling party. Trinamool Congress MP Mala Roy has questioned Home Ministry about steps taken for the protection of Migrant crisis. Due to the imposition of stringent lockdown in wake of Co-Vid19 labors faced the most of heat. Lack of employment, lack of funds to survive and no transportation to move have contributed to their woes. Mala Roy asked in her question that what actions the Government took to protect them.
Centre says, "No data of migrants"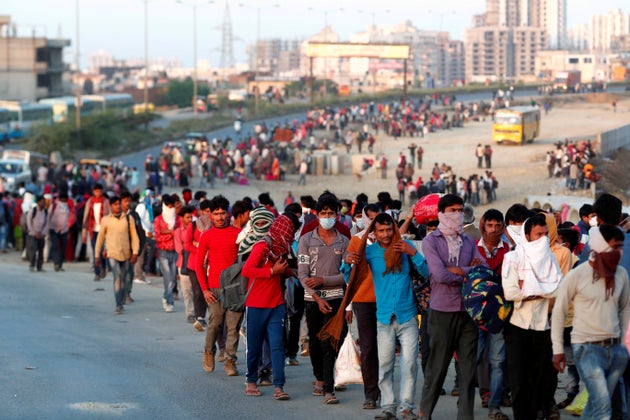 Centre informed in Parliament there is no such data available. Replying to Mala Roy's question and several such questions Ministry of Labour and Employment said that there is no recorded data about the death of Migrants available. A report by World Bank states that due to April's lockdown in the nation about 40 million internal migrants have been hit by employment crisis. Furthermore, to the question, whether any steps are taken for the protection of migrants or any compensation was given? Centre answered that since there is no data no question of compensation. No recorded data of the unemployment due to Covid is found.
Steps taken by the center
One after other shocker is received as Centre has no data of Migrants. Fruit sellers, hawkers, daily wage workers and unskilled labours working in factories are worst hit. The government said that as a country India responded by the local bodies, state governments, NGOs and many others. Government has started special Shramik trains for the labourers. Many facilities are made to help them survive. As the distribution of Cereals, Pulses, Sugar, vegetable spices and water for free.
In some places, cooked food is also distributed for free. Labour Ministry chief said that 1164 trains have operated to help migrants reach their homes. Almost 10.4 million labours have returned. Most of the labours or migrants who have been successfully dropped to their homes are in states of Uttar Pradesh and Rajasthan. On questions of deaths of migrants while on their way to home or even in trains center replies as- non-availability of data.
Data from states are found that almost 63.7 lakh stranded labours are returned to home by Shramik special train. Other migrants who set their journey on foot or by hitch-hiking is still not found. In trains 110 deaths are found to report. The reasons are many some because if illness, some due to accidents, lack of food and non-availability of water. In June the Chief of Labour Commission is ordered to meticulously record data of migrants from various sources under the orders by Central Information Commission. In many states and union territories the advisory guidelines are invoked. Orders are been given to maintain updated labour laws.
The state of labours and migrants is still bad. There seems to be no significant improvement. Due to the labour employment crisis financial wellbeing of country has also taken a hit. In upcoming sessions, the labour crisis and government's actions on it will de looked into with even more depth.