Deepika Padukone Joins Protest Against Voilence In JNU
.
Delhi's Jawaharlal Nehru University was subject to violent attacks from a masked mob of outsiders on January 5. At a January 7 panel discussion and protest on the university campus, there was an unexpected attendee, in the form of Bollywood actor Deepika Padukone.
Deepika Padukone, the renowned actress on Tuesday visited the New Delhi's Jawaharlal Nehru University (JNU), where alleged members of the Akhil Bharatiya Vidyarthi Parishad (ABVP) brutally assaulted dozens of students and teachers with sticks, sledgehammers and rocks on Sunday.
Deepika Padukone, on Tuesday 7 January, gained the nation's attention worldwide as the actor was seen attending a recent protest at Delhi's Jawaharlal Nehru University (JNU), against the attack on JNU students by a mob of masked miscreants on the Sunday, 5 January.
As a lot of people on twitter came out in the  support of the actor, as she was one of the few A-list celebrities who are seen at one of the protests, Deepika was also on the receiving side from both ends of the spectrum.
Despite the massive praise, the actor has also garnered support  from activists, students and celebrities alike for supporting the movement, she was also targeted for supporting the 'tukde tukde' gang by the people from the right wing.
With trolls on the internet who are  targeting Deepika for showing up at JNU, they also called for a boycott of her upcoming moves , Chappaak, a movie that focuses entirely on acid attack survivors in India. #BoycottChapak was also one of the top trends on twitter in India, with close to 220,000 tweets by this hashtag.
A mob of masked goons had also entered the JNU campus on Sunday, 5 December, and attacked the students. The mob brutally thrashed students and even the teachers and vandalised hostel rooms and damaged hostel property.
Protests against the attack have erupted all across the nation, led by students and attended by the likes of activists, celebrities and more.
She was seen standing solemnly alongside the JNU Students' Union president, Aishe Ghose, while chants of "Azaadi" and "Jai Bhim" rung from the surrounding crowds.
The  top Bollywood actress is being praised for visiting an Indian university where students were protesting against an attack on them by masked suspects with alleged links to a student group which is backed by the ruling Bharatiya Janata Party .
The extreme violence in JNU is being followed a public meeting organised by the university's teachers association in connection with a rise in hostel charges for students announced weeks ago.
Aishe Ghosh, the president of the JNU students' union who was seriously wounded in the attack, was also present among the students when Padukone joined their protest.
Indian media reports said that Padukone hugged Ghosh and stayed with the JNU students for about 15 minutes, but only had a brief chat with the student leader and did not address the crowd.
Ghosh, who got attacked by masked assailants on Sunday night, is among 20 students named in the first information report (FIR or police complaint) of the Delhi police on Tuesday.
Photos and videos on the social media showed Padukone wearing a black outfit and standing behind a makeshift stage, while former JNU students' union president Kanhaiya Kumar also addressed the gathering.
Read More:The Trailer of Chapaak Is Out
Government Answer On Migrant Crisis
With the starting of the Monsoon session as the parliamentary activities are finally moving, members are all set with their questions for the ruling party. Trinamool Congress MP Mala Roy has questioned Home Ministry about steps taken for the protection of Migrant crisis. Due to the imposition of stringent lockdown in wake of Co-Vid19 labors faced the most of heat. Lack of employment, lack of funds to survive and no transportation to move have contributed to their woes. Mala Roy asked in her question that what actions the Government took to protect them.
Centre says, "No data of migrants"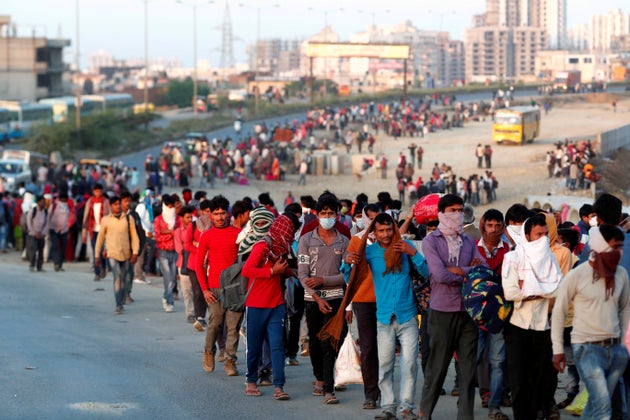 Centre informed in Parliament there is no such data available. Replying to Mala Roy's question and several such questions Ministry of Labour and Employment said that there is no recorded data about the death of Migrants available. A report by World Bank states that due to April's lockdown in the nation about 40 million internal migrants have been hit by employment crisis. Furthermore, to the question, whether any steps are taken for the protection of migrants or any compensation was given? Centre answered that since there is no data no question of compensation. No recorded data of the unemployment due to Covid is found.
Steps taken by the center
One after other shocker is received as Centre has no data of Migrants. Fruit sellers, hawkers, daily wage workers and unskilled labours working in factories are worst hit. The government said that as a country India responded by the local bodies, state governments, NGOs and many others. Government has started special Shramik trains for the labourers. Many facilities are made to help them survive. As the distribution of Cereals, Pulses, Sugar, vegetable spices and water for free.
In some places, cooked food is also distributed for free. Labour Ministry chief said that 1164 trains have operated to help migrants reach their homes. Almost 10.4 million labours have returned. Most of the labours or migrants who have been successfully dropped to their homes are in states of Uttar Pradesh and Rajasthan. On questions of deaths of migrants while on their way to home or even in trains center replies as- non-availability of data.
Data from states are found that almost 63.7 lakh stranded labours are returned to home by Shramik special train. Other migrants who set their journey on foot or by hitch-hiking is still not found. In trains 110 deaths are found to report. The reasons are many some because if illness, some due to accidents, lack of food and non-availability of water. In June the Chief of Labour Commission is ordered to meticulously record data of migrants from various sources under the orders by Central Information Commission. In many states and union territories the advisory guidelines are invoked. Orders are been given to maintain updated labour laws.
The state of labours and migrants is still bad. There seems to be no significant improvement. Due to the labour employment crisis financial wellbeing of country has also taken a hit. In upcoming sessions, the labour crisis and government's actions on it will de looked into with even more depth.