Delhi To Get 11,000 Free WiFi Hot Spots In 6 Months, 100 To Be Set Up On December 16
Delhi CM Arvind Kejriwal has announced recently that the people of the capital will be browsing the internet through free WiFi across the state in 6 months. 
According to NDTV, the Delhi government plans to inaugurate 100 promised 11,000 WiFi hot spots on December 16, Delhi Chief Minister said.
It has also been said that 7,000 of these 11,000 free wifi hot spots will be set in different markers and 4,000 at bus stops all across the region. 
According to the Kejriwal, this WiFi project will cost the AAP government Rs 100 crore. 
But, this has also been one of the AAP government's flagship projects. However, they have also made promises and missed deadlines multiple times
in the past.
.
Earlier, Kejriwal had also said that every user will be given 15 GB free data per month as part of the first phase of the Delhi government's WiFi programme. 
Delhi Chief Minister Arvind Kejriwal has said that Delhi will get free public Wi-Fi in the upcoming days. He also said that somewhere around 11,000 Wi-Fi hot spots would be set up across bus stops and markets. Around 4,000 hotspots would be set up at bus stops and 7,000 hotspots would be put up at markets.
He also declared that the first 100 free wifi hot spots would be inaugurated on December 16. CM Kejriwal also said that every week, 500 hotspots would be set up and the project would be completed within 6 months.
CM Kejriwal estimated that the project would also cost Rs 100 crore.
The Chief Minister had announced this project in August last year. Kejriwal had, in his earlier announcement, said, "11,000 hotspots will be installed across Delhi. The vital work is to provide free Wi-Fi has started in away. Every user will be given the 15 GB data free, every month. This is the first phase."
Before this, CM Kejriwal had made travel for women on buses free. He had said that Delhi Metro would also be free for women but that is yet to take place. The Aam Aadmi Party leader had also said that electricity would be free for Delhi residents for up to 200 units. He said residents would need to pay half the price for consumption between 201 and 400 units.
Separately, the Comptroller and Auditor General (CAG) raised questions recently over the Delhi government's expenditure. The government had spent more than Rs 1,000 crore in a gap of 30 days. The CAG said that such spending was against the financial rules. The Delhi government has also been questioned for spending money in overstepping the rules in 26 items, including health, education, city development and social welfare.
Announcing that people in Delhi will soon be able to enjoy free WiFi access, Chief Minister Arvind Kejriwal on Wednesday announced that the state government plans to set up 11,000 wifi-hotspots in the national capital within the next six months and the first 100 hotspots will be inaugurated on December 16.
Speaking to the media people, the chief minister said, "Providing free wifi hot spots to the people of Delhi was an important part of our manifesto. So, 11,000 wifi-hotspots will be set up in which 4000 hotspots will be set up at bus stops and 7000 in markets which will be divided as per 100 hotspots per assembly.
The first 100 hotspots will be inaugurated on December 16." "It will cost around Rs 100 crores. Subsequently, in every week 500 wifi-hotspots will be added, and within 6 months these 11,000 hotspots will be set up. This step will help students and people in other sectors," he added.
In August month, the Chief Minister had announced that 2.80 lakh CCTV cameras will be installed across the national capital, along with 11,000 free WiFi hotspots.
"One of our major electoral promises was of giving free WiFi hot spots. Cabinet has approved a decision that 11,000 hotspots will be installed in whole Delhi in which 4000 spots will be at bus stops and the other 7000 hotspots will be divided as per 100 hotspots per assembly. Every user will be given 15 GB of free data per month. This will be the first phase," Kejriwal said.
The chief minister had also said that within three to four months the work for both the CCTVs and WiFi hotspots will begin after the process of tender and work allocation is done. Free Wi-Fi was a key poll promise of the AAP during the last assembly elections. The state of the 11,000 hotspots, 4,000 will be set up at bus stops and 7,000 others will be located in markets, residential welfare associations and other places in the city, he added.
There will be 100 hotspots in every Assembly segment. The project is expected to cost around ₹100 crores.
After the inauguration of the first batch of 100 hotspots on December 16, 500 free wifi hot spots will be set up every week and in the next six months, all 11,000 hotspots will be in place, he said. is set to go to polls soon.
Read More: Tik Tok Online
Government Answer On Migrant Crisis
With the starting of the Monsoon session as the parliamentary activities are finally moving, members are all set with their questions for the ruling party. Trinamool Congress MP Mala Roy has questioned Home Ministry about steps taken for the protection of Migrant crisis. Due to the imposition of stringent lockdown in wake of Co-Vid19 labors faced the most of heat. Lack of employment, lack of funds to survive and no transportation to move have contributed to their woes. Mala Roy asked in her question that what actions the Government took to protect them.
Centre says, "No data of migrants"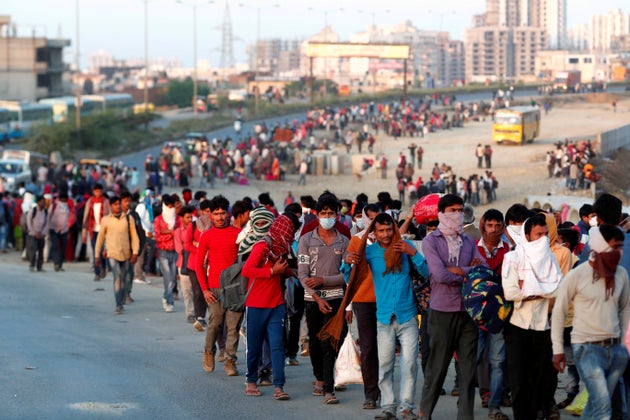 Centre informed in Parliament there is no such data available. Replying to Mala Roy's question and several such questions Ministry of Labour and Employment said that there is no recorded data about the death of Migrants available. A report by World Bank states that due to April's lockdown in the nation about 40 million internal migrants have been hit by employment crisis. Furthermore, to the question, whether any steps are taken for the protection of migrants or any compensation was given? Centre answered that since there is no data no question of compensation. No recorded data of the unemployment due to Covid is found.
Steps taken by the center
One after other shocker is received as Centre has no data of Migrants. Fruit sellers, hawkers, daily wage workers and unskilled labours working in factories are worst hit. The government said that as a country India responded by the local bodies, state governments, NGOs and many others. Government has started special Shramik trains for the labourers. Many facilities are made to help them survive. As the distribution of Cereals, Pulses, Sugar, vegetable spices and water for free.
In some places, cooked food is also distributed for free. Labour Ministry chief said that 1164 trains have operated to help migrants reach their homes. Almost 10.4 million labours have returned. Most of the labours or migrants who have been successfully dropped to their homes are in states of Uttar Pradesh and Rajasthan. On questions of deaths of migrants while on their way to home or even in trains center replies as- non-availability of data.
Data from states are found that almost 63.7 lakh stranded labours are returned to home by Shramik special train. Other migrants who set their journey on foot or by hitch-hiking is still not found. In trains 110 deaths are found to report. The reasons are many some because if illness, some due to accidents, lack of food and non-availability of water. In June the Chief of Labour Commission is ordered to meticulously record data of migrants from various sources under the orders by Central Information Commission. In many states and union territories the advisory guidelines are invoked. Orders are been given to maintain updated labour laws.
The state of labours and migrants is still bad. There seems to be no significant improvement. Due to the labour employment crisis financial wellbeing of country has also taken a hit. In upcoming sessions, the labour crisis and government's actions on it will de looked into with even more depth.