The Highlights of First Budget Of Modi 2
A much-awaited Union budget, the first one of the new NDA government arrived today. There is a high expectation from the new Finance minister Nirmala Sitharaman. The presented budget promises to boost infrastructure and foreign investment to the slowdown economy. The budget is focused on rural, common peoples and farmers. The finance minister announces no change in personal income tax rates and imposed supercharge on the super-rich peoples.
Also, there are big decisions taken to grow and improve sectors like housing, start-ups, agriculture, and transportations. There is a lot more that is surely going to improve the life of the common citizen.
Let's see the highlights of the first budget –
To promote Digital India
Only 2% TDS on withdrawals of 1 crore Rupees in the entire year from your bank account for payments related to business. 

MDR charges removed on cashless payments means there is no charge on digital payments from now.
To promote Aviation Industry and MAKE IN INDIA
The government is planning to launch a scheme where the government will invite foreign companies to set up manufacturing plants for electronic hardware such as laptops, semiconductors, and batteries

The government also plans to encourage adoption and skilling in technologies like Artificial Intelligence, IoT, Big Data, 3D printing, and Virtual Reality
To improve the Housing Sector
Enhanced interest deduction of 1.5 lakh rupees on loans borrowed up to 31 March 2020 for purchase of house up to 45 lakh.
To Increase Revenue
The government increases customs duty on gold. A hike of 2.5% from the current level of 10% on import duty on gold and precious metals to 12.5%, according to the Budget proposals.

The budget also proposed to increase special additional excise duty and road and infrastructure cess each one by 1 rupee per liter on both diesel and petrol.
To promote start-ups
Government plans to provide 70,000 crore rupees to Public sector banks to boost capital.

The government also plans to start Exclusive 'Start-up TV program' to promote the entrepreneurship culture in youths. The channel will be conceptualized and executed by start-ups themselves.
To promote the education sector
The government will allocate 400 crore rupees for world-class higher education institutions.

'Study in India' program will be launched to attract foreign students. 
Other Highlights
The budget proposal will make PAN card and Aadhar card interchangeable and allow those who don't have PAN to file returns by simply quoting Aadhar number and use it as a replacement of PAN.

The SHG women member would now be able to take loan up to 1 lakh.

The Modi Government will develop 17 iconic world-class tourist sites to attract tourists and boost the tourism industry.

National Sports Education Board for development of sportspersons to be set up under Government's 'Khelo India' project to promote sports at all levels.

Pradhan Mantri Karam Yogi Maandhan, a new policy is introduced to give pension benefits to retail traders and small shopkeepers.

Pradhan Mantri Matsya Sampada Yojana (PMMSY) will establish a robust fisheries management framework.
So, it can easily be concluded that the budget has many promising policies that will contribute to the growth of the nation's economy.
Government Answer On Migrant Crisis
With the starting of the Monsoon session as the parliamentary activities are finally moving, members are all set with their questions for the ruling party. Trinamool Congress MP Mala Roy has questioned Home Ministry about steps taken for the protection of Migrant crisis. Due to the imposition of stringent lockdown in wake of Co-Vid19 labors faced the most of heat. Lack of employment, lack of funds to survive and no transportation to move have contributed to their woes. Mala Roy asked in her question that what actions the Government took to protect them.
Centre says, "No data of migrants"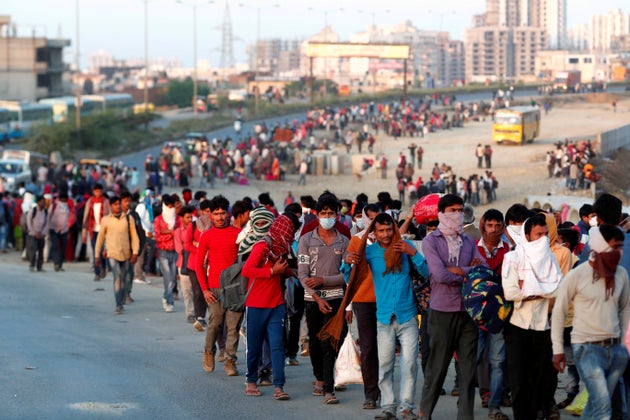 Centre informed in Parliament there is no such data available. Replying to Mala Roy's question and several such questions Ministry of Labour and Employment said that there is no recorded data about the death of Migrants available. A report by World Bank states that due to April's lockdown in the nation about 40 million internal migrants have been hit by employment crisis. Furthermore, to the question, whether any steps are taken for the protection of migrants or any compensation was given? Centre answered that since there is no data no question of compensation. No recorded data of the unemployment due to Covid is found.
Steps taken by the center
One after other shocker is received as Centre has no data of Migrants. Fruit sellers, hawkers, daily wage workers and unskilled labours working in factories are worst hit. The government said that as a country India responded by the local bodies, state governments, NGOs and many others. Government has started special Shramik trains for the labourers. Many facilities are made to help them survive. As the distribution of Cereals, Pulses, Sugar, vegetable spices and water for free.
In some places, cooked food is also distributed for free. Labour Ministry chief said that 1164 trains have operated to help migrants reach their homes. Almost 10.4 million labours have returned. Most of the labours or migrants who have been successfully dropped to their homes are in states of Uttar Pradesh and Rajasthan. On questions of deaths of migrants while on their way to home or even in trains center replies as- non-availability of data.
Data from states are found that almost 63.7 lakh stranded labours are returned to home by Shramik special train. Other migrants who set their journey on foot or by hitch-hiking is still not found. In trains 110 deaths are found to report. The reasons are many some because if illness, some due to accidents, lack of food and non-availability of water. In June the Chief of Labour Commission is ordered to meticulously record data of migrants from various sources under the orders by Central Information Commission. In many states and union territories the advisory guidelines are invoked. Orders are been given to maintain updated labour laws.
The state of labours and migrants is still bad. There seems to be no significant improvement. Due to the labour employment crisis financial wellbeing of country has also taken a hit. In upcoming sessions, the labour crisis and government's actions on it will de looked into with even more depth.