Why Free Metro Rides For Women Is A Good Move?
Chief Minister of Delhi Arvind Kejriwal has announced their proposal of making bus and metro ride free for women in Delhi. The proposal is expected to be implemented in the next three months as it had not been cleared by the central government yet. This move has received a lot of criticism on social media. Keeping in mind the main intention behind this proposal here are some reasons why we think it is a great move :
There is safety in numbers
Not everyone can afford the privilege of a private auto rickshaw and a car. And being an only woman on a bus full of men every day can be a frightening experience. A research study conducted by Mahesh K. Nalla and Manish Madan in New Delhi in 2016 found that only 27% of women felt safe using public transport, compared with 51% of men. Having free transportation will encourage more numbers to be out, which means that more girls/women could go out. Their families will let them go out for school or colleges as they would feel much safer and would no longer be held back because of the costs incurred in transportation. Every woman knows the difference between how they feel while travelling in a ladies coach and a general coach. They feel safer in the ladies coach because they are surrounded by more women. Hence increased numbers imples increased safety.
Increased Inclusion of women in the workforce
There are times when the families of women restrict them from going out for a job because they can't bear the transportation costs. This could be one of the reasons why the Female labour force participation rate is extremely low. According to a report by the Institute of Human Development, the Female Labour Force Participation Rate in Delhi in 2011-2012 was 11.2%, substantially below the national average of 25.51%. This implies that there are fewer women in public spaces in Delhi than there are men, as fewer women head off to work each day. The range of transportation options available to women to get to and from work also remains limited at large. According to Sanjay Camp in Delhi, 52% of women walked to work as compared to 26% of men. Making transportation free for women could probably encourage women to go out and join the workforce.
No financial drawbacks for DMRC
Arvind Kejriwal claimed that DMCR would not face any losses because the expenditure costs shall be borne by the Delhi Government. Now a lot of people have a problem with this because they claim that the Government will eventually use their tax money to pay DMRC. However, the government has not explicitly mentioned that they will be passing this burden on to the taxpayers. If we criticize AAP using the aforementioned argument then we should also criticize the Narendra Modi government for spending crores on building meaningless statues. Money that went into building those phallic statues was also our tax money. Hence, it's a good public debt to take upon ourselves if it leads to increased safety of women.
Government Answer On Migrant Crisis
With the starting of the Monsoon session as the parliamentary activities are finally moving, members are all set with their questions for the ruling party. Trinamool Congress MP Mala Roy has questioned Home Ministry about steps taken for the protection of Migrant crisis. Due to the imposition of stringent lockdown in wake of Co-Vid19 labors faced the most of heat. Lack of employment, lack of funds to survive and no transportation to move have contributed to their woes. Mala Roy asked in her question that what actions the Government took to protect them.
Centre says, "No data of migrants"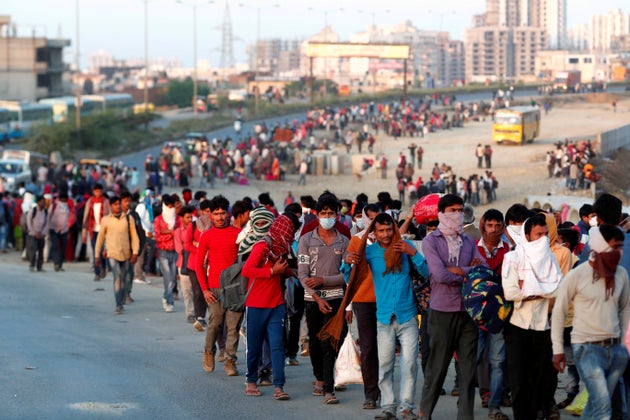 Centre informed in Parliament there is no such data available. Replying to Mala Roy's question and several such questions Ministry of Labour and Employment said that there is no recorded data about the death of Migrants available. A report by World Bank states that due to April's lockdown in the nation about 40 million internal migrants have been hit by employment crisis. Furthermore, to the question, whether any steps are taken for the protection of migrants or any compensation was given? Centre answered that since there is no data no question of compensation. No recorded data of the unemployment due to Covid is found.
Steps taken by the center
One after other shocker is received as Centre has no data of Migrants. Fruit sellers, hawkers, daily wage workers and unskilled labours working in factories are worst hit. The government said that as a country India responded by the local bodies, state governments, NGOs and many others. Government has started special Shramik trains for the labourers. Many facilities are made to help them survive. As the distribution of Cereals, Pulses, Sugar, vegetable spices and water for free.
In some places, cooked food is also distributed for free. Labour Ministry chief said that 1164 trains have operated to help migrants reach their homes. Almost 10.4 million labours have returned. Most of the labours or migrants who have been successfully dropped to their homes are in states of Uttar Pradesh and Rajasthan. On questions of deaths of migrants while on their way to home or even in trains center replies as- non-availability of data.
Data from states are found that almost 63.7 lakh stranded labours are returned to home by Shramik special train. Other migrants who set their journey on foot or by hitch-hiking is still not found. In trains 110 deaths are found to report. The reasons are many some because if illness, some due to accidents, lack of food and non-availability of water. In June the Chief of Labour Commission is ordered to meticulously record data of migrants from various sources under the orders by Central Information Commission. In many states and union territories the advisory guidelines are invoked. Orders are been given to maintain updated labour laws.
The state of labours and migrants is still bad. There seems to be no significant improvement. Due to the labour employment crisis financial wellbeing of country has also taken a hit. In upcoming sessions, the labour crisis and government's actions on it will de looked into with even more depth.