Why Free Metro Rides For Women Is A Good Move?
Chief Minister of Delhi Arvind Kejriwal has announced their proposal of making bus and metro ride free for women in Delhi. The proposal is expected to be implemented in the next three months as it had not been cleared by the central government yet. This move has received a lot of criticism on social media. Keeping in mind the main intention behind this proposal here are some reasons why we think it is a great move :
There is safety in numbers
Not everyone can afford the privilege of a private auto rickshaw and a car. And being an only woman on a bus full of men every day can be a frightening experience. A research study conducted by Mahesh K. Nalla and Manish Madan in New Delhi in 2016 found that only 27% of women felt safe using public transport, compared with 51% of men. Having free transportation will encourage more numbers to be out, which means that more girls/women could go out. Their families will let them go out for school or colleges as they would feel much safer and would no longer be held back because of the costs incurred in transportation. Every woman knows the difference between how they feel while travelling in a ladies coach and a general coach. They feel safer in the ladies coach because they are surrounded by more women. Hence increased numbers imples increased safety.
Increased Inclusion of women in the workforce
There are times when the families of women restrict them from going out for a job because they can't bear the transportation costs. This could be one of the reasons why the Female labour force participation rate is extremely low. According to a report by the Institute of Human Development, the Female Labour Force Participation Rate in Delhi in 2011-2012 was 11.2%, substantially below the national average of 25.51%. This implies that there are fewer women in public spaces in Delhi than there are men, as fewer women head off to work each day. The range of transportation options available to women to get to and from work also remains limited at large. According to Sanjay Camp in Delhi, 52% of women walked to work as compared to 26% of men. Making transportation free for women could probably encourage women to go out and join the workforce.
No financial drawbacks for DMRC
Arvind Kejriwal claimed that DMCR would not face any losses because the expenditure costs shall be borne by the Delhi Government. Now a lot of people have a problem with this because they claim that the Government will eventually use their tax money to pay DMRC. However, the government has not explicitly mentioned that they will be passing this burden on to the taxpayers. If we criticize AAP using the aforementioned argument then we should also criticize the Narendra Modi government for spending crores on building meaningless statues. Money that went into building those phallic statues was also our tax money. Hence, it's a good public debt to take upon ourselves if it leads to increased safety of women.
Controversy Around The Tanishq Ad
The new Tanishq Ad film 'Akavatam', which quite tastefully and delicately portrayed an inter-faith couple who are entering another new phase of life has been taken down after the social media bombarded it with hate comments and threats of inflicting violence. One of the Tanishq stores in Gujrat's Gandhidham was threatened by the fringe group and the store manager was forced to write a note of apology for broadcasting an advertisement based around the theme of inter-faith marriage.  As observed by many, the problem is not the content that was being presented but the theme itself. The Right-wing supports found it offensive that ad film promoted love jihad by showing a Hindu girl who was married to a Muslim family.
The Issue With Freedom Of Speech In India
The banning of such books, films, shows, and plays is not new in India. Books like Satanic Verses by Salman Rushdie had been banned during the time when Rajiv Gandhi was in the office. The excuse that was dished out was to protect the citizens from inflicting violence on each other. But in doing so, India is barring the citizens to express themselves freely and utilizing their fundamental right of free speech. As long as the book or a movie follows the rulebook of the government, banning is not imposed. Thus, the entire idea behind freedom of speech and expression collapses.
Western Governments on the other hand has come to terms with the fact that the simplest issues will create a rupture among the mass. The world is filled with bigots and will remain so and no banning of books or movies or ad films will bring them ultimate satisfaction. Western Governments, thus, decided to protect free speech and free expression knowing that certain sectors will resort to violence.
The Effect Of  The Online Hate Campaign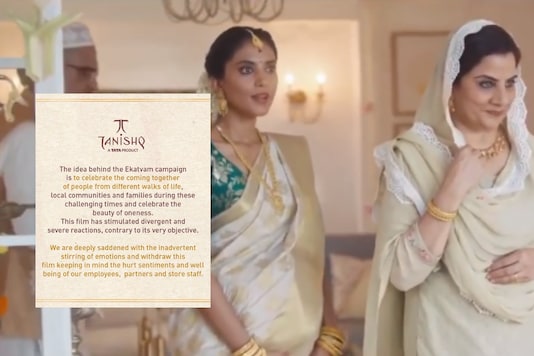 The Tata group also decided to pull down the ad film in the face of dissent and after they saw that people are trying to boycott the brand. The Spokesman of Tata group released a statement after pulling down the ad film, "The idea behind the Ekavatam campaign is to celebrate the coming together of people from different walks of life, local communities and families during these challenging times and celebrate the beauty of oneness. This film has stimulated divergent and severe reactions, contrary to its very objective. We are deeply saddened with the inadvertent stirring of emotions and withdraw this film keeping in mind the hurt sentiments and well-being of our employees, partners, and store staff." They clarified that the only reason they have decided to take down the ad film is to safeguard the interests of their employees who have been assaulted.
Celebrities Reaction
Indian actor Kangana Ranaut, who usually speaks in favor of the right-wing Supports claimed that it glorifies the concept of "Love Jihad and sexism" and vehemently emphasized the point that: civilization needs to be protected. Whereas, Actors like Richa Chadha and Divya Dutta said that they found the ad film to be quite unique and beautiful.