Let's See What Is Ghost Stories Review
In the scene of Ghost Stories ,there is a lavish house that looks like its leapt out of a Sabyasachi catalogue, amid a high-society family that has a house-help to stir their morning cornflakes for them, and a wedding which KJo plays all to his strengths. The basic story, though, is extremely childish. You know what is to happen right at the end of the first scene but you keep watching in the hope that there will be a surprise, that it won't be,and cannot be as predictable as you fear it is. In that, the fear is most real in KJo's offering. Mrunal Thakur has little to do except run around the haveli in a satin negligee, scream once in a while. And for the millennial audience, shout the F word means a bunch of times. KJo's short is very underwhelming, we actually went back and watched Dibakar's again.
Ghost Stories portrays things get off to a good start with Zoya's technically brilliant tale. She built the feeling of dread and uneasiness experienced by Sameera (Janhvi Kapoor), who has played the role of a nurse sent to look after a bedridden patient (Surekha Sikri).
The home and dementia struck patient have both seen happier days, but now there is dust, decay and a peculiar smell that refuses to go away. Sameera is no Florence Nightingale though. After sedating the old lady for the whole night, she plans a romantic tryst with her married lover Guddu (Vijay Verma) but the noises they hear outside their door and the howling of the old woman are from amorous.
Cinematographer Tanay Satam deserves very special credit for the way he makes the corridors look longer and more ominous than they are, and the use of long takes to establish the geography of the house so we know exactly which way the horror lies.
Women let down or abandoned by men is a very common character backstory or journey in a lot of Zoya's work. Here, too, the bedridden old lady and the young nurse are much linked by the men who have abandoned them; she by her son, and the young woman by her parents and then Guddu. Sameera's character has a lot in common with Bhumi Pednekar's character from Zoya's segment in Lust Stories, including a callous lover and a very dead-end job.
Casting Surekha is an inspired choice, and the veteran actor who in fact suffered a stroke very recently, is just the right combination of restrained and creepy. While the twist in the tale is not entirely inspired, Surekha and Janhvi – each one an immensely talented actor who is finally getting her due, and the other a star kid- are both immensely watchable.
It has to be said here that the content in all these anthologies has consistently deteriorated from Bombay Talkies to Lust Stories to now Ghost Stories. But even at their worst, Zoya and Anurag are better than the most. KJo has gotten it just right this time. But Dibakar outshines everyone else. How we've missed this man!
So in the Ghost stories, Janhvi Kapoor is a house-nurse taking care of a very frail Surekha Sikri. Both Kapoor and Sikri spend all their days between the conscious and the subconscious, except they're of two very different natures. Zoya's intricate attention to detail brings us into one of those dilapidated old homes in Bombay – not Mumbai, it gives you that Bombay feel – that anyway gives you the chills.
And then there's something about old women with messed up hair and beady eyes. Zoya plays the stereotypical character which is a bit heartbreaking. The story is very predictable: Showing loneliness, abandonment, holding on to the past and of death – body or soul.
Janhvi does very well, but her character is not appreciative in the way Bhumi did in Zoya's Lust Stories short. Sikri has also got very limited scope, given the narrative is centred around Janhvi. And Vijay Varma should have just remained a soft voice on the phone. An underwhelming start to the year already.
Character of Dibakar Banerjee in Ghost Stories shows that he was a man posted in a town far from humanity. He's cribbing his wife as he walks towards the town after his ride abandoned him, and always enquires about his kids while he's at it. Rain-soaked muddy roads always cause him to slip. The rest could be either a dream or a reality, but smartly and very bravely political, it is.
His town in Ghost stories share a railway station, a hospital, a school, and they share a bloodthirst, a thirst that's caused one townie to murder (devour) his rival townie. Until nothing but a bone-chilling picture of devastation is left there. Dibakar also plays with psychological fear, the kind that we're all breathing in right now, and presents a theatre of absurd-esque story that hits you. And right there is the scare – no ghosts of eerie music needed. Bravo!
PS. Gulshan Devaiah had also one scene and a handful of dialogues, and that's all it took for this man to scare all the daylights out of you.
Read more:Kushal Punjabi Found Dead At His Flat
Controversy Around The Tanishq Ad
The new Tanishq Ad film 'Akavatam', which quite tastefully and delicately portrayed an inter-faith couple who are entering another new phase of life has been taken down after the social media bombarded it with hate comments and threats of inflicting violence. One of the Tanishq stores in Gujrat's Gandhidham was threatened by the fringe group and the store manager was forced to write a note of apology for broadcasting an advertisement based around the theme of inter-faith marriage.  As observed by many, the problem is not the content that was being presented but the theme itself. The Right-wing supports found it offensive that ad film promoted love jihad by showing a Hindu girl who was married to a Muslim family.
The Issue With Freedom Of Speech In India
The banning of such books, films, shows, and plays is not new in India. Books like Satanic Verses by Salman Rushdie had been banned during the time when Rajiv Gandhi was in the office. The excuse that was dished out was to protect the citizens from inflicting violence on each other. But in doing so, India is barring the citizens to express themselves freely and utilizing their fundamental right of free speech. As long as the book or a movie follows the rulebook of the government, banning is not imposed. Thus, the entire idea behind freedom of speech and expression collapses.
Western Governments on the other hand has come to terms with the fact that the simplest issues will create a rupture among the mass. The world is filled with bigots and will remain so and no banning of books or movies or ad films will bring them ultimate satisfaction. Western Governments, thus, decided to protect free speech and free expression knowing that certain sectors will resort to violence.
The Effect Of  The Online Hate Campaign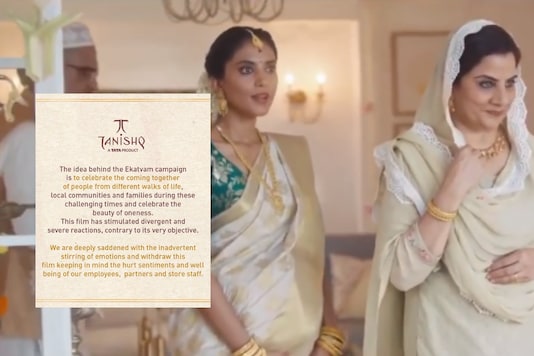 The Tata group also decided to pull down the ad film in the face of dissent and after they saw that people are trying to boycott the brand. The Spokesman of Tata group released a statement after pulling down the ad film, "The idea behind the Ekavatam campaign is to celebrate the coming together of people from different walks of life, local communities and families during these challenging times and celebrate the beauty of oneness. This film has stimulated divergent and severe reactions, contrary to its very objective. We are deeply saddened with the inadvertent stirring of emotions and withdraw this film keeping in mind the hurt sentiments and well-being of our employees, partners, and store staff." They clarified that the only reason they have decided to take down the ad film is to safeguard the interests of their employees who have been assaulted.
Celebrities Reaction
Indian actor Kangana Ranaut, who usually speaks in favor of the right-wing Supports claimed that it glorifies the concept of "Love Jihad and sexism" and vehemently emphasized the point that: civilization needs to be protected. Whereas, Actors like Richa Chadha and Divya Dutta said that they found the ad film to be quite unique and beautiful.