Let's see how Taiwan is controlling coronavirus.
S
hawn Bryant knew he would be under quarantine for two weeks when he arrived in Taiwan from Daejeon, South Korea. The local police called every day and Bryant had told them he would be moving to a new Airbnb a few days into his stay. They said it was fine as long as he took a taxi.
So Bryant was alarmed when, in the taxi, he received a text warning that he had gone too far from his accommodation and would be fined if he didn't return immediately. He quickly called his police contact, who assured Bryant he can just ignore the automated message.
"I'm glad they're taking it very seriously and not letting people off the hook easily," said Bryant, who is visiting Taiwan on his way back to Canada, his home country.
Using phone tracking to enforce mandatory quarantine is one example of how Taiwan has managed to contain the spread of coronavirus, with just 48 confirmed cases of infection to date, including one death. That's despite the island located just 130km (80 miles) from mainland China, the centre of the virus outbreak which has reported more than 80,000 cases and 3,000 deaths.
As the UK, US, Italy, and other countries outside China struggle to cope with rising cases of the virus within their borders, many are taking note of Taiwan's successes. Experts and officials say effective controls in Taiwan can be attributed to the use of technology, a central command centre, its single-payer healthcare system, and swift decision making.
Taiwan's government was quick to implement border controls and it was one of the first to ban exports of surgical masks. Unlike in 2003, when severe acute respiratory syndrome (Sars) killed dozens of people in Taiwan after spreading from southern China, Taiwan has access to more advanced technologies this time around.
It was also on alert early due to its experience of the Sars epidemic. China was criticised for delays reporting to the World Health Organization (WHO) on Sars. "What we learned from Sars was that we need to be very sceptical with data from China," said Chan Chang-Chuan, dean of National Taiwan University's College of Public Health. "We learned very harsh lessons then and that experience is something other countries don't have."
Taiwan is not a member of the WHO because Beijing objects. China, which claims Taiwan as part of its territory even though Taiwan functions as a sovereign country with an independent, democratically elected government, blocks its membership of international organisations.
Since 2017, Taiwan has been barred from attending the annual World Health Assembly, an annual policy meeting, due to lobbying from Beijing. In the current outbreak, it has been excluded from WHO emergency meetings on the coronavirus.
Taiwanese experts were allowed to participate online in a WHO forum on Covid-19 on 12 February in their professional capacities. China's foreign ministry said Beijing had given permission, while Taipei said China had nothing to do with it and that it was the result of direct negotiation with the WHO.
The issue has become an increasingly sore point for Taiwan amid the virus outbreak, with Taipei saying it is a big disadvantage for global health. Others, including Canadian prime minister Justin Trudeau and Japanese prime minister Shinzo Abe have called for the WHO to allow Taiwan to join.
"For us, receiving timely information is very important … Taiwan also needs to let WHO know that Taiwan can't share our successful experiences if we can't participate," said Kolas Yotaka, spokeswoman for Taiwan's cabinet. "We need to work together to end this nightmare."
In Taiwan, most residents carry on as normal, with offices and schools open. Many restaurants, gyms, and cafes in the capital, Taipei, are still bustling, although most premises will take temperatures and spray hands with sanitiser before allowing customers in.
The government has been buying up all domestic mask production and rationing purchases to just three masks per person per week, causing queues outside pharmacies. It will enable online purchases this week.
"Everyone is really united at the moment and trust the government's policies. They seemed heavy-handed at first, but now I believe they are wise decisions," said Andy Chen, general manager of Taiwan Comfort Champ, a mask manufacturer that has been ordered to ramp up production.
Despite the sense of calm, Taiwanese officials are still on high alert. The health minister, Chen Shih-chung, said last week community transmission was unavoidable in the long run and Taiwan needed to be prepared.
Chan, from National Taiwan University, agrees more needs to be done, including more widespread and efficient testing for Covid-19. South Korea, a country of 51.8 million, conducts around 15,000 tests a day and has drive-through test centres. Taiwan, with a population of almost 24 million, currently conducts only around 800 screenings a day and not everyone under quarantine is tested.
There will be more and more confirmed cases as the US and other countries conduct more tests, Chan added.
For Bryant, who is temporarily in the country while en route to Canada, he is happy to wait out his quarantine. He is fine with authorities tracking his movement for now, but he expresses slight concern about the "big brother" implication. Taiwanese officials say it is legal, assuring that they are tracking individuals only during the period of mandatory quarantine.
"We are not using any advanced surveillance technology. It's simply tracking based on their phone's sim cards and their nearby base stations," said cabinet spokeswoman Kolas.
"We want to protect the person as well as others in Taiwan," she said. "To prevent more infections and fatalities, it's a measure we have to take."
… we're asking readers, like you, to make a contribution in support of the Guardian's open, independent journalism. This is turning into a turbulent year with a succession of international crises. The Guardian is in every corner of the globe, calmly reporting with tenacity, rigour and authority on the most critical events of our lifetimes. At a time when factual information is both scarcer and more essential than ever, we believe that each of us deserves access to accurate reporting with integrity at its heart.
More people than ever before are reading and supporting our journalism, in more than 180 countries around the world. And this is only possible because we made a different choice: to keep our reporting open for all, regardless of where they live or what they can afford to pay.
We have upheld our editorial independence in the face of the disintegration of traditional media – with social platforms giving rise to misinformation, the seemingly unstoppable rise of big tech and independent voices being squashed by commercial ownership. The Guardian's independence means we can set our own agenda and voice our own opinions. Our journalism is free from commercial and political bias – never influenced by billionaire owners or shareholders. This makes us different. It means we can challenge the powerful without fear and give a voice to those less heard.
None of this would have been attainable without our readers' generosity – your financial support has meant we can keep investigating, disentangling and interrogating. It has protected our independence, which has never been so critical. We are so grateful.
We need your support so we can keep delivering quality journalism that's open and independent. And that is here for the long term. Every reader contribution, however big or small, is so valuable. Support The Guardian today from as little as £1 – and it only takes a minute. Thank you. 
Read More:In Bologna, people are suffering due to corona virus 
Controversy Around The Tanishq Ad
The new Tanishq Ad film 'Akavatam', which quite tastefully and delicately portrayed an inter-faith couple who are entering another new phase of life has been taken down after the social media bombarded it with hate comments and threats of inflicting violence. One of the Tanishq stores in Gujrat's Gandhidham was threatened by the fringe group and the store manager was forced to write a note of apology for broadcasting an advertisement based around the theme of inter-faith marriage.  As observed by many, the problem is not the content that was being presented but the theme itself. The Right-wing supports found it offensive that ad film promoted love jihad by showing a Hindu girl who was married to a Muslim family.
The Issue With Freedom Of Speech In India
The banning of such books, films, shows, and plays is not new in India. Books like Satanic Verses by Salman Rushdie had been banned during the time when Rajiv Gandhi was in the office. The excuse that was dished out was to protect the citizens from inflicting violence on each other. But in doing so, India is barring the citizens to express themselves freely and utilizing their fundamental right of free speech. As long as the book or a movie follows the rulebook of the government, banning is not imposed. Thus, the entire idea behind freedom of speech and expression collapses.
Western Governments on the other hand has come to terms with the fact that the simplest issues will create a rupture among the mass. The world is filled with bigots and will remain so and no banning of books or movies or ad films will bring them ultimate satisfaction. Western Governments, thus, decided to protect free speech and free expression knowing that certain sectors will resort to violence.
The Effect Of  The Online Hate Campaign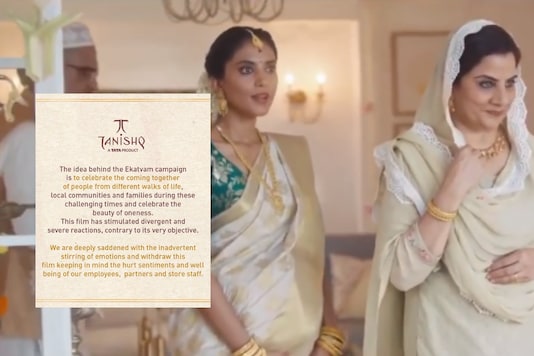 The Tata group also decided to pull down the ad film in the face of dissent and after they saw that people are trying to boycott the brand. The Spokesman of Tata group released a statement after pulling down the ad film, "The idea behind the Ekavatam campaign is to celebrate the coming together of people from different walks of life, local communities and families during these challenging times and celebrate the beauty of oneness. This film has stimulated divergent and severe reactions, contrary to its very objective. We are deeply saddened with the inadvertent stirring of emotions and withdraw this film keeping in mind the hurt sentiments and well-being of our employees, partners, and store staff." They clarified that the only reason they have decided to take down the ad film is to safeguard the interests of their employees who have been assaulted.
Celebrities Reaction
Indian actor Kangana Ranaut, who usually speaks in favor of the right-wing Supports claimed that it glorifies the concept of "Love Jihad and sexism" and vehemently emphasized the point that: civilization needs to be protected. Whereas, Actors like Richa Chadha and Divya Dutta said that they found the ad film to be quite unique and beautiful.