Indians are going to receive the biggest hikes in the Asia-Pacific next year
Indians are going to receive the biggest hikes in the Asia-Pacific next year, even if it is only going to be a marginal change from this year's raise.
The 10% raise that  Indians are slated to receive in 2020 won't be that much different from the actual increase of 9.9% this year, according to the latest salary budget planning report by UK-based advisory firm Willis Towers Watson.
The firm received  around 4,521 responses from 1,128 companies across 20 markets in Asia Pacific, including 337 from India for this report.
"Though salary increases in the India still continue to be among the highest in the region, companies are taking a cautious approach and do not intend to make any such significant changes from previous years," said Rajul Mathur, consulting leader of talent & rewards at Willis Towers Watson, said. "Companies are beginning to make selective skill-based compensation adjustments to cater to requirements around automation and digitisation. "
Gauging the mood
This year, the hiring sentiment is somewhat very worse than the year before. Fewer companies projected a positive business outlook for the next 12 months over the last year.
With this cautious business outlook, the recruitment efforts are also taking a hit. A mere 22% of the organisations in India plan to add to their headcount compared to 29% last year. If anything, seven in the 10 plan to maintain their current headcounts.
Most sectors like chemicals, high tech, and pharmaceuticals can expect salary increases around the average mark of 10%. The energy, financial services, and consumer products sectors stand out for the highest year-on-year growth.
Making money
Importantly, salaries are set to go up across all the career stages in 2020.
Highlighting a continued shift towards  the variable pay, especially at senior management levels, the survey found that actual variable pay at the executive level increased to 30.7% in 2019 from 20.7% a year ago.
"Attracting and retaining the right talent at leadership positions is commanding higher pay increases as the leadership pool continues to be limited. The increase is mostly in terms of variable pay as there is a greater focus on pay for performance," said Arvind Usretay, director of rewards at Willis Towers Watson. "Companies are also working towards more robust succession planning."
The survey found that, on average, 25% of the salary-hike budget is being allocated to the top 11.5% of the performers. This implies that for each rupee allocated to an average or below-average performer, Rs2.16 goes to a top performer, compared to about Rs1.3 last year.
Employers are no longer looking at compensation alone as a key retention driver. A re-emergence of employee benefits is underway. "If the last decade was about compensation…the next could well be about 'purpose-led benefits'," Arvind said. "With the employee now seen as a consumer, benefits will expectedly become more segmented, flexible, and targeted."
Fresh engineering graduates, who are finding it increasingly tough to land a job in India's $160-billion IT industry with each passing year due to lower levels of hiring, may have to deal with another disappointment this year — their starting salaries are unlikely to see a spike anytime in the near future and will largely remain stagnant at their decade-old levels.
According to human resources heads of top companies such as TCS Infosys and Wipro, as well as several recruiters and experts tracking India's IT industry, India's largest outsourcing firms are unlikely to revise fresher-level wages, at a time when spending from top customers such as Citigroup and General Electric is declining and IT firms are scrambling to protect their precious margins, amid rising inflation and cross-currency fluctuations.
More worryingly, experts point out, a huge demand-supply imbalance has tilted the odds squarely in favour of the country's largest software services firms, with only one job available for every five engineers who are graduating from colleges across the country every year.
Read More:Indians to see 10% salary hike in 2020
Know More:AAP wins in Delhi
Controversy Around The Tanishq Ad
The new Tanishq Ad film 'Akavatam', which quite tastefully and delicately portrayed an inter-faith couple who are entering another new phase of life has been taken down after the social media bombarded it with hate comments and threats of inflicting violence. One of the Tanishq stores in Gujrat's Gandhidham was threatened by the fringe group and the store manager was forced to write a note of apology for broadcasting an advertisement based around the theme of inter-faith marriage.  As observed by many, the problem is not the content that was being presented but the theme itself. The Right-wing supports found it offensive that ad film promoted love jihad by showing a Hindu girl who was married to a Muslim family.
The Issue With Freedom Of Speech In India
The banning of such books, films, shows, and plays is not new in India. Books like Satanic Verses by Salman Rushdie had been banned during the time when Rajiv Gandhi was in the office. The excuse that was dished out was to protect the citizens from inflicting violence on each other. But in doing so, India is barring the citizens to express themselves freely and utilizing their fundamental right of free speech. As long as the book or a movie follows the rulebook of the government, banning is not imposed. Thus, the entire idea behind freedom of speech and expression collapses.
Western Governments on the other hand has come to terms with the fact that the simplest issues will create a rupture among the mass. The world is filled with bigots and will remain so and no banning of books or movies or ad films will bring them ultimate satisfaction. Western Governments, thus, decided to protect free speech and free expression knowing that certain sectors will resort to violence.
The Effect Of  The Online Hate Campaign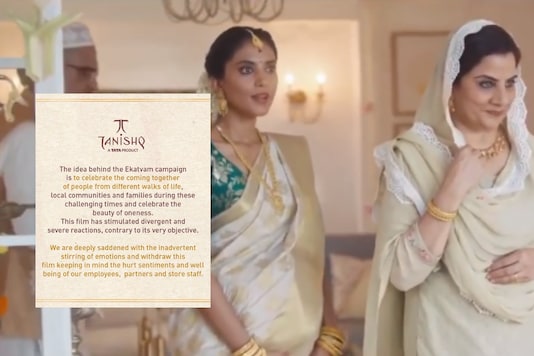 The Tata group also decided to pull down the ad film in the face of dissent and after they saw that people are trying to boycott the brand. The Spokesman of Tata group released a statement after pulling down the ad film, "The idea behind the Ekavatam campaign is to celebrate the coming together of people from different walks of life, local communities and families during these challenging times and celebrate the beauty of oneness. This film has stimulated divergent and severe reactions, contrary to its very objective. We are deeply saddened with the inadvertent stirring of emotions and withdraw this film keeping in mind the hurt sentiments and well-being of our employees, partners, and store staff." They clarified that the only reason they have decided to take down the ad film is to safeguard the interests of their employees who have been assaulted.
Celebrities Reaction
Indian actor Kangana Ranaut, who usually speaks in favor of the right-wing Supports claimed that it glorifies the concept of "Love Jihad and sexism" and vehemently emphasized the point that: civilization needs to be protected. Whereas, Actors like Richa Chadha and Divya Dutta said that they found the ad film to be quite unique and beautiful.