Indian Railways Is Starting Passenger Trains From Tuesday
Do you know that The Indian Railways is starting passenger trains gradually from Tuesday for the first time after two months to 15 destinations from May 12, after they were put on halt to control the spread of the coronavirus disease (Covid-19).
The government announced on Sunday showing the green-light to  these operations after two long  months.Bookings for these trains from the New Delhi Railway Station — will begin at 4pm on Monday only on the official  website of the Indian Railway Catering and Tourism Corporation (IRCTC) while all the ticket counters will be  closed, according to the railways ministry order .
Officials have said the resumption of passenger trains will allow people who had been stranded to book trains. This is also for those who need to get back to work and have been stuck since the lockdown.
These 15 trains will operate from New Delhi connecting Dibrugarh, Agartala, Howrah, Patna, Bilaspur, Ranchi, Bhubaneswar, Secunderabad, Bengaluru, Chennai, Thiruvananthapuram, Madgaon, Mumbai Central, Ahmedabad and Jammu Tawi. These will also include return journeys.
* These trains will include only AC coaches with a similar fare structure as the premium Rajdhani trains. The trains will include 1 AC, 2 AC and 3 AC class and will run with nearly full capacity. The trains will also have stoppages at major routes.
Online ticketing will be allowed and ticket booking counters at the railway stations shall remain closed and no counter tickets, including platform tickets, will be issued.
Also,Face masks are a must for all the  passengers who will be  boarding these trains. People will be screened at the respective  station and only those who are asymptomatic of the Covid-19 disease will be allowed to travel.
A government functionary also shared that similar plans are in the works for the aviation sector but he did not elaborate on them.
Sunday's order is seen as yet another very  big step towards bringing everything back to normal with the govt already giving the relaxations to the  the private employers, businesses and small shops who are  gasping for survival due to the economic fallout of the Covid-19 pandemic and the lockdown prompted by it.
 Only passengers with valid confirmed tickets will be allowed to enter the railway stations. Passengers could be asked to reach the station with time in hand for smooth security clearance.
Government Answer On Migrant Crisis
With the starting of the Monsoon session as the parliamentary activities are finally moving, members are all set with their questions for the ruling party. Trinamool Congress MP Mala Roy has questioned Home Ministry about steps taken for the protection of Migrant crisis. Due to the imposition of stringent lockdown in wake of Co-Vid19 labors faced the most of heat. Lack of employment, lack of funds to survive and no transportation to move have contributed to their woes. Mala Roy asked in her question that what actions the Government took to protect them.
Centre says, "No data of migrants"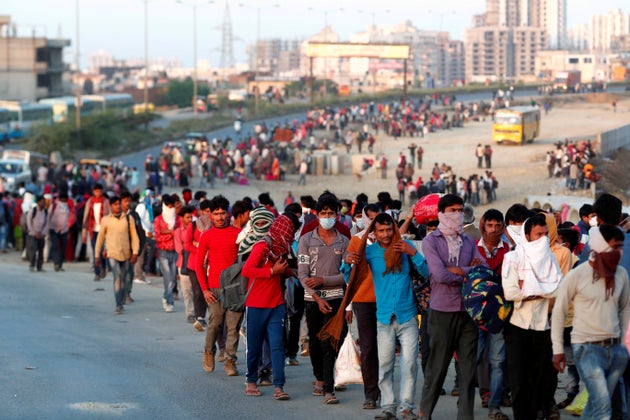 Centre informed in Parliament there is no such data available. Replying to Mala Roy's question and several such questions Ministry of Labour and Employment said that there is no recorded data about the death of Migrants available. A report by World Bank states that due to April's lockdown in the nation about 40 million internal migrants have been hit by employment crisis. Furthermore, to the question, whether any steps are taken for the protection of migrants or any compensation was given? Centre answered that since there is no data no question of compensation. No recorded data of the unemployment due to Covid is found.
Steps taken by the center
One after other shocker is received as Centre has no data of Migrants. Fruit sellers, hawkers, daily wage workers and unskilled labours working in factories are worst hit. The government said that as a country India responded by the local bodies, state governments, NGOs and many others. Government has started special Shramik trains for the labourers. Many facilities are made to help them survive. As the distribution of Cereals, Pulses, Sugar, vegetable spices and water for free.
In some places, cooked food is also distributed for free. Labour Ministry chief said that 1164 trains have operated to help migrants reach their homes. Almost 10.4 million labours have returned. Most of the labours or migrants who have been successfully dropped to their homes are in states of Uttar Pradesh and Rajasthan. On questions of deaths of migrants while on their way to home or even in trains center replies as- non-availability of data.
Data from states are found that almost 63.7 lakh stranded labours are returned to home by Shramik special train. Other migrants who set their journey on foot or by hitch-hiking is still not found. In trains 110 deaths are found to report. The reasons are many some because if illness, some due to accidents, lack of food and non-availability of water. In June the Chief of Labour Commission is ordered to meticulously record data of migrants from various sources under the orders by Central Information Commission. In many states and union territories the advisory guidelines are invoked. Orders are been given to maintain updated labour laws.
The state of labours and migrants is still bad. There seems to be no significant improvement. Due to the labour employment crisis financial wellbeing of country has also taken a hit. In upcoming sessions, the labour crisis and government's actions on it will de looked into with even more depth.