Is there a trade war brewing between the US and India?
The US president Donald Trump has been regularly seen calling out India for its high tariffs. While the Indian PM Narendra Modi in his Make-in-India campaign, courted foreign investment as a major part, which in turn, promises to transform India into an emerging manufacturing hub and create millions of jobs for the entering workforce, mostly the youth of the country. This does not seem to change the US president's words.
America's Snub
India and the U.S. follow a major trade concession deal, under which India has 0% tariff on the almost $6 billion worth of goods exports to the US, there seems to be a rising dispute over the various trade policies, as claimed by the experts of the matter. The Generalized System of Preferences (GSP) removal from India which is also the largest beneficiary of this scheme worldwide since long back, could turn out to be a very negative and a vague action since President Donald Trump took office in 2017. He still continues to claim to reduce the U.S. deficit partnering with the large market countries in the world.
Trump returned back on the U.S. manufacturing program and even named it 'Make America Great Again campaign', which was truly not a good sign. That all came in hand with the global card payment giants like the VISA and Mastercard moving their data to India and increasing the tariffs on smartphones and various other gadgets. This broadened the dispute between two countries that were working quite decently over the last few years of ups and downs. The GSP and the trade deals had been going out of hand lately, the United States was thinking of scaling back their preferences on total anonymity terms due to the highly sensitive matter. The result could be employment loss too as the major half of the exports under the GSP scheme is from the regular sized enterprises, which require more labor input.
In 2002, the EU accepted their GSP policies that discriminated against India and a few other countries. Textiles and clothing were severely affected due to this. India then knocked the doors of the Dispute Settlement Body of the World Trade Organization, filing the incident of the trade discrimination, which in turn was a violation of the GSP rules.
India's Role
India did play a crucial part in improving trade relations with the USA, as even noticed by some of the greatest analysts. With more restrictions in the trading and the e-commerce space, they have already curtailed the deeds of US giant companies like Amazon and Walmart. There is also a chance that Trump may demand a free trade agreement if the pact tends to wash out. A further threat to the local industry would rise due to such a pact that results in 0 tariffs for U.S. goods arriving in India. The major reason behind the most recent turndown in trade ties was India's recent regulation on e-commerce that hinders the way Walmart and Amazon backed Flipkart do business in an extremely outgrowing business all set to touch the $200 billion mark by 2027
Government Answer On Migrant Crisis
With the starting of the Monsoon session as the parliamentary activities are finally moving, members are all set with their questions for the ruling party. Trinamool Congress MP Mala Roy has questioned Home Ministry about steps taken for the protection of Migrant crisis. Due to the imposition of stringent lockdown in wake of Co-Vid19 labors faced the most of heat. Lack of employment, lack of funds to survive and no transportation to move have contributed to their woes. Mala Roy asked in her question that what actions the Government took to protect them.
Centre says, "No data of migrants"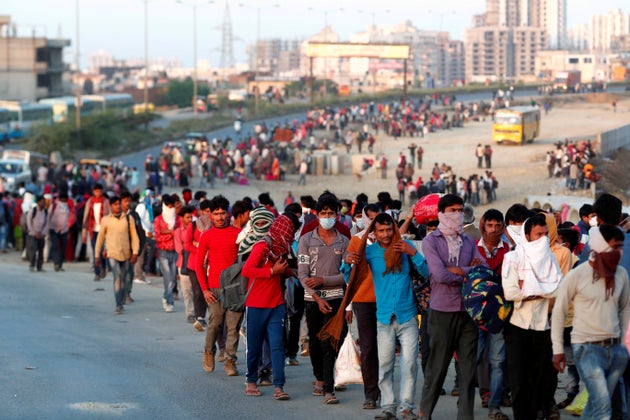 Centre informed in Parliament there is no such data available. Replying to Mala Roy's question and several such questions Ministry of Labour and Employment said that there is no recorded data about the death of Migrants available. A report by World Bank states that due to April's lockdown in the nation about 40 million internal migrants have been hit by employment crisis. Furthermore, to the question, whether any steps are taken for the protection of migrants or any compensation was given? Centre answered that since there is no data no question of compensation. No recorded data of the unemployment due to Covid is found.
Steps taken by the center
One after other shocker is received as Centre has no data of Migrants. Fruit sellers, hawkers, daily wage workers and unskilled labours working in factories are worst hit. The government said that as a country India responded by the local bodies, state governments, NGOs and many others. Government has started special Shramik trains for the labourers. Many facilities are made to help them survive. As the distribution of Cereals, Pulses, Sugar, vegetable spices and water for free.
In some places, cooked food is also distributed for free. Labour Ministry chief said that 1164 trains have operated to help migrants reach their homes. Almost 10.4 million labours have returned. Most of the labours or migrants who have been successfully dropped to their homes are in states of Uttar Pradesh and Rajasthan. On questions of deaths of migrants while on their way to home or even in trains center replies as- non-availability of data.
Data from states are found that almost 63.7 lakh stranded labours are returned to home by Shramik special train. Other migrants who set their journey on foot or by hitch-hiking is still not found. In trains 110 deaths are found to report. The reasons are many some because if illness, some due to accidents, lack of food and non-availability of water. In June the Chief of Labour Commission is ordered to meticulously record data of migrants from various sources under the orders by Central Information Commission. In many states and union territories the advisory guidelines are invoked. Orders are been given to maintain updated labour laws.
The state of labours and migrants is still bad. There seems to be no significant improvement. Due to the labour employment crisis financial wellbeing of country has also taken a hit. In upcoming sessions, the labour crisis and government's actions on it will de looked into with even more depth.