Kabir Singh Movie Review: Arjun Reddy Remake
Kabir Singh
Cast: Shahid Kapoor, Kiara Advani, Arjan Bajwa, Nikita Dutta, Suresh Oberoi
Director: Sandeep Reddy Vanga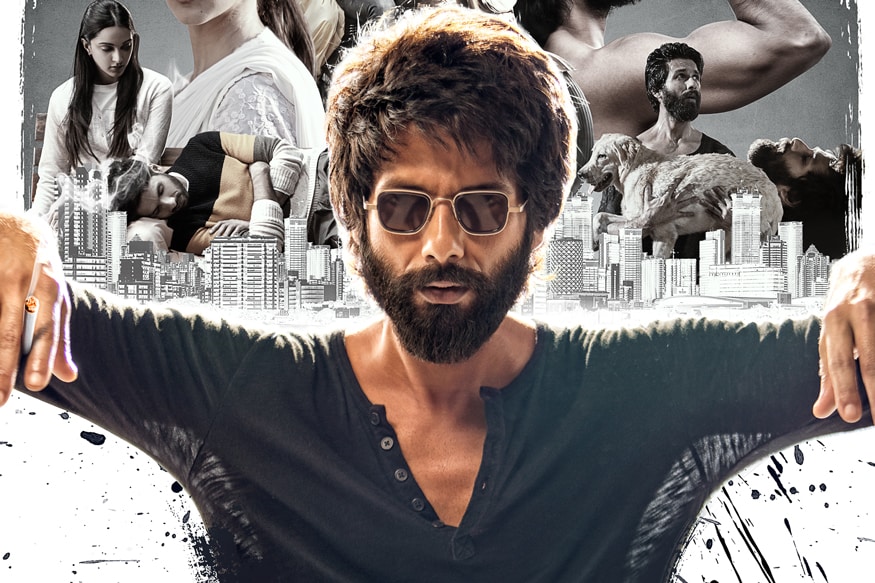 Why are we still making movies which normalize toxic masculinity in 2019?
Kabir Singh directed by Sandeep Reddy is one such movie. It is a remake of a Telugu movie Arjun Reddy (2017) in which a short-tempered house surgeon becomes a drug addict when his girlfriend is forced to marry someone else.
This short plot of the movie must have portrayed a character like Kabir as someone who is madly in love and could not tolerate a heartbreak and gets transformed into a heavy drinker and a drug addict but wait, there is more to the story.
Kabir Singh is a character who is a combination of male ego and toxic masculinity with anger management issues. A character like Kabir Singh who refuses to consider anyone's opinion and thinks he has the authority to downplay a woman needs to be shown as someone who needs help and needs to go to therapy.
"Woh meri bandi hai," Kabir threatens his juniors, in one of the scenes. Additionally, there is a track in the movie, "the hi to Mera Haq hai (I have the right on you)". Here the woman is deprived of any agency at all. She is like a property, marked and owned by the man. She will quietly follow him wherever he takes her, allowing herself to bear with his violent ways.
There is one scene when he picks up a fight and punches his opponent. The Dean suspends him but only after acknowledging him as the topper of their University. The entire base of the film is to somehow make his toxicity striking, explain it away as "unusual" and give him zillion more chances without him facing any consequences. Well, he is a genius at everything after all which is why his behavior is justifiable at all times.
He is shown molesting a woman, threatening her to take her clothes off.  In one of the subsequent scenes, his maid breaks a glass and he runs after her. These instances reflect on his angry uncontrollable behavior and the saddest part about it is the fact that audiences are laughing on it in a theatre completely normalizing such behavior.
Shiva suggesting Kabir marry Shiva's sister to get some steadiness in life portrays that women are meant to be sacrificial goats for male wrongdoing. It speaks a lot about the way women are seen in our society. This shows that they are a victim of patriarchy and the fact that it's been so internalized in us that we don't find it wrong.
There is another scene where Kabir asks his lover to sit next to a healthy girl in the classroom because 'healthy chicks are like teddy bears: warm and cuddly.' If this is not body shaming and objectifying a woman then I don't know what else is.
This movie is a blend of issues that currently prevails in our society. Instead of making Kabir the hero of this movie, ignoring all his wrongdoing, he should have come across as someone who either realizes that he has got issues and gradually seeks help or as someone who faces the consequences for his behavior.
Rating: 2.5 / 5
Review for Breathe Season 2: An Abhishek Bachchan Debut Web Series
Recently, Amazon Prime Video launched Breathe Season 2 for which the audience was waiting for almost 2 years. It is the second season of  Amazon Prime Original Series and the audience appreciated the first season very much, the acting of R. Madhvan and Amit Sadh was able to take viewer's breathe away. There were very high expectations from Season 2. Season 2 came up with a change in cast and Breathe 2 came up as debut web series of Abhishek Bachhan. Let us see if Season 2 was able to take the viewer's breathe away or not.
Cast: – Abhishek Bachhan, Nithya Menan, Amit Sadh, Hrishikesh Joshi, Plabita Borthakur, Srikant Verma, Saiyami Kher.
Director: – Mayank Sharma
Review of the Series
Breathe Season 2 introduced Abhishek Bachchan and Nithya Menan (South Indian actress who began her career with Mission Mangal) into the lead role. The series also Amit Sadh is also back in his role but this time with a difference. The acting of Amit Sadh is liked very much. His temper is similar in this season but the difference is that now he has been shifted to the crime branch of Delhi. The acting skills of the actors are no doubt very good but the only concern is the emotional sense of the acting. The audience is disheartened at the lack of emotions shown in the series though it was required most of the time. When Siya was kidnapped from a birthday party, viewers wanted to have emotional scenes of parents which were the demand of the story, but that is missing.
The basic plot of the story without any spoiler is that the 6-year-old daughter, Siya of a couple (Abhishek Bachchan and Nithya Menan) is kidnapped. Siya is a little girl with diabetes who requires 4 injections every day. The couple is very tensed and disheartened at the sudden disappearance of their daughter. But soon the kidnapper called them. The story took a turn when the kidnapper did not ask for any ransom but asked them to take some lives. This weird demand for kidnapper shocked the couple and from here, the story begins.
The plot of the story portrays it as an engrossing Physiological Thriller which forces the audience to watch more but as the series proceeds, the turns and twists become predictable. These days, there are dozens of Thrillers in the market which has raised the level of expectations of the audience to a higher level. That is what this series seemed to lack partially, not completely.
The past stories of characters, suspense, an unsuccessful marriage and efforts of a man to solve all his problems along with saving his daughter from a dangerous unknown man comes up as a good plot. But some scenes might seem annoying and not useful.
Was Season 2 of Breathe able to catch viewer's breathe away?
To be specific, the beginning of the series and revelation of the plot and characters was able to engross the viewers and make them stick to the upcoming episodes. Also, the acting of Amit Sadh was able to convince the audience at a great extent but with more and more episodes, the plot turned out to be predictable. The audience of the Thriller genre will be able to predict the plot very easily. Overall, the series was not able to catch the viewer's breathe away completely.