Kabir Singh Movie Review: Arjun Reddy Remake
Kabir Singh
Cast: Shahid Kapoor, Kiara Advani, Arjan Bajwa, Nikita Dutta, Suresh Oberoi
Director: Sandeep Reddy Vanga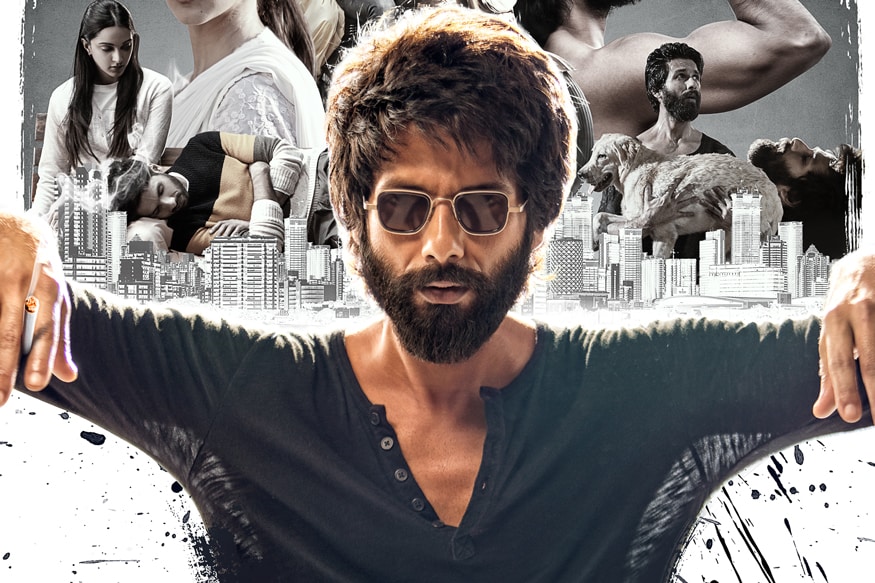 Why are we still making movies which normalize toxic masculinity in 2019?
Kabir Singh directed by Sandeep Reddy is one such movie. It is a remake of a Telugu movie Arjun Reddy (2017) in which a short-tempered house surgeon becomes a drug addict when his girlfriend is forced to marry someone else.
This short plot of the movie must have portrayed a character like Kabir as someone who is madly in love and could not tolerate a heartbreak and gets transformed into a heavy drinker and a drug addict but wait, there is more to the story.
Kabir Singh is a character who is a combination of male ego and toxic masculinity with anger management issues. A character like Kabir Singh who refuses to consider anyone's opinion and thinks he has the authority to downplay a woman needs to be shown as someone who needs help and needs to go to therapy.
"Woh meri bandi hai," Kabir threatens his juniors, in one of the scenes. Additionally, there is a track in the movie, "the hi to Mera Haq hai (I have the right on you)". Here the woman is deprived of any agency at all. She is like a property, marked and owned by the man. She will quietly follow him wherever he takes her, allowing herself to bear with his violent ways.
There is one scene when he picks up a fight and punches his opponent. The Dean suspends him but only after acknowledging him as the topper of their University. The entire base of the film is to somehow make his toxicity striking, explain it away as "unusual" and give him zillion more chances without him facing any consequences. Well, he is a genius at everything after all which is why his behavior is justifiable at all times.
He is shown molesting a woman, threatening her to take her clothes off.  In one of the subsequent scenes, his maid breaks a glass and he runs after her. These instances reflect on his angry uncontrollable behavior and the saddest part about it is the fact that audiences are laughing on it in a theatre completely normalizing such behavior.
Shiva suggesting Kabir marry Shiva's sister to get some steadiness in life portrays that women are meant to be sacrificial goats for male wrongdoing. It speaks a lot about the way women are seen in our society. This shows that they are a victim of patriarchy and the fact that it's been so internalized in us that we don't find it wrong.
There is another scene where Kabir asks his lover to sit next to a healthy girl in the classroom because 'healthy chicks are like teddy bears: warm and cuddly.' If this is not body shaming and objectifying a woman then I don't know what else is.
This movie is a blend of issues that currently prevails in our society. Instead of making Kabir the hero of this movie, ignoring all his wrongdoing, he should have come across as someone who either realizes that he has got issues and gradually seeks help or as someone who faces the consequences for his behavior.
Rating: 2.5 / 5
 The Social Dilemma: The Lesser-Known Pandemic
Edward Tufte said, "There are only two industries that call their customers 'users': illegal drugs and software". The new Netflix original documentary by jeff Orlowski "the social dilemma" brings to you the dark side of the social media that keeps you addicted to a virtual world. It is a well-documented and a very staunch portrayal of social media.
It explores the spooky side of these platforms which has the capability to manipulate and psychologically affect human beings from people who have closely worked in these industries. These people talk about the distress they felt when they worked for something. How it is taking hold of an individual's life and play around with it to earn profit to become the most successful industries in the history of humankind. This group of people is from social media giants like Google, Facebook, Pinterest, Snapchat, WhatsApp, and many others.
What is the "dilemma"?
As the name suggests, it talks about the dilemma that is social media. I talked to one of my friends from school today, she is doing fine and told me about this new show she is watching. Well, I also saw stumbled upon celebrity news casually scrolling which by the way, has no use for me.  Now, that is the dilemma we are talking about. The documentary talks about our heavy dependence on social media in today's world and how we fell prey to this trap. In today's world, it is not possible for one to totally isolate themselves from social media.
All our work has come to Gmail, Pinterest is the world of ideas, and for much social media is the workplace. We found all our old friends on social media and stay connected with our family and friends. But at the same time, we can't put our down at the dinner table to have an actual conversation with our family. This dilemma is really where we can't go with just the good part, we will take along the repercussion as well. This is the question this documentary puts out there. The dilemma of good and bad. But the question is, "is the payoff of good is enough to compensate for the cost of bad"?
What are these "bad"?
Now, how this social media is affecting you? Manipulation of the Human brain, social media is a world of ideas and how these ideas are presented to you is based on an algorithm that is up to the maker of these platforms to decide. This sequence and control over what one is coming across leads to restricting the way one thinks and builds is the point of view.
Social media has been used as a weapon by many people to pour out false information that is provocative, degrading, and spread negativity across communities resulting in things like riots, violent actions, and sometimes even things like mass killings. We came across this kind of news almost every day. Content related to ideal beauty types, body shaming, hate comments, and constant exposure to advertisements are all constantly floating on social media specifically affecting teenagers and the young generation.
These algorithms work to keep you looking at your screen and is an addiction that needs to be addressed. Unknowingly, social media is affecting all aspects of our life It puts a threat on democracy, increase depression, and even suicides, mob violence, etc. it has also lead to people losing contact from the actual world. Addiction to devices has distanced families and also affects other relationships which are totally opposite to the way humans are supposed to behave, humans as a species are supposed to be open-minded, dynamic, and communicative. Not to just hide behind screens.
Final words
Jeff Orlowski has very rightly called it the social dilemma. But at the end of the day, it's in our hands that how do we want to live How do we want ideas to come to us and how we decide to act to them. All of this can be summed up in one last question – whether we want to live a life that is influenced by people around us, with a wide range of ideas on all aspects from all sources, not just a few selected ones, or a life that is operated by an algorithm.