Super 30: Was Hrithik Roshan Back With A Bang?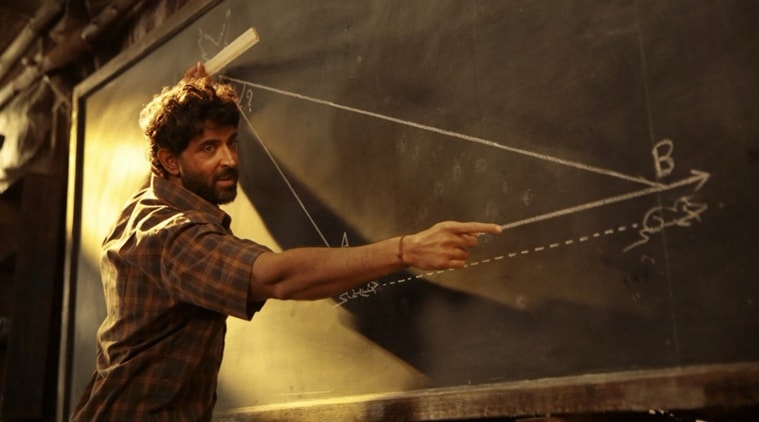 It is believed that films or cinema is the depiction of our society and culture as a whole. It's an art of storytelling and moving the audience to live that story for a few hours. Super 30 released this Friday similarly talks about the education problem in the lower middle class and extremely poor section of the society.
Hrithik Roshan starrer this drama genre film comes along with a social message as well. It also stars Mrunal Thakur and Pankaj Tripathi. Directed by Vikas Bahl, Hrithik Roshan is coming back after 2 years, since his last movie Kaabil.
The movie is based on the real-life of mathematician and educationist Anand Kumar from Bihar. Let's review this movie section wise:
Super 30 Movie Review
Story Line
For any film, the story is the most basic pillar. If it's strongly written and formulated film is bound to perform well. But Super 30's story does come with some major loopholes and irrelevant angles. Instead of focusing solely on the education of underprivileged kids, the story takes some unnecessary turns and actually bores the audience.
Anand Kumar, an IIT tuition teacher, played by Hrithik Roshan is accused of sexual harassment case which ruins his career. And thus, he starts teaching underprivileged kids for competition exams like IIT.
How he starts modifying the lives of those kids who were clueless before he came along. The movie sometimes appears far from reality despite being based on a real-life story. The romantic angle between Hrithik Roshan and Mrunal Thakur forcefully shoved in the movie also was not really needed if we see this practice. That's all the film has to offer in respect to the storyline.
The Acting Aspect
When the trailer came out, everyone understood that Hrithik Roshan was not a suitable match for this role. Although his acting was quite good in the film and did perform well, this character was just not for him. For turning into a Bihari, over brown makeup did not go with Hrithik's personality at all and his accent was not on point as well. Moreover, his hazel eyes that were left as it is, didn't do justice to the character.
The supporting cast has not done that bad. In fact, they are pretty decent. Mrunal Thakur in the role of Anand's girlfriend has done a good job even though her role is very short. Multiple children taken as Anand's students are decent too and can do better if the roles had more depth.
Pankaj Tripathi as a corrupt politician did his job pretty well and was actually hilarious to watch. Aditya Srivastava in the role of Anand's rival performs nicely and delivers a steady performance.
Direction & Soundtrack
When the script fails, it's the director who actually fails. The loopholes and problem of the script depict the lousy direction by Vikas Bahl. Although the screenplay is bearable, the flow of the story could have been better. In fact, the flaw in direction began when Hrithik Roshan was chosen for this role.
Soundtracks of this movie are complete life savior and actually do justice with the tone of the movie. The music is composed by Ajay – Atul. 'Basanti No Dance' and 'Question mark' are actually good choices instead of putting a mandatory old Bollywood song remake or unnecessary cliche dance number. 'Jugraafiya' is a delight to listen with its meaningful lyrics and tone.
Final Thoughts
Overall, this movie is a one time watch only for Hrithik Roshan's acting, 'the underdog are powerful' message and maybe for the music album. But if you were expecting some brilliant performance out of this movie, your heart will be broken because it will not be as revolutionary as 3 idiots or PK. The film is not a mass entertainer like Hrithik's previous films with action and dancing numbers but actually tried to deliver a certain message.
Super30 – Official Trailer
 Mahendra Singh Dhoni The Captain Cool turns 39
Mahendra Singh Dhoni or better known as Mahi or Dhoni is the most loved Indian Cricketer of all the time. Fans often call him Captain cool. The Cricketer has been the former captain of Indian Cricket Team but is still looked upon as most respectable player not only by fans but also by his teammates. Today, on his 39th birthday, let us have a look at some amazing and wonderful facts about Dhoni.
Only Captain to win All ICC Trophies
Mahendra Singh Dhoni is known for captaincy in 2011 World Cup won by India but he is also the only captain in the whole long history of Cricket to win all the ICC Trophies. The credit not only goes to the smart captaincy of this legend but also to his smart choice about his teammates and their respective positions on the playfield. Under his captaincy, India won ICC  T20 World Cup in 2007, Asia Cups in 2010 and 2016, ICC World Cup in 2011 and ICC Champions Trophy. Such a record has not yet been set up by any other captain of any cricket team in the world.
Better known as Captain Cool
Almost everyone knows when someone is referring to Captain Cool, they are talking about Dhoni. But the major reason behind this is yet unknown to many. Dhoni is very calm by nature. During matches, almost players often lose their control over their emotions but Dhoni is always seen in the calm and composite mood even during hard times. This control over himself not only makes him the most respected player but also gives strength to his co-players.
Footballer
Cricket is not the only game which Dhoni has played since ever. Before Cricket, he used to play football and badminton. His outstanding goalkeeping skills caught the eye of his childhood coach, who asked him to play for school cricket team as wicketkeeper. Also, Dhoni has played both football and badminton at district level championships.
Helicopter Shot
Dhoni's Helicopter Shot is very famous. Almost everyone has heard about it. But Dhoni is not the inventor of this shot. It was learnt by him from his friend named Santosh Lal and that too, during a tennis tournament in Ranchi.
Honorary rank of Lieutenant Colonel
Dhoni has been conferred to the honorary rank of Lieutenant Colonel in the year 2011. Dhoni has since always expressed his love for the Army and his country. He also serves the nation by taking up his duties in the Army. According to him, he always tells his wife that she is the third love of his life with the country being the first and his parents being the second.
Only Cricketer to reach Eight IPL Finals
Dhoni is the captain of IPL team "Chennai Super Kings" and he has been the only cricketer to reach finals of all the eight IPL seasons. He has also won three of the finals in years 2010, 2011 and 2018. And the most interesting fact is that he is the only captain with such a title.
Final word
Dhoni is one of the most loving cricketers of the Indian Cricket Team. He has fans all over the world. On his 39th birthday, a lot of his fans have been wishing him. Twitter is full of birthday wishes. Rohit Sharma wished "Happy Birthday Youngster" to him. BCCI has also tweeted to wish him. Along with this, many cricketers and celebrities are wising him. With these wishes, we hope Dhoni will set more and more records in the future and make his family, friends, fans and the country proud.