Super 30: Was Hrithik Roshan Back With A Bang?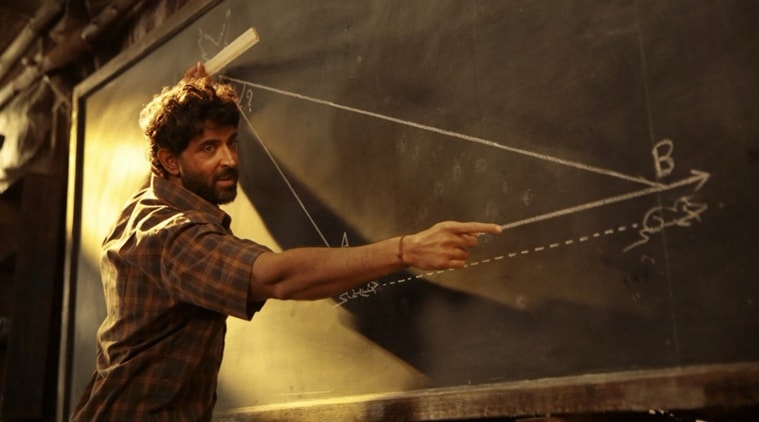 It is believed that films or cinema is the depiction of our society and culture as a whole. It's an art of storytelling and moving the audience to live that story for a few hours. Super 30 released this Friday similarly talks about the education problem in the lower middle class and extremely poor section of the society.
Hrithik Roshan starrer this drama genre film comes along with a social message as well. It also stars Mrunal Thakur and Pankaj Tripathi. Directed by Vikas Bahl, Hrithik Roshan is coming back after 2 years, since his last movie Kaabil.
The movie is based on the real-life of mathematician and educationist Anand Kumar from Bihar. Let's review this movie section wise:
Super 30 Movie Review
Story Line
For any film, the story is the most basic pillar. If it's strongly written and formulated film is bound to perform well. But Super 30's story does come with some major loopholes and irrelevant angles. Instead of focusing solely on the education of underprivileged kids, the story takes some unnecessary turns and actually bores the audience.
Anand Kumar, an IIT tuition teacher, played by Hrithik Roshan is accused of sexual harassment case which ruins his career. And thus, he starts teaching underprivileged kids for competition exams like IIT.
How he starts modifying the lives of those kids who were clueless before he came along. The movie sometimes appears far from reality despite being based on a real-life story. The romantic angle between Hrithik Roshan and Mrunal Thakur forcefully shoved in the movie also was not really needed if we see this practice. That's all the film has to offer in respect to the storyline.
The Acting Aspect
When the trailer came out, everyone understood that Hrithik Roshan was not a suitable match for this role. Although his acting was quite good in the film and did perform well, this character was just not for him. For turning into a Bihari, over brown makeup did not go with Hrithik's personality at all and his accent was not on point as well. Moreover, his hazel eyes that were left as it is, didn't do justice to the character.
The supporting cast has not done that bad. In fact, they are pretty decent. Mrunal Thakur in the role of Anand's girlfriend has done a good job even though her role is very short. Multiple children taken as Anand's students are decent too and can do better if the roles had more depth.
Pankaj Tripathi as a corrupt politician did his job pretty well and was actually hilarious to watch. Aditya Srivastava in the role of Anand's rival performs nicely and delivers a steady performance.
Direction & Soundtrack
When the script fails, it's the director who actually fails. The loopholes and problem of the script depict the lousy direction by Vikas Bahl. Although the screenplay is bearable, the flow of the story could have been better. In fact, the flaw in direction began when Hrithik Roshan was chosen for this role.
Soundtracks of this movie are complete life savior and actually do justice with the tone of the movie. The music is composed by Ajay – Atul. 'Basanti No Dance' and 'Question mark' are actually good choices instead of putting a mandatory old Bollywood song remake or unnecessary cliche dance number. 'Jugraafiya' is a delight to listen with its meaningful lyrics and tone.
Final Thoughts
Overall, this movie is a one time watch only for Hrithik Roshan's acting, 'the underdog are powerful' message and maybe for the music album. But if you were expecting some brilliant performance out of this movie, your heart will be broken because it will not be as revolutionary as 3 idiots or PK. The film is not a mass entertainer like Hrithik's previous films with action and dancing numbers but actually tried to deliver a certain message.
Super30 – Official Trailer
The extraordinary tale :Netflix 'Yeh Ballet'
The film is the sophomore directorial feature of Padma Shri awardee Sooni Taraporevala, who made 'Little Zizou' in 2009
The sun had set, and the orange lanterns and strung lights bobbed on the salty, sticky summer breeze at Worli Koliwada. Dancers in bright festive wear made their way through the serpentine lanes of the urban village to reach the sets of the Netflix original film Yeh Ballet – bedecked to shoot a Diwali celebration.
"This is a new perspective of the sea link from this side. It hasn't been seen much on screen," remarked producer Siddharth Roy Kapur, nodding towards the bridge over the glittering sea. His company, Roy Kapur Films is backing the project, the sophomore directorial feature of Padma Shri awardee Sooni Taraporevala, after their collaboration on The Namesake (2006) – a Mira Nair film built on Taraporevala's screenplay.
Yeh Ballet, inspired by a true story, charts the journey of two young men named Nishu (Manish Chauhan) and the rebellious Asif (Achintya Bose) with Mumbai working class backgrounds pirouetting their way into international ballet schools under the guidance of an the ageing and eccentric Israeli-American ballet teacher – Saul (Julian Sands).
Incongruent elements
As the music blared over the speakers, the director stayed rather quiet while choreographer Shiamak Davar took the reins and guided actors Achintya and Mekhola Bose as they spiritedly danced across the set with the camera focused on them, with hordes of people cheering them on. On the sidelines, Sands and Chauhan laughed and moved to the music.
This is the Diwali celebration that the boys take their teacher to, and for the first time he's dancing Bollywood," shared writer-director Taraporevala, before pointing to Mekhola and adding without giving much away, "Her character is an enigma. She and Asif have a bond that's based on dance."Outside of ballet and Bollywood, the film pulls in elements from a number of dance-styles, "Because the real boys come from a hip-hop [and b-boying] background, and Bollywood is all around us. [So] the film has got a full palette of very incongruous dances and music," said Taraporevala.
 The director has offered a glimpse into this story before – in her 2017 14-minute documentary of the same name. "Dance is a rich person's indulgence," said Chauhan in the short (who plays himself in the Netflix film), over footage of him and young dancer Amiruddin Shah practicing their moves on a local train. The director picked Chauhan, Shah and their ballet master Yehuda Ma'or's story to translate into a short Virtual Reality documentary, shot in 360-degrees, for filmmaker Anand Gandhi's VR Lab.
"It totally fascinated me to read and hear about their stories – [seeing] what they achieved. [Ballet] is a very elite and niche world, [and] no boys dance ballet. [Yet] kids who never heard classical music [became] so good in two years that they got a scholarship to [London's] The Royal Ballet [and the American Oregon Ballet Theatre] is just a phenomenal thing," said the director, before continuing, "The documentary short film [was] a completely different beast from writing [and directing] a feature film. [With the feature] you take a kernel of truth and kind of blow it up."
Fact meets fiction
A beaming Chauhan sits on the intersection between fact and fiction – essaying the character based on his story. When asked about his fairytale-like journey, Chauhan admitted, "I never wanted to become a dancer. I would hide in the school bathroom [when we had to dance]. But as a teenage boy I was introduced to power moves, and backflips seemed cool."
Later, he saved up money, joined Ashley Lobo's Danceworx Academy, and met Ma'or who saw the spark in his student. "I don't know what he saw," laughed Chauhan, "I didn't know ballet, my English was bad, and all the [ballet] terminologies are in French.
Everything he said [went over my head]!" Ma'or once saw Chauhan practicing after class in front of the mirrors, said Chauhan, "So he stayed after class with me the next day, saying 'I'll teach you, because you're doing it all wrong!'"
Achintya stepped in to play Asif (who is based on Shah) since Shah was (and is) training at the Royal Ballet School. "The research," said Achintya, taking a second to think about the work that went into essaying his character, "was partially done. If there is an example that needs to be given [in a Danceworx class], it's either Manish, or Amir, or both of them."
Taraporevala revealed that Achintya trained in ballet for about six months under Cindy Jourdain, and also learnt b-boying for the role. His background, however, is in contemporary and jazz. Achintya also added that Asif is significantly different from the quiet, focused Shah.
Read More:From Socha Na Tha To Tamasha