Prime Minister Narendra Modi on Friday appealed for a 9-minute blackout at 9 pm
Prime Minister Narendra Modi on Friday appealed for a 9-minute blackout at 9 pm on Sunday, urging citizens to light a lamp, candle or shine a mobile flashlight during the period.
Earlier, Prime Minister Narendra Modi reminded everyone to maintain social distancing norms while undertaking the exercise.
"India is united in its fight against the corona pandemic", Modi said in a video address on Friday, his third address since 19 March on COVID -19 that has now killed 66 Indians and infected 2,423.
This is the second such exercise called for by Modi. On 22 March, the prime minister had asked citizens to clap, blow conch or ring bell for 5 minutes to commend the efforts of those fighting the pandemic.
He said "On the 5th of April, on Sunday, I want 9 minutes from all you, at 9 pm. Listen carefully, on the 5th of April, at 9 pm, turn off all the lights in your homes, stand at your doors or in your balconies, and light candles or diyas , torches or mobile flashlights for 9 minutes,"
Modi said, adding that "At that time, if you have turned off all the lights of your homes, and each one of us in all directions has lit a diya; we will experience the superpower of light, clearly illuminating the common purpose we are all fighting for.
Narendra Modi said that ,In that light, in that lustre, in that radiance, let us resolve in our minds indicating that we are not alone, that no one is alone."
India has been in lockdown since 25 March, which will last until the 14 April as of now. Only essential services are allowed to function during the period because of which businesses have shut down and the country has almost ground to a halt.
"Social distancing Lakshman Rekha should never be crossed and should not be broken in any case," Modi said in his video message that lasted for around nine minutes.
"Whether it is people's curfew, ringing bells, clapping hands or clanging plates; they have all made the nation realize its collective strength in these testing times.
It has led to the deepening of the belief that the nation can unite as one in the battle against Corona. This collective spirit of yours, of the nation, can be seen manifesting itself during these times of lockdown," Modi said.
The opposition was quick to criticise the move.
Responding to Modi's video address, senior Congress leader and former finance minister P. Chidambaram said the need of the hour was to announce a generous livelihood support package for the poor.
"Dear @Narendra Modi, We will listen to you and light diyas on April 5. But, in return, please listen to us and to the wise counsel of epidemiologists and economists," Chidambaram posted on Twitter soon after Modi's Friday address.
"What we expected from you today was FAP II, a generous livelihood support package for the poor, including for those categories of poor who were totally ignored by @nsitharaman on 25-3-2020," he added referring to Financial Assistance Package (FAP).
Congress and ruling Bharatiya Janata Party (BJP) have been embroiled in a war of words over the 21-days lockdown, announced on 24 March, to contain the spread of COVID-19.
While Congress leaders say the union government needs to do more to handle the economic fallout of the lockdown, BJP has accused it of doing politics over the issue.
While the lockdown has affected all, for migrant workers it has been especially hard as it has taken away their chance at jobs and livelihood. Millions have been trudging to their villages and hometowns as living in urban centres become impossible with no wages and security.
The situation is particularly bad in India's six largest metros—-Delhi, Mumbai, Kolkata, Chennai, Hyderabad and Bengaluru—-where nearly half of the population comprises migrants.
Read More:5 Facts About Corona Virus
Controversy Around The Tanishq Ad
The new Tanishq Ad film 'Akavatam', which quite tastefully and delicately portrayed an inter-faith couple who are entering another new phase of life has been taken down after the social media bombarded it with hate comments and threats of inflicting violence. One of the Tanishq stores in Gujrat's Gandhidham was threatened by the fringe group and the store manager was forced to write a note of apology for broadcasting an advertisement based around the theme of inter-faith marriage.  As observed by many, the problem is not the content that was being presented but the theme itself. The Right-wing supports found it offensive that ad film promoted love jihad by showing a Hindu girl who was married to a Muslim family.
The Issue With Freedom Of Speech In India
The banning of such books, films, shows, and plays is not new in India. Books like Satanic Verses by Salman Rushdie had been banned during the time when Rajiv Gandhi was in the office. The excuse that was dished out was to protect the citizens from inflicting violence on each other. But in doing so, India is barring the citizens to express themselves freely and utilizing their fundamental right of free speech. As long as the book or a movie follows the rulebook of the government, banning is not imposed. Thus, the entire idea behind freedom of speech and expression collapses.
Western Governments on the other hand has come to terms with the fact that the simplest issues will create a rupture among the mass. The world is filled with bigots and will remain so and no banning of books or movies or ad films will bring them ultimate satisfaction. Western Governments, thus, decided to protect free speech and free expression knowing that certain sectors will resort to violence.
The Effect Of  The Online Hate Campaign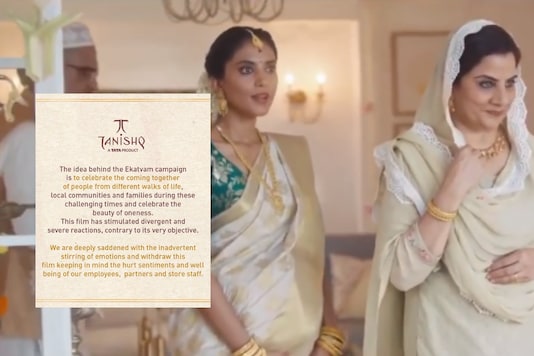 The Tata group also decided to pull down the ad film in the face of dissent and after they saw that people are trying to boycott the brand. The Spokesman of Tata group released a statement after pulling down the ad film, "The idea behind the Ekavatam campaign is to celebrate the coming together of people from different walks of life, local communities and families during these challenging times and celebrate the beauty of oneness. This film has stimulated divergent and severe reactions, contrary to its very objective. We are deeply saddened with the inadvertent stirring of emotions and withdraw this film keeping in mind the hurt sentiments and well-being of our employees, partners, and store staff." They clarified that the only reason they have decided to take down the ad film is to safeguard the interests of their employees who have been assaulted.
Celebrities Reaction
Indian actor Kangana Ranaut, who usually speaks in favor of the right-wing Supports claimed that it glorifies the concept of "Love Jihad and sexism" and vehemently emphasized the point that: civilization needs to be protected. Whereas, Actors like Richa Chadha and Divya Dutta said that they found the ad film to be quite unique and beautiful.