Narendra Modi Speech On Corona Virus
The novel corona virus, or COVID-19, pandemic has spread across at least 190 countries. The outbreak is having a major impact on  the global economy and the stock market.
There have been at least 519 reported cases of novel corona virus in India. While 37 have recovered so far in India, 10 have died. As many as 560 districts in India are now under complete lockdown.
Modi's Speech Highlights
 

I understand that 21 days is a long time, but it is crucial for your protection as well as your family members. I am confident that India will get through these testing times by strictly following government advisories. 

March 24, 2020 08:18 PM IST




Many countries across the world, including France, Italy, Germany, Iran, etc. have not been able to curtail the spread of the disease despite having state-of-the-art health infrastructure. 

It took 66 days for the number of infected cases to rise to 1 lakh. But, it took only 11 days for the next one lakh cases to emerge. And, it took just four days for the third 1 lakh cases to appear. This indicates,  the speed at which coronavirus is spreading.

As per WHO, if one person is infected with coronavirus, it can infect hundreds others. Coronavirus is spreading like wildfire. 

 

I appeal to people to not venture out on roads at all.

You must remember that initially, people who have been infected will not show symptoms in the first few days. Please maintain social distancing. 

These 21 days are crucial. If we are not able to curtail this in 21 days, then the country will go back 21 days. Hence, forget moving out of your house for 21 days. The only thing that people have to do no onwards, is to stay at home. 

I appeal to the people of India to stay where they are. Considering these circumstances, there will be a lockdown for 21 days.

Some people and their irresponsible behaviour will endanger you and your family, friends and the nation.

There is no other way to save ourselves from coronavirus but social distancing. If we want to be saved, the cycle has to be broken. Some people think that social distancing is only for those who have corona virus. That's not right, social distancing is for every citizen.
Read More:India Witness Complete Lockdown
Controversy Around The Tanishq Ad
The new Tanishq Ad film 'Akavatam', which quite tastefully and delicately portrayed an inter-faith couple who are entering another new phase of life has been taken down after the social media bombarded it with hate comments and threats of inflicting violence. One of the Tanishq stores in Gujrat's Gandhidham was threatened by the fringe group and the store manager was forced to write a note of apology for broadcasting an advertisement based around the theme of inter-faith marriage.  As observed by many, the problem is not the content that was being presented but the theme itself. The Right-wing supports found it offensive that ad film promoted love jihad by showing a Hindu girl who was married to a Muslim family.
The Issue With Freedom Of Speech In India
The banning of such books, films, shows, and plays is not new in India. Books like Satanic Verses by Salman Rushdie had been banned during the time when Rajiv Gandhi was in the office. The excuse that was dished out was to protect the citizens from inflicting violence on each other. But in doing so, India is barring the citizens to express themselves freely and utilizing their fundamental right of free speech. As long as the book or a movie follows the rulebook of the government, banning is not imposed. Thus, the entire idea behind freedom of speech and expression collapses.
Western Governments on the other hand has come to terms with the fact that the simplest issues will create a rupture among the mass. The world is filled with bigots and will remain so and no banning of books or movies or ad films will bring them ultimate satisfaction. Western Governments, thus, decided to protect free speech and free expression knowing that certain sectors will resort to violence.
The Effect Of  The Online Hate Campaign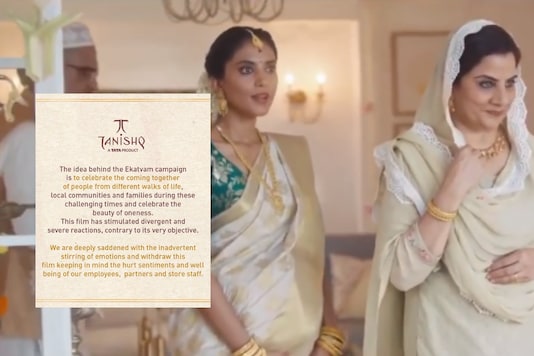 The Tata group also decided to pull down the ad film in the face of dissent and after they saw that people are trying to boycott the brand. The Spokesman of Tata group released a statement after pulling down the ad film, "The idea behind the Ekavatam campaign is to celebrate the coming together of people from different walks of life, local communities and families during these challenging times and celebrate the beauty of oneness. This film has stimulated divergent and severe reactions, contrary to its very objective. We are deeply saddened with the inadvertent stirring of emotions and withdraw this film keeping in mind the hurt sentiments and well-being of our employees, partners, and store staff." They clarified that the only reason they have decided to take down the ad film is to safeguard the interests of their employees who have been assaulted.
Celebrities Reaction
Indian actor Kangana Ranaut, who usually speaks in favor of the right-wing Supports claimed that it glorifies the concept of "Love Jihad and sexism" and vehemently emphasized the point that: civilization needs to be protected. Whereas, Actors like Richa Chadha and Divya Dutta said that they found the ad film to be quite unique and beautiful.