National Education Policy 2020 Has Been Approved By The Cabinet: A Way For Transformational Reforms
The Union Government recently approved National Education Policy 2020 which will be paving way for transformational reforms in School and higher-level education. This policy will be the first Education Policy introduced in the 21st century. It will replace thirty-four-year-old National Policy on Education, 1986. The National Education Policy 2020 is aligned with the Sustainable Development Agenda of 2020. It aims at bringing out unique qualities among students and will focus on a more holistic, multidimensional and flexible education system to the cater the need of modern Indian society.
Key Feature of the Policy
NEP 2020 aims at bringing reforms in both school level and higher-level Education System. Let us have a look at key features of policies associated with both levels individually: –
SCHOOL EDUCATION
Universal access to education will be ensured at all levels of education. The main focus will be on promoting adult literacy, development of innovative learning techniques, open learning systems and bringing back dropouts to the mainstream.
The 10+2 system will be replaced by 5+3+3+4 curricular structure corresponding to age groups of 3-8, 8-11, 11-14 and 14-18. NCERT will develop NCPEFECCE for children up to the age of 8.
An implementation plan will be prepared by state for attaining universal foundational literacy and numeracy in all the primary schools by grade 3 by 2025.
NCERT will develop NCFSE for 2020-21. The latest policy will reduce curriculum contents to promote skills of critical thinking and essential learning among the students. The choice of subjects will be highly flexible and there will be no rigid separation between arts and science.
Vocational education will begin by grade 6 and it will also include internships.
Till grade 5, the medium of instruction will be the mother tongue of the student. Preferably, it can be increased up to class 8 and beyond. Sanskrit will be extensively included in three language formula and will be included as an option at all levels of education. Indian sign language and various classical languages will also be offered as subjects. Foreign languages will be offered at the secondary level.
PARAKH will be set up as an assessment authority to assess students. Examinations for class 3,5 and 8 will be conducted. Boards examinations for class 10 a d12 will be redesigned by keeping holistic development of students. The new assessment system will be more regular and formative.
Gender Inclusion Fund and Special Education Zones will be introduced for the development of equitable and inclusive education
Teachers will be recruited through transparent and robust processes and promotion will be based on merit.
HIGHER EDUCATION
The Gross Enrollment ration will be increased by 50% by 2035 in higher education.
The holistic and multidisciplinary education system will be introduced. UG course will be of 3 or 4 years with multiple exit options. Academic Credits will be digitally stored in to be established Academic Bank of Credit. MERUs will be introduced at par with IIT, IIM, etc.
Higher Education Commission of India will be set up as regulatory authority of higher education. It will four independent verticals – NHERC, GEC, HEGC and NAC.
The infrastructure and architecture of intuitions will be developed in a rationalized manner. Universities will allow a spectrum of institutions.
Faculty will be recruited through transparent recruitment procedures. NEP aims at introducing motivated, energized and capable faculty.
According to NEP 2200, the minimum qualification for teaching will be 4 year B.Ed degree by 2030 which and stringent action will be taken on violation of it.
Colleges will get funding and rights based on their rating.
For graduation, the student will get a certificate for completion of the first year, diploma for completing a second year and degree for completing the full course.
National Education Policy 2020 will be a transformational reform in the outdated traditional educational system of India. It will reduce contents of the curriculum to requires knowledge of core subject. The reduced curriculum and exposure to vocational activities and internships will help in the holistic development of the student. The system will be based on access and no loss. Skills will be guaranteed and early child care and traditional languages will also be taken care of equally.
Controversy Around The Tanishq Ad
The new Tanishq Ad film 'Akavatam', which quite tastefully and delicately portrayed an inter-faith couple who are entering another new phase of life has been taken down after the social media bombarded it with hate comments and threats of inflicting violence. One of the Tanishq stores in Gujrat's Gandhidham was threatened by the fringe group and the store manager was forced to write a note of apology for broadcasting an advertisement based around the theme of inter-faith marriage.  As observed by many, the problem is not the content that was being presented but the theme itself. The Right-wing supports found it offensive that ad film promoted love jihad by showing a Hindu girl who was married to a Muslim family.
The Issue With Freedom Of Speech In India
The banning of such books, films, shows, and plays is not new in India. Books like Satanic Verses by Salman Rushdie had been banned during the time when Rajiv Gandhi was in the office. The excuse that was dished out was to protect the citizens from inflicting violence on each other. But in doing so, India is barring the citizens to express themselves freely and utilizing their fundamental right of free speech. As long as the book or a movie follows the rulebook of the government, banning is not imposed. Thus, the entire idea behind freedom of speech and expression collapses.
Western Governments on the other hand has come to terms with the fact that the simplest issues will create a rupture among the mass. The world is filled with bigots and will remain so and no banning of books or movies or ad films will bring them ultimate satisfaction. Western Governments, thus, decided to protect free speech and free expression knowing that certain sectors will resort to violence.
The Effect Of  The Online Hate Campaign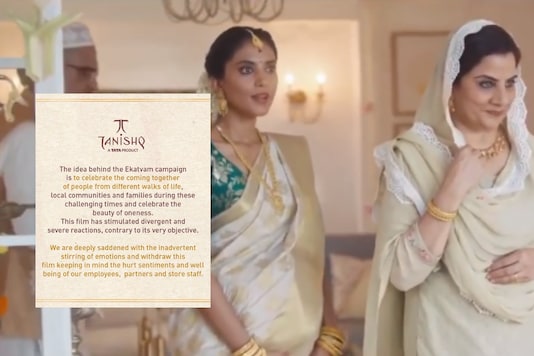 The Tata group also decided to pull down the ad film in the face of dissent and after they saw that people are trying to boycott the brand. The Spokesman of Tata group released a statement after pulling down the ad film, "The idea behind the Ekavatam campaign is to celebrate the coming together of people from different walks of life, local communities and families during these challenging times and celebrate the beauty of oneness. This film has stimulated divergent and severe reactions, contrary to its very objective. We are deeply saddened with the inadvertent stirring of emotions and withdraw this film keeping in mind the hurt sentiments and well-being of our employees, partners, and store staff." They clarified that the only reason they have decided to take down the ad film is to safeguard the interests of their employees who have been assaulted.
Celebrities Reaction
Indian actor Kangana Ranaut, who usually speaks in favor of the right-wing Supports claimed that it glorifies the concept of "Love Jihad and sexism" and vehemently emphasized the point that: civilization needs to be protected. Whereas, Actors like Richa Chadha and Divya Dutta said that they found the ad film to be quite unique and beautiful.