Nirbhaya Convicts Are Hanged To Death
Nirbhaya got justice!
On Friday, India woke up unusually early to witness the end of seven and half-year-old battle and counted down at 05:29:50 am outside Tihar jail as four rapists were hanged to death at exactly 5.30 am.
It was a rare moment in history as thousands gathered outside Tihar jail, despite the coronavirus pandemic, to witness justice being delivered to Nirbhaya with the hanging of her four rapists. These four, along with two others, had raped a 23-year-old physiotherapy student on 16 December 2012 in the heart of Delhi. They didn't stop until they mutilated her body and dumped her on the roadside in south Delhi.
Two hours after Delhi high court and Supreme Court rejected the last-ditch attempts of the Nirbhaya rapists to put a stay on execution, in the presence of the district magistrate, jail superintendent and medical examiner, Mukesh Singh, 32, Pawan Gupta, 25, Vinay Sharma, 26, and Akshay Kumar Singh, 31 were hanged in Tihar's Jail Number 3.
India Today TV spoke to senior Tihar Jail officials to find out more on what happened in the hours leading to the execution.
The family members of Mukesh were allowed to meet him for the last time on Thursday evening.
The four were asked if they wanted anything specific to eat before being hanged. But Mukesh and Vinay had roti, sabzi, dal and rice and Pawan and Akshay refused to have their last meal.
None of them slept during the night and were restless. Around 4 am, the rapists were asked to take a shower but all of them refused. They were also asked if they wish to perform any prayers for the last time.
Sources say, the convicts were also asked about their last wishes, if they want to transfer or donate any property and who will get the money that they had earned while serving time in prison. None expressed any last wish, they said.
Meanwhile, the superintendent checked his office one last time to check if they received any letter from the court or authorities relating to the execution.
Tihar Jail was then put on lockdown during which no prisoner was allowed to move out of their cells.
Around 5 am after breakfast was served, all four were taken out of their respective cells to the scaffold by the deputy superintendent and were guarded by the head warder and six others, two in front, two behind and two holding their arms.
The superintendent later informed the magistrate present in the scaffold and read the warrant to the prisoners. The magistrate then countersigned the warrant.
During the execution, Magistrate of West Delhi, the superintendent, deputy superintendent, medical officer in charge and resident medical officers were present.
A cotton cap with a flap was then put on the face of all four just before they entered gallows-enclosures. One of four convicts, according to sources, was not willing to enter and started crying. The convicts were not allowed to see the gallows. Around, 5.20 am, the convicts were mounted on the scaffold and were placed directly under beam to which the ropes were attached, the warders were still holding prisoner's hand.
Read More:Thappad:A Simplistic Story
Government Answer On Migrant Crisis
With the starting of the Monsoon session as the parliamentary activities are finally moving, members are all set with their questions for the ruling party. Trinamool Congress MP Mala Roy has questioned Home Ministry about steps taken for the protection of Migrant crisis. Due to the imposition of stringent lockdown in wake of Co-Vid19 labors faced the most of heat. Lack of employment, lack of funds to survive and no transportation to move have contributed to their woes. Mala Roy asked in her question that what actions the Government took to protect them.
Centre says, "No data of migrants"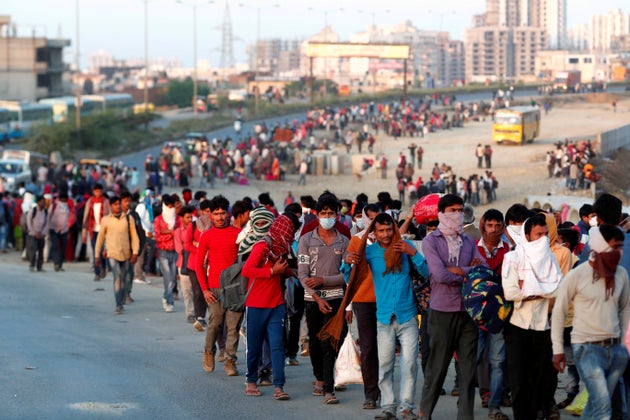 Centre informed in Parliament there is no such data available. Replying to Mala Roy's question and several such questions Ministry of Labour and Employment said that there is no recorded data about the death of Migrants available. A report by World Bank states that due to April's lockdown in the nation about 40 million internal migrants have been hit by employment crisis. Furthermore, to the question, whether any steps are taken for the protection of migrants or any compensation was given? Centre answered that since there is no data no question of compensation. No recorded data of the unemployment due to Covid is found.
Steps taken by the center
One after other shocker is received as Centre has no data of Migrants. Fruit sellers, hawkers, daily wage workers and unskilled labours working in factories are worst hit. The government said that as a country India responded by the local bodies, state governments, NGOs and many others. Government has started special Shramik trains for the labourers. Many facilities are made to help them survive. As the distribution of Cereals, Pulses, Sugar, vegetable spices and water for free.
In some places, cooked food is also distributed for free. Labour Ministry chief said that 1164 trains have operated to help migrants reach their homes. Almost 10.4 million labours have returned. Most of the labours or migrants who have been successfully dropped to their homes are in states of Uttar Pradesh and Rajasthan. On questions of deaths of migrants while on their way to home or even in trains center replies as- non-availability of data.
Data from states are found that almost 63.7 lakh stranded labours are returned to home by Shramik special train. Other migrants who set their journey on foot or by hitch-hiking is still not found. In trains 110 deaths are found to report. The reasons are many some because if illness, some due to accidents, lack of food and non-availability of water. In June the Chief of Labour Commission is ordered to meticulously record data of migrants from various sources under the orders by Central Information Commission. In many states and union territories the advisory guidelines are invoked. Orders are been given to maintain updated labour laws.
The state of labours and migrants is still bad. There seems to be no significant improvement. Due to the labour employment crisis financial wellbeing of country has also taken a hit. In upcoming sessions, the labour crisis and government's actions on it will de looked into with even more depth.