Om Birla: The New Lok Sabha Speaker
On 19 June 2019, the grassroots politician rose to become The New Lok Sabha Speaker. This has come across as a shock to many as this post of being a Lok Sabha Speaker is usually procured by the seniors. According to sources, the suggestion for the post was given by the Prime Minister himself, Shri Narendra Modi. Becoming the 17th Lok Sabha Speaker, Om Birla was a member of the parliament in the 16th Lok Sabha.
Early Life
Om Birla was born on 23rd November 1962. His father was Shrikrishna Birla and his mother, late Shakuntala Devi. His entry into politics was as a student leader who rose to be elected in the Rajasthan Assembly for three consecutive terms.
In the years 1992-1995, Birla was the chairperson of the Rajasthan Rajya Sahakari Upbhokta Sangh. In addition, he was the vice-chairperson of the National Cooperative Consumers' Federation of India in New Delhi.
In the years 1987-2003, Birla served as a key leader in the BJYM(Bharatiya Janata Yuva Morcha). From the years 1987-1991, Birla stood as the District President. Later from 1991-1997, Birla served as the State President in the state of Rajasthan. While from 1997-2003, he was the National Vice President of the same. This is why the 56-year-old is considered to be close to both PM Narendra Modi and the Home Minister, Amit Shah.
Political Career
In 2003, Om Birla won his first assembly elections from Kota South by defeating his Congress opponent with a margin of 10,101 votes. In the next assembly elections, his seat remained defended. This time, his closest opponent(Ram Kishan Verma, Congress) lost to him with a margin of 24,300 votes. In these years i.e. 2003-2008, Om Birla was the Parliamentary Secretary in the Rajasthan Government. The 2013 Assembly Elections was the third time Om Birla secured a win and this time with 50,000 votes more than his closest opponent, Pankaj Mehta of Congress. 2019 made him a member of the parliament for the second time.
Om Birla, who holds a masters degree in commerce has also introduced several social welfare programs. In 2012, he introduced 'Paridhan' which was an effort to provide the weaker section of the society with both clothes and books. He was also involved with the set up of several blood donation camps. In addition, he initiated a free meal program and a medicine bank so the poor could be supplied with required medicines free of cost along with meals.
The appointment as Speaker
His appointment as a Lok Sabha Speaker was seen as a shock as this post is usually given to more senior candidates. His successor to the post was Sumitra Mahajan who was an 8 time MP. In the 16th Lok Sabha, Om Birla had a significant contribution. His attendance was 86%, he raised a total of 671 questions. He participated in 163 debates. In addition, he introduced 6 private members' bills in the 16th Lok Sabha. When he was the Parliamentary Secretary, he provided financial aid of about Rs. 50 Lakh to the poor, serious and helpless patients through the State Government.
Government Answer On Migrant Crisis
With the starting of the Monsoon session as the parliamentary activities are finally moving, members are all set with their questions for the ruling party. Trinamool Congress MP Mala Roy has questioned Home Ministry about steps taken for the protection of Migrant crisis. Due to the imposition of stringent lockdown in wake of Co-Vid19 labors faced the most of heat. Lack of employment, lack of funds to survive and no transportation to move have contributed to their woes. Mala Roy asked in her question that what actions the Government took to protect them.
Centre says, "No data of migrants"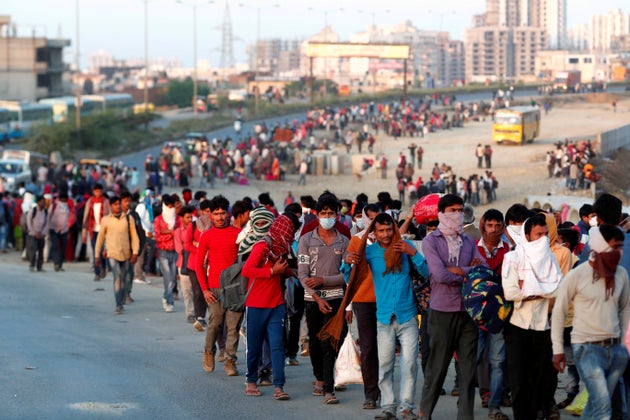 Centre informed in Parliament there is no such data available. Replying to Mala Roy's question and several such questions Ministry of Labour and Employment said that there is no recorded data about the death of Migrants available. A report by World Bank states that due to April's lockdown in the nation about 40 million internal migrants have been hit by employment crisis. Furthermore, to the question, whether any steps are taken for the protection of migrants or any compensation was given? Centre answered that since there is no data no question of compensation. No recorded data of the unemployment due to Covid is found.
Steps taken by the center
One after other shocker is received as Centre has no data of Migrants. Fruit sellers, hawkers, daily wage workers and unskilled labours working in factories are worst hit. The government said that as a country India responded by the local bodies, state governments, NGOs and many others. Government has started special Shramik trains for the labourers. Many facilities are made to help them survive. As the distribution of Cereals, Pulses, Sugar, vegetable spices and water for free.
In some places, cooked food is also distributed for free. Labour Ministry chief said that 1164 trains have operated to help migrants reach their homes. Almost 10.4 million labours have returned. Most of the labours or migrants who have been successfully dropped to their homes are in states of Uttar Pradesh and Rajasthan. On questions of deaths of migrants while on their way to home or even in trains center replies as- non-availability of data.
Data from states are found that almost 63.7 lakh stranded labours are returned to home by Shramik special train. Other migrants who set their journey on foot or by hitch-hiking is still not found. In trains 110 deaths are found to report. The reasons are many some because if illness, some due to accidents, lack of food and non-availability of water. In June the Chief of Labour Commission is ordered to meticulously record data of migrants from various sources under the orders by Central Information Commission. In many states and union territories the advisory guidelines are invoked. Orders are been given to maintain updated labour laws.
The state of labours and migrants is still bad. There seems to be no significant improvement. Due to the labour employment crisis financial wellbeing of country has also taken a hit. In upcoming sessions, the labour crisis and government's actions on it will de looked into with even more depth.