Pandit Jasraj, The Legendry Indian Classical Vocalist Passed Away
Pandit Jasraj was a huge pillar of the Indian Music industry. He was not only an excellent vocalist but he was a beautiful soul too. On his death, Prime Minister Narendra Modi tweeted to pay tribute to him. Several touching and emotional tributes have been paid by eminent personalities like Shankar Mahadevan and Javed Akhtar on his death.
Life of a legend
Pandit Jasraj was an Indian Classical Vocalist who belonged to Mewati Gharana. He contributed not only to the classical Indian music industry but has also performed several Bollywood movies. The credit of popularizing Mewati Gharana goes to him clearly. He has also performed Haweli Sangeet, devotional songs, albums, semi-classical and Indian Classical genres. Pandit Jasraj has given memorable and graceful national and international performances. He has received national and international recognition for his devotion to his music. He has also taught several students in India. Canada, Europe and the United States. His disciples have also continued his legacy.
Achievements of Pandit Jasraj
Pandit Jasraj has given 80 years years of life to Indian Classical Music. He has been the inspiration of vocalists all over the world. He is also known for playing the Tabla. But his major contribution was in singing. He has won several awards in his lifetime. He has won Padma Shri (1975), Sangeet Natak Akademi Award (1987), Padma Bhushan (1990), Padma Vibhushan (2000),  Swathi Sangeetha Puraskaram (2008), Sangeet Natak Akademi Fellowship (2010), Pu La Deshpande lifetime achievement award (2012), Bharat Ratna Bhimsen Joshi Classical Music Life Achievement Award (2013), Sumitra Charat Ram Award for Lifetime Achievement (2014), Marwar Sangeet Ratna Award (2014), Gangubai Hangal Lifetime Achievement Award (2016), Asteroid 300128 Panditjasraj, discovered by astronomers with the Mount Lemmon Survey in 2006, was named in his honour.[The official naming citation was published by the Minor Planet Center on 27 August 2019, Sangeet Kala Ratna, Master Dinanath Mangeshkar Award and Maharashtra Gaurav Puraskar.  He has been recognized nationally and internationally.
Tribute to Pandit Jasraj
As Pandit Jasraj passed away on Monday, a lot of touching tributes were seen on Twitter.
The Prime Minister Narendra Modi has also tweeted to pay tribute to the legend.
One of the most touching tribute was paid by Sudarshan Pattnaik who shared on the sand art of Pandit Ji which he had created earlier. The immensely graceful sand art made netzines emotional.

Singer Shankar Mahadevan has also tweeted by expressing his grief over the sad news. He also said that the music of Pandit Ji will always live on this planet.
Javed Akhtar has also tweeted for giving condolence to the family of Pandit Jasraj.
Singer Adnan Sami has shared an emotional tweet. He has expressed his grief over the demise of legend and also mentioned that Pandit Jasraj was a father figure for him.
Final Words
Pandit Jasraj, the pillar of the musical world has left us. The best thing about an artist is that his art is immortal. Pandit Jasraj might have gone to another world but his music and art will always remain with us. His music will keep motivating and inspiring young artists and his disciples will keep his legacy and pass on to new generations. It is a heavy moment for everyone but he will always remain here in this world in our hearts.
Controversy Around The Tanishq Ad
The new Tanishq Ad film 'Akavatam', which quite tastefully and delicately portrayed an inter-faith couple who are entering another new phase of life has been taken down after the social media bombarded it with hate comments and threats of inflicting violence. One of the Tanishq stores in Gujrat's Gandhidham was threatened by the fringe group and the store manager was forced to write a note of apology for broadcasting an advertisement based around the theme of inter-faith marriage.  As observed by many, the problem is not the content that was being presented but the theme itself. The Right-wing supports found it offensive that ad film promoted love jihad by showing a Hindu girl who was married to a Muslim family.
The Issue With Freedom Of Speech In India
The banning of such books, films, shows, and plays is not new in India. Books like Satanic Verses by Salman Rushdie had been banned during the time when Rajiv Gandhi was in the office. The excuse that was dished out was to protect the citizens from inflicting violence on each other. But in doing so, India is barring the citizens to express themselves freely and utilizing their fundamental right of free speech. As long as the book or a movie follows the rulebook of the government, banning is not imposed. Thus, the entire idea behind freedom of speech and expression collapses.
Western Governments on the other hand has come to terms with the fact that the simplest issues will create a rupture among the mass. The world is filled with bigots and will remain so and no banning of books or movies or ad films will bring them ultimate satisfaction. Western Governments, thus, decided to protect free speech and free expression knowing that certain sectors will resort to violence.
The Effect Of  The Online Hate Campaign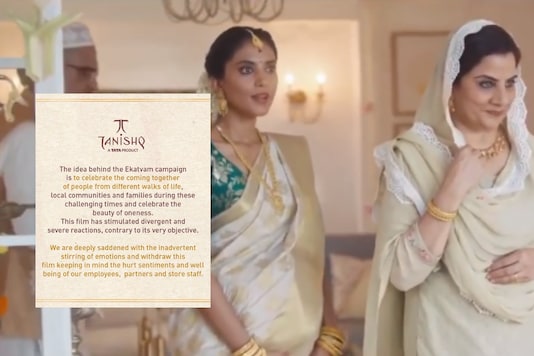 The Tata group also decided to pull down the ad film in the face of dissent and after they saw that people are trying to boycott the brand. The Spokesman of Tata group released a statement after pulling down the ad film, "The idea behind the Ekavatam campaign is to celebrate the coming together of people from different walks of life, local communities and families during these challenging times and celebrate the beauty of oneness. This film has stimulated divergent and severe reactions, contrary to its very objective. We are deeply saddened with the inadvertent stirring of emotions and withdraw this film keeping in mind the hurt sentiments and well-being of our employees, partners, and store staff." They clarified that the only reason they have decided to take down the ad film is to safeguard the interests of their employees who have been assaulted.
Celebrities Reaction
Indian actor Kangana Ranaut, who usually speaks in favor of the right-wing Supports claimed that it glorifies the concept of "Love Jihad and sexism" and vehemently emphasized the point that: civilization needs to be protected. Whereas, Actors like Richa Chadha and Divya Dutta said that they found the ad film to be quite unique and beautiful.