Pataal Lok:Amazon Series Characters And Cast
Pataal Lok online, there has been an immense buzz around it. Be it the characters or the storyline, this cop-investigative thriller series has become one of the most intriguing crime thrillers in India. With insane reviews across the country, it has definitely kept the audience hooked to their laptop screens. Produced by Anushka Sharma's production company called Clean Slate Films, the story unfolds many mysteries. By this time, you are either done watching the series or would binge-watch it in your free time, but whatever the case, we are not here to give you spoilers. Here's a little trivia away from the show about Paatal Lok's cast and their real-life partners and their families. Check it out. 
1. Neeraj Kabi who plays the role of a journalist in the series is a popular name of the industry. He has also worked in movies like Hichki, Laal Kaptaan, Talvar etc. In real life, this established actor is married to a fashion designer named Deepali Kosta. They are both parents to their daughter Saptakshi Kabi.
2. Abhishek Banerjee is named Vishal Tyagi in the series and happens to be a serial killer. In real life though, this actor has done amazing supporting roles in movies like. Dreamgirl, Stree and Bala. But the actor's portrayal in the series is completely opposite of these roles. Abhishek is 32 years old and has been married to Tina Noronha since 2014 who is a model, architect and an interior designer.
3. Gul Panag- An actress who is widely known for her stellar performances, is shown as the wife of an inspector, who brings feistiness to her role in the series. On the work front, the actor has played prominent roles in movies like Dor, Student of the year 2, Rann etc. She is married to Rishi Attari and they are proud parents of a baby boy named Nihal. 
4. Swastika Mukherjee is a Bengali actress, who plays the role of the wife of a journalist in Patal Lok. This actress has won hearts in her Bollywood debut Mumbai Cutting and has also worked in other ones like Byomkesh Bakshi, Jaatishwar etc. The actress in real life who is known to have a sharp tongue has landed in several controversies. She was first married to Pramit Sen at the age of 18 but since it was an unhappy marriage, she filed for divorce but continued to hit the headlines for her other alleged relationships as per reports.
5. Jaideep who plays the role of a lower-class cop has an intriguing story in the series. In his prolific career, he has also portrayed some memorable roles in Hindi cinema and in the digital world as well. Speaking of his family, both his parents are teachers in Haryana and he holds an MA in English from FTII.
6. Veere Di Wedding made Ishwak Singh the talk of the town, but even in Paatal Lok, this actor's role as a young cop is quite inspiring and high accolades. The actor made his debut in Bollywood with Raanjhanaaand in real life, he is an architect and has worked with Fabinteriors but he later moved into acting. Speaking of his family background, his mother's name is Neena Singh and his father is also an architect. 
Controversy Around The Tanishq Ad
The new Tanishq Ad film 'Akavatam', which quite tastefully and delicately portrayed an inter-faith couple who are entering another new phase of life has been taken down after the social media bombarded it with hate comments and threats of inflicting violence. One of the Tanishq stores in Gujrat's Gandhidham was threatened by the fringe group and the store manager was forced to write a note of apology for broadcasting an advertisement based around the theme of inter-faith marriage.  As observed by many, the problem is not the content that was being presented but the theme itself. The Right-wing supports found it offensive that ad film promoted love jihad by showing a Hindu girl who was married to a Muslim family.
The Issue With Freedom Of Speech In India
The banning of such books, films, shows, and plays is not new in India. Books like Satanic Verses by Salman Rushdie had been banned during the time when Rajiv Gandhi was in the office. The excuse that was dished out was to protect the citizens from inflicting violence on each other. But in doing so, India is barring the citizens to express themselves freely and utilizing their fundamental right of free speech. As long as the book or a movie follows the rulebook of the government, banning is not imposed. Thus, the entire idea behind freedom of speech and expression collapses.
Western Governments on the other hand has come to terms with the fact that the simplest issues will create a rupture among the mass. The world is filled with bigots and will remain so and no banning of books or movies or ad films will bring them ultimate satisfaction. Western Governments, thus, decided to protect free speech and free expression knowing that certain sectors will resort to violence.
The Effect Of  The Online Hate Campaign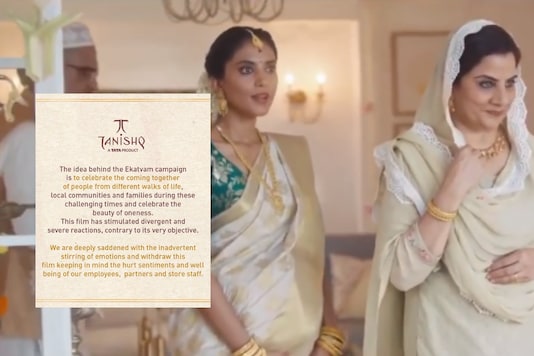 The Tata group also decided to pull down the ad film in the face of dissent and after they saw that people are trying to boycott the brand. The Spokesman of Tata group released a statement after pulling down the ad film, "The idea behind the Ekavatam campaign is to celebrate the coming together of people from different walks of life, local communities and families during these challenging times and celebrate the beauty of oneness. This film has stimulated divergent and severe reactions, contrary to its very objective. We are deeply saddened with the inadvertent stirring of emotions and withdraw this film keeping in mind the hurt sentiments and well-being of our employees, partners, and store staff." They clarified that the only reason they have decided to take down the ad film is to safeguard the interests of their employees who have been assaulted.
Celebrities Reaction
Indian actor Kangana Ranaut, who usually speaks in favor of the right-wing Supports claimed that it glorifies the concept of "Love Jihad and sexism" and vehemently emphasized the point that: civilization needs to be protected. Whereas, Actors like Richa Chadha and Divya Dutta said that they found the ad film to be quite unique and beautiful.