PM Modi Breaks Taboo Talking About Sanitary Napkins In His Independence Day Speech
On his Independence Day speech, PM Modi Breaks taboo talking about sanitary napkins and health of women. He mentioned about Jan Aushadhi centres which are successfully providing Sanitary Napkins to the women in just one rupee each. He talked about women empowerment and touched the topic of menstruation which has been considered taboo in India. He is the first PM to touch this topic and he has received a lot of praise through social media platforms to maintain equality and talking about women's concerns.
From the ramparts of the Red Fort, PM Modi talked about women empowerment in detail. He also talked about the topic of menstruation and women health. He mentioned the scheme which has been designed to provide affordable sanitary napkins to the poor women. These sanitary napkins are provided through Jan Aushadhi Centers for just one rupee each. He said, "This government has been persistently concerned about better healthcare for poor sisters and daughters. We have done a huge job in providing sanitary pads at one rupee each in Jan Aushadi Kendra. In a short time of span, more than 5 crore sanitary pads have been delivered to these poor women from 6000 Jan Aushadhi Kendras".
Praise received from netizens
Netizens have praised PM Modi for bringing out the issue of menstruation and menstrual hygiene. He is the first prime Minister to bring about this topic. Akshay Kumar, who has worked in 'Padman' has also praised PM Modi for bringing about this issue and made aware the women about Jana Aushadhi Scheme.
The print media reporter, Rama Lakshmi has also praised Narendra Modi for being the First PM to talk about sanitary napkins.
Some netizens have also called it to be true equality in the country were a male PM is talking about hygiene issues related to women.
His speech has been given the tag of real feminism by netizens where a male PM talks about female empowerment and especially sanitary napkins which are still considered to be a personal issue of a woman.
Age of marriage for women
The issue of reconsidering right age of marriage for women has been vogue since last few months. PM Modi has also talked about it and said that his government will be soon determining the right age for women in India. He said that a committee has been set up to look into the matter. Currently, the marriageable age for women in India is 18 years while the marriageable age for men is 21 years. It has been said that the government can reconsider the age of women and increase it to 21 years. However, the committee has to submit its reports based on which final decision will be taken.
Role of women in forces
PM Modi has also mentioned the role of women in Indian forces. According to PM Modi, the role of Indian women in the Air Force and Navy is highly significant. He has also said that new one lakh NCC cadets will be given special cadets and out of them, one-third will comprise of female cadets. He said, "We are expanding NCC in the border area; special training will be provided to about one lakh new NCC cadets, out of which we will try that one-third of them are our daughters".
Other schemes
PM Modi has also made mention of other schemes which have benefitted women and contributed to women empowerment. He mentioned that out of 40 crore Jan Dhan accounts opened, 22 crore accounts are of women. 70 per cent of Mudra loans have also been taken by women. He also made mention of Pradhan Mantri Awas Yojana and said that most registration under this scheme is in the name of women. PM also talked about the decision of his government to provide six-month maternity leave to the women apart from regular salary during this period.
Final Words
In his speech of Independence Day, PM Modi has stressed a lot on women empowerment. Talking about topics like menstruation, he has broken the orthodox taboos and showed his responsibility as a fair, open-minded and welfare-oriented Prime Minister.
Controversy Around The Tanishq Ad
The new Tanishq Ad film 'Akavatam', which quite tastefully and delicately portrayed an inter-faith couple who are entering another new phase of life has been taken down after the social media bombarded it with hate comments and threats of inflicting violence. One of the Tanishq stores in Gujrat's Gandhidham was threatened by the fringe group and the store manager was forced to write a note of apology for broadcasting an advertisement based around the theme of inter-faith marriage.  As observed by many, the problem is not the content that was being presented but the theme itself. The Right-wing supports found it offensive that ad film promoted love jihad by showing a Hindu girl who was married to a Muslim family.
The Issue With Freedom Of Speech In India
The banning of such books, films, shows, and plays is not new in India. Books like Satanic Verses by Salman Rushdie had been banned during the time when Rajiv Gandhi was in the office. The excuse that was dished out was to protect the citizens from inflicting violence on each other. But in doing so, India is barring the citizens to express themselves freely and utilizing their fundamental right of free speech. As long as the book or a movie follows the rulebook of the government, banning is not imposed. Thus, the entire idea behind freedom of speech and expression collapses.
Western Governments on the other hand has come to terms with the fact that the simplest issues will create a rupture among the mass. The world is filled with bigots and will remain so and no banning of books or movies or ad films will bring them ultimate satisfaction. Western Governments, thus, decided to protect free speech and free expression knowing that certain sectors will resort to violence.
The Effect Of  The Online Hate Campaign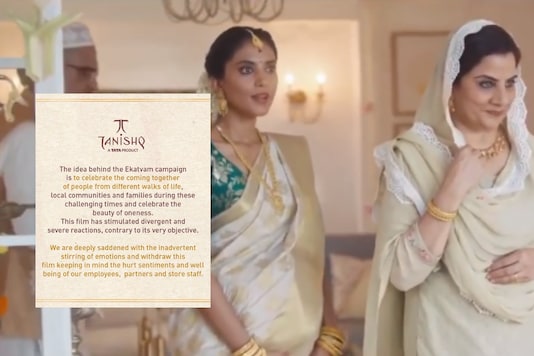 The Tata group also decided to pull down the ad film in the face of dissent and after they saw that people are trying to boycott the brand. The Spokesman of Tata group released a statement after pulling down the ad film, "The idea behind the Ekavatam campaign is to celebrate the coming together of people from different walks of life, local communities and families during these challenging times and celebrate the beauty of oneness. This film has stimulated divergent and severe reactions, contrary to its very objective. We are deeply saddened with the inadvertent stirring of emotions and withdraw this film keeping in mind the hurt sentiments and well-being of our employees, partners, and store staff." They clarified that the only reason they have decided to take down the ad film is to safeguard the interests of their employees who have been assaulted.
Celebrities Reaction
Indian actor Kangana Ranaut, who usually speaks in favor of the right-wing Supports claimed that it glorifies the concept of "Love Jihad and sexism" and vehemently emphasized the point that: civilization needs to be protected. Whereas, Actors like Richa Chadha and Divya Dutta said that they found the ad film to be quite unique and beautiful.