Prime Minister Narendra Modi Announced Rs 20 Lakh Crore
Prime Minister Narendra Modi, while addressing the nation on Tuesday, 12 May,  emphasised on the  'Atmanirbhar Bharat Abhiyan' which is an economic relief package that is worth Rs 20 lakh crore for a 'self-reliant' India.
He said that the package which is estimated to be around 10 percent of the GDP, which has been intended to help fight the COVID-19 pandemic and boost India's local economy.The PM also emphasised on the use of country-made products in a bid to provide an impetus to the  small and local businesses.
The prime minister  also added that the economic package, which translates to about $2.66 billion, will boost all the medium and small businesses as well as India's middle classes.
Shortly after the PM's address to the nation, Union Home Minister Amit Shah turned to Twitter to appeal for greater consumption of locally made products. "This is the time that we should use local products," Shah tweeted.
Describing the announcement as "historic", Union Minister Nitin Gadkari stated that  over 11 crore workers in small, cottage and rural industries "have also been given relief."
"Industry can never forget this support which is given by the  Prime Minister Modi to all the  small industries, cottage industries and rural industries. Over 11 crore workers in these sectors have been given relief. We'll become a super economic power, come out of this crisis and walk towards development," Gadkari said.
Uttar Pradesh Chief Minister Yogi Adityanath called PM Modi's initiative unprecedented and historic. He said that it would prove to be a  big milestone in dealing with the situation of COVID-19 and making the country self-reliant.
More than one and half months since he called for the nationwide lockdown to counter the spread of the coronavirus, prime minister Narendra Modi also announced an economic package, which he said was worth Rs 20 lakh crores.
"This is nearly 10% of the country's GDP and will help India on its road to become self reliant," he said.
Modi spoke at length on the nature of the package and how it would offer succour to all sections of society, but said the finance minister, Nirmala Sitharaman, would give details on the package tomorrow, May 13. He also coined a phrase, "20 lakh 2020," referring to the year and the amount.
Focusing largely on the necessity to produce more in India, he said everyone would have something to strengthen their area of work in the financial package. "The local is not just necessary, but our responsibility," he said, focusing on the MakeInIndia maxim.
"Be vocal for the local," Modi said.
Three of his government's big moves – Jan Dhan Yojana, the Aadhaar, and mobile – said Modi, had sustained India at the time of the lockdown. It is not entirely clear what Modi meant by 'mobile,' although he could have referred to internet services and apps.
Modi began his speech with a reckoning of how many people have been affected by disease worldwide, offering figures of those infected and hurt. He extended condolences to all who have lost people and mused on the extent to which the virus has affected humanity.
For nearly the first 20 minutes of one of his longest addresses, Modi urged people to remain alert and spoke on India's role in the pandemic, likening the efforts to stop the spread of the virus to a "fight."
Government Answer On Migrant Crisis
With the starting of the Monsoon session as the parliamentary activities are finally moving, members are all set with their questions for the ruling party. Trinamool Congress MP Mala Roy has questioned Home Ministry about steps taken for the protection of Migrant crisis. Due to the imposition of stringent lockdown in wake of Co-Vid19 labors faced the most of heat. Lack of employment, lack of funds to survive and no transportation to move have contributed to their woes. Mala Roy asked in her question that what actions the Government took to protect them.
Centre says, "No data of migrants"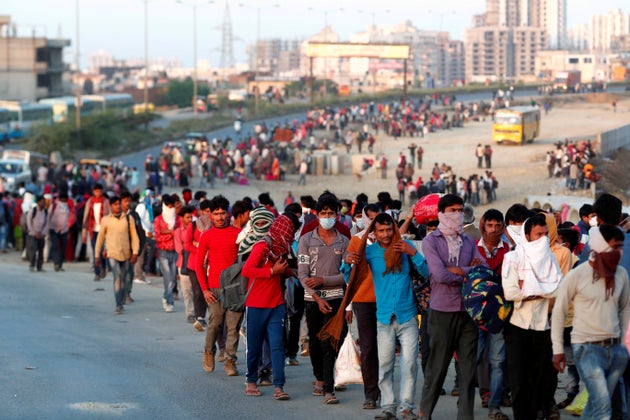 Centre informed in Parliament there is no such data available. Replying to Mala Roy's question and several such questions Ministry of Labour and Employment said that there is no recorded data about the death of Migrants available. A report by World Bank states that due to April's lockdown in the nation about 40 million internal migrants have been hit by employment crisis. Furthermore, to the question, whether any steps are taken for the protection of migrants or any compensation was given? Centre answered that since there is no data no question of compensation. No recorded data of the unemployment due to Covid is found.
Steps taken by the center
One after other shocker is received as Centre has no data of Migrants. Fruit sellers, hawkers, daily wage workers and unskilled labours working in factories are worst hit. The government said that as a country India responded by the local bodies, state governments, NGOs and many others. Government has started special Shramik trains for the labourers. Many facilities are made to help them survive. As the distribution of Cereals, Pulses, Sugar, vegetable spices and water for free.
In some places, cooked food is also distributed for free. Labour Ministry chief said that 1164 trains have operated to help migrants reach their homes. Almost 10.4 million labours have returned. Most of the labours or migrants who have been successfully dropped to their homes are in states of Uttar Pradesh and Rajasthan. On questions of deaths of migrants while on their way to home or even in trains center replies as- non-availability of data.
Data from states are found that almost 63.7 lakh stranded labours are returned to home by Shramik special train. Other migrants who set their journey on foot or by hitch-hiking is still not found. In trains 110 deaths are found to report. The reasons are many some because if illness, some due to accidents, lack of food and non-availability of water. In June the Chief of Labour Commission is ordered to meticulously record data of migrants from various sources under the orders by Central Information Commission. In many states and union territories the advisory guidelines are invoked. Orders are been given to maintain updated labour laws.
The state of labours and migrants is still bad. There seems to be no significant improvement. Due to the labour employment crisis financial wellbeing of country has also taken a hit. In upcoming sessions, the labour crisis and government's actions on it will de looked into with even more depth.