Priyanka Chopra Getting Trolled For Her Latest Instagram Post
Is Priyanka Chopra's pollution mask a big reason to be sarcastic about?
People have already started their sarcasm on Priyanka Chopra who on Sunday took to social media to post a selfie of herself in a mask, on Instagram.
Chopra, who is in Delhi and was shooting for her upcoming project '
The White Tiger
' wrote in her Instagram caption, "It's so hard to shoot here (Delhi) right now that she can't even imagine what it must be like to live here under these conditions.
She has been blessed with air purifiers and masks. Pray for the homeless. Be safe everyone".
People are increasing pollution a notch higher by actively contribute to increasing air pollution in various ways themselves (Yes, driving cars, using ACs causes pollution too), instantly crucified Chopra for her post.
Scrutinize at some of the memes and comments currently doing the rounds on Twitter.
The trolling also reveals the phycology of people i.e. denial of climate crisis, hypocrisy and attempts to gaslight women celebrities, even if they are just stating the obvious.
So one must admit that smoking is not a  heinous crime, neither is it illegal. And foremost, it is someone's personal choice, healthy or not.
Whether Chopra should be smoking or not despite being a vocal asthmatic is another topic of debate. However, to troll her for expressing concerns about pollution in Delhi is not just an attempt to gaslight the actor but also an easy way out for climate change and pollution deniers (Yes, India has them too).
These are the people who take up arms the second someone suggests curbing crackers on Diwali. They invoke religious rights, secularism, freedom of choice and every other distraction and 'whataboutery' in the book to justify their actions.
They trend #CrackersWaliDiwali and defend their stand as 'freedom of expression'. On Diwali evening, Air Quality Index in several corners of Delhi reached its maximum level of 999. No amount of smoking by her or other smokers combined could lead to that kind of spike within a few hours.
of whether they smoke or not. While  as an actor feels like a representative of the Indian population (and she is with regard to her own profession), in reality, she as no role to play in formulating anti-pollution laws and strategies for the country or implementing them.
She is not a public servant and is within all her rights to smoke while also complain about the government and pollution. Because if she doesn't have a right to complain, neither do air-conditioner owners, car drivers, Netflix enthusiasts and rice eaters since all these things can be in some way connected to an increase in air pollution.
While citizens choke, governments at the state and central level are involved in an all-too-familiar blame game. Would it not serve our respiratory systems better if we pinpoint accountability where it belongs?
Instead of engaging in borderline 'sanskari' harping on a photo of an actor, maybe Indians would serve their respiratory systems better by asking some real questions:
Why is the ban on unregulated industrial processes and construction not strictly implemented?
Why don't governments invest more in afforestation?
Why are governments unable to address continued stubble burning in Haryana and Punjab?
Is Delhi government's Odd-even scheme an efficient answer to reducing vehicular emissions in Delhi?
But no, you just want to hate on PeeCee
Do you all agree that smoking is a personal choice and it is a fact that breathing polluted air is unbearable and it's not even good for health? And polluted air affects everyone and it can choke people.
Trolls which are directly attacking Chopra sound like smoking is a criminal offence and anyone who smokes has lost all rights to be vigilant about their health. We should all be very grateful to Pee Cee who is an influential voice, for highlighting the arduous problem of pollution faced by many in India.
There have been exorbitant levels of pollution in the city and the smog is refusing to settle in the area. 
This is giving birth to choking and serious health-related issues in Delhi NCR. Even Bollywood stars have stated their concern about the same and this included Priyanka Chopra Jonas as well. 
Priyanka was in New Delhi for her project and due to that, she had to step out in the city. PeeCee shared a photo with a mask on Instagram and told people to refrain from going out and urged them to stay safe. 
She said that she feels sympathetic towards homeless and have to face the adverse health issues due to the alarming air quality in Delhi NCR. 
However, people  saw the picture in a different way and went on to troll the Sky Is Pink actress. Many users also  commented on her viral photo of smoking and trolled her for being a hypocrite. Some also asked in the comments about her cigarette while others commented on the firecrackers that were used at Priyanka Chopra wedding with Nick Jonas. 
So her motive was to raise awareness among people about an issue that is affecting millions. We agree on the part that she can afford expensive air purifiers and stays out of India most of the time. However, it is very astonishing it is funny to see trolls which are targeting a celebrity who stood up for them.
For these trolls, we would say that commenting on the celebrity's lifestyle choices seems to be more important than this pollution distress, urging the powers to do something about the pollution menace raising a notch affecting millions in India. Gauging the mentality would tell us that if one smokes, she becomes immune to pollution and thus should not wear any masks.
There is no room for any complacency and we should take utmost care to keep pollution levels under check. There is a dire need for everyone to focus on things they can do to reduce pollution than failed attempts at gaslighting celebrities by calling them "hypocrites". At the end of the day, like everyone, even Priyanka Chopra is responsible for her own health and wellbeing.
While there has been relentless air pollution in the city, many on the Internet seem to have found an easy target to release their exasperation.
Priyanka Chopra has been seen smoking along with Nick Jonas went viral on social media. Chopra, who is suffering from asthma and has previously suffered against the bursting of crackers on Diwali was mercilessly trolled for the photo. People even asked the Dostana actor to quit smoking if she wanted to cure her asthma instead of telling others to not burst crackers on Diwali.
Know More:Pollution Levels
Controversy Around The Tanishq Ad
The new Tanishq Ad film 'Akavatam', which quite tastefully and delicately portrayed an inter-faith couple who are entering another new phase of life has been taken down after the social media bombarded it with hate comments and threats of inflicting violence. One of the Tanishq stores in Gujrat's Gandhidham was threatened by the fringe group and the store manager was forced to write a note of apology for broadcasting an advertisement based around the theme of inter-faith marriage.  As observed by many, the problem is not the content that was being presented but the theme itself. The Right-wing supports found it offensive that ad film promoted love jihad by showing a Hindu girl who was married to a Muslim family.
The Issue With Freedom Of Speech In India
The banning of such books, films, shows, and plays is not new in India. Books like Satanic Verses by Salman Rushdie had been banned during the time when Rajiv Gandhi was in the office. The excuse that was dished out was to protect the citizens from inflicting violence on each other. But in doing so, India is barring the citizens to express themselves freely and utilizing their fundamental right of free speech. As long as the book or a movie follows the rulebook of the government, banning is not imposed. Thus, the entire idea behind freedom of speech and expression collapses.
Western Governments on the other hand has come to terms with the fact that the simplest issues will create a rupture among the mass. The world is filled with bigots and will remain so and no banning of books or movies or ad films will bring them ultimate satisfaction. Western Governments, thus, decided to protect free speech and free expression knowing that certain sectors will resort to violence.
The Effect Of  The Online Hate Campaign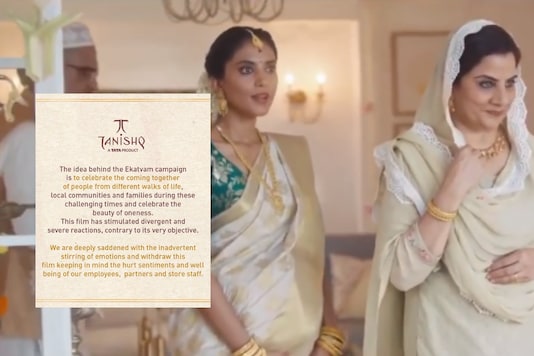 The Tata group also decided to pull down the ad film in the face of dissent and after they saw that people are trying to boycott the brand. The Spokesman of Tata group released a statement after pulling down the ad film, "The idea behind the Ekavatam campaign is to celebrate the coming together of people from different walks of life, local communities and families during these challenging times and celebrate the beauty of oneness. This film has stimulated divergent and severe reactions, contrary to its very objective. We are deeply saddened with the inadvertent stirring of emotions and withdraw this film keeping in mind the hurt sentiments and well-being of our employees, partners, and store staff." They clarified that the only reason they have decided to take down the ad film is to safeguard the interests of their employees who have been assaulted.
Celebrities Reaction
Indian actor Kangana Ranaut, who usually speaks in favor of the right-wing Supports claimed that it glorifies the concept of "Love Jihad and sexism" and vehemently emphasized the point that: civilization needs to be protected. Whereas, Actors like Richa Chadha and Divya Dutta said that they found the ad film to be quite unique and beautiful.