Pune's HouseMaid's Visiting Card Goes Viral
Pune's HouseMaid's Visiting Card Goes Viral
A housemaid in Pune with an uber-cool visiting card! Isn't that amazing? Well, anything can happen only in India! Housemaid, Geeta Kale who was searching for a job around Bavdhan area in Pune became famous overnight after her visiting card went viral on social networking site Facebook. Job offers are raining now for Geeta Kale who was dejected after losing work at a house a few days ago. "Ghar Kaam Maushi in Bavdhan. Her visiting card says that Aadhaar card verified," Geeta Kale who works as domestic help in various houses.
A Pune housemaid has become famous all over the internet after her visiting card which had all the details about her work went viral. So this tale originated with the kind and creative gesture by her employer.
Geeta Kale, who used to work as a domestic helper around Bavdhan area in Pune, was extremely disappointed after losing her job that led to an income downfall of almost Rs 4,000. Seeing her grief and pathetic situation, one of her other employers, Dhanashree Shinde, showed her sympathy decided to help her 'Maushi' out.It all began with the efforts of Dhanashree Shinde, one of the employers of Geeta Kale, when she saw her housemaid upset while she returned from work.
Kale confirmed that she had lost her job at a house. It was a very immense benefit for Kale as she would lose Rs 4000 a month due to this. In an effort to help Kale, Shinde designed and printed 100 smart business card for her. Shinde also suggested Kale to hand them out around the neighbourhood.
Shinde used all her designing skills to create a smart business card for Kale. After that, she designed and printed 100 business cards, all within a single day. She also lends support to her by distributing the cards in the neighbourhood, with the help of the society watchman.
The visiting card carried all the information about Kale's work and salary per chore. A picture of her visiting card soon went viral on social media and since then Kale's phone has not stopped ringing once, according to Shinde's Facebook post which was done by Asmita Javdekar who is the founder and Creative Nurturer at Aatman. Kale has been receiving many job offers from not just Pune but across the country.
Geeta Kale, a domestic helper, lost a paying job was left feeling sad. In order to help her out, her current employer (Dhanashree Shinde) came up with a brilliant plan and little did she know that she would become the talk of the town, nay, country! Shinde helped Geeta by printing around 100 visiting cards with her name, monthly charges and her work timings too! She does everything from roti making to jhadu-poocha, dusting and bhandi starting Rs 800 a month! Isn't this a classic example of how to teach a man how to fish for example?
After the post went viral, Geeta's phone hasn't stopped ringing and she is receiving offers not just from Pune, but all over India! Fed up of the calls, Geeta has asked Shinde to manage all the curious queries! Kudos to them! * brb, need to call my domestic help because she's late and I might have to give Geeta Kale a ring*
A Pune housemaid has become an internet sensation after her visiting card seeking work went viral. It all started with a kind and creative gesture by her employer.
This small step resulted in a response that neither of them saw coming. A picture of the visiting card soon went viral on social media and Kale's phone hasn't stopped buzzing since then.
From sweeping and mopping to roti-making, the card lists the various services Kale provides, along with the monthly charge of each.
Soon, job offers poured in from all over the country. Overwhelmed by the constant inquiries, Kale had to hand over her phone to Shinde, to manage all the enquiries. Shinde, who sifted through the messages, was surprised – from Red FM to news channels, everyone wanted to reach Kale.
The story of the duo first came to light when Asmita Javdekar, Founder and Creative Nurturer at Aatman shared the story on Facebook. "This apparently small step taken towards extending help catapulted into an unimaginable reaction," reads her post.
Geeta Kale, who was a domestic help in Pune, has been flooded with job offers from all corners of India. The reason behind this is the simple business card that one of her employers, Dhanashree Shinde, designed for her.
This incredible story of Geeta Kale and Dhanashree Shinde was shared on Facebook by Asmita Javdekar two days ago, where it has gone viral. Dhanashree, who is a Senior Manager in Branding and Marketing at Vilas Javdekar Developers, decided to put her professional experience to good use and designed a business card for Geeta Maushi. "Within just few hours, a smart business card was designed and 100 cards printed!" wrote Asmita in her account.
She also shared her picture of the business card, which reads "Geeta Kale, Ghar Kaam Maushi in Bavdhan (Geeta Kale, household help in Bavdhan)." The cheerful blue and green business card lists out the amount that Geeta Maushi would charge for various household chores. For example, Laundry would cost her employers Rs 800 per month.
Isn't it a very inspirational tale of humble beginnings to the way of million-dollar dreams?
Read More: Political Chaos In Karnatka
Controversy Around The Tanishq Ad
The new Tanishq Ad film 'Akavatam', which quite tastefully and delicately portrayed an inter-faith couple who are entering another new phase of life has been taken down after the social media bombarded it with hate comments and threats of inflicting violence. One of the Tanishq stores in Gujrat's Gandhidham was threatened by the fringe group and the store manager was forced to write a note of apology for broadcasting an advertisement based around the theme of inter-faith marriage.  As observed by many, the problem is not the content that was being presented but the theme itself. The Right-wing supports found it offensive that ad film promoted love jihad by showing a Hindu girl who was married to a Muslim family.
The Issue With Freedom Of Speech In India
The banning of such books, films, shows, and plays is not new in India. Books like Satanic Verses by Salman Rushdie had been banned during the time when Rajiv Gandhi was in the office. The excuse that was dished out was to protect the citizens from inflicting violence on each other. But in doing so, India is barring the citizens to express themselves freely and utilizing their fundamental right of free speech. As long as the book or a movie follows the rulebook of the government, banning is not imposed. Thus, the entire idea behind freedom of speech and expression collapses.
Western Governments on the other hand has come to terms with the fact that the simplest issues will create a rupture among the mass. The world is filled with bigots and will remain so and no banning of books or movies or ad films will bring them ultimate satisfaction. Western Governments, thus, decided to protect free speech and free expression knowing that certain sectors will resort to violence.
The Effect Of  The Online Hate Campaign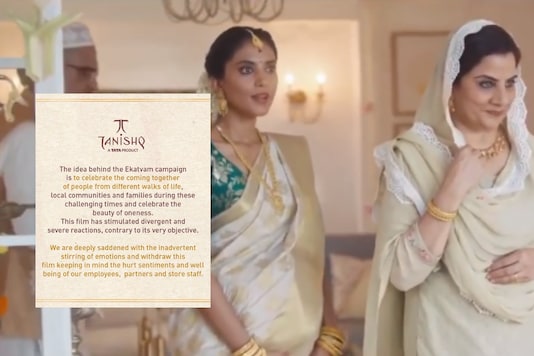 The Tata group also decided to pull down the ad film in the face of dissent and after they saw that people are trying to boycott the brand. The Spokesman of Tata group released a statement after pulling down the ad film, "The idea behind the Ekavatam campaign is to celebrate the coming together of people from different walks of life, local communities and families during these challenging times and celebrate the beauty of oneness. This film has stimulated divergent and severe reactions, contrary to its very objective. We are deeply saddened with the inadvertent stirring of emotions and withdraw this film keeping in mind the hurt sentiments and well-being of our employees, partners, and store staff." They clarified that the only reason they have decided to take down the ad film is to safeguard the interests of their employees who have been assaulted.
Celebrities Reaction
Indian actor Kangana Ranaut, who usually speaks in favor of the right-wing Supports claimed that it glorifies the concept of "Love Jihad and sexism" and vehemently emphasized the point that: civilization needs to be protected. Whereas, Actors like Richa Chadha and Divya Dutta said that they found the ad film to be quite unique and beautiful.