Finally Some Good News To Cherish, Digital Revenue Of Indian IT Companies' Crosses $50 Billion
Globally, Indian IT companies are well known for their performance. However, in 2017, analysts had stated that the Indian Information Technology was unable to respond positively to the advances of technology in the areas of AI/ML, sensors and robotics. Some even predicted its downfall.
Well, it looks like the Indian IT industry won't give up so easily. Figures from the Indian IT association Nasscom show that these new digital areas have exceeded the $50 billion revenue mark, last fiscal. This amounts to more than a quarter of the total revenue of $191 billion.
Let's know more
India shows tremendous advancement in AI/ML, sensors, and robotics
 The statistics show that in the case of top-notch IT companies the value is even higher. For TCS the digital accounted for 33% of their overall revenues, for Infosys, it accounted for 42%, and for Wipro, it accounted up to 41% of the overall revenue in the same fiscal year.
These numbers are a clear measure of valuable progress. However, since each firm has different parameters to define digital, these numbers cannot be compared.
Since 2012, Nasscom has started breaking out digital. In that year, the value of digital in the sector's total revenue was only 4%. But as we moved to 2015 and 2016, the value was estimated at $16 billion to $20 billion, a major boost to 11%-14% of the overall IT sector's revenue.
Know what the experts say on this
Phil Fersht:
The CEO of IT consulting firm HfS Research, Phil Fersht believes that Indian IT companies have established a significant 'permission to play' through the years. He feels the secret ingredient of the industry rests in the IT firms' sheer perseverance, love for technology, and wide-spread entrepreneurship. He said, "Today, many of the Indian IT firms are genuine alternatives to the traditional integration firms such as Deloitte and IBM to perform high-level digital work, a lot higher up the value stack when compared to five years ago."
"I credit Indian IT talent with a marked improvement in learning new programming languages and becoming strong at mastering low-code software, such as RPA, Salesforce and Pega", he further adds.
Nirmalya Kumar:
The Lee Kong Chian professor of marketing at Singapore Management University, Nirmalya Kumar said since 2010, the Indian IT industry has recognized the fact that they need to adapt to digital enterprises as all their customers were changing too. The clients need to work on their budgets to resolve the front end issues of digitally connecting with customers via websites and apps, instead of working on the maintenance of the legacy IT infrastructure.
He said, "Client focus had shifted to revenues and customer experience, which meant going digital had become a boardroom imperative." "And for Indian IT, to make the transformation, digital talent was the constraint, not budgets", he adds.
Moshe Katri:
The MD at Wedbush Securities, Moshe Katri acknowledges that since the past few years, IT companies in India have extensively taken charge of acquainting employees with new digital technologies, recruiting new employees with advanced knowledge in novel technologies. The companies have also directed sales forces towards digital and cross-selling digital-based projects amidst their existing legacy client base.
Vivek Wadhwa:
A distinguished person from the Carnegie Mellon University's college of engineering, Vivek Wadhwa, who once criticized the IT industry, today gives a changed opinion. He felt that if India's IT industry does not wake up and reinvent itself; it would be in free fall. Today, he adds, "But it did wake up from its slumber and launch a series of new initiatives in new industries."
In his upcoming book, he discusses how companies that comprehend the exponential curves can dominate the future. He also talks about how legacy firms have an upper hand over newly established startups and 'big equals slow and stodgy' is a myth. He concludes, "It takes a lot of effort to get them to move, as it did for Indian IT, but when they do, they can move mountains."
Controversy Around The Tanishq Ad
The new Tanishq Ad film 'Akavatam', which quite tastefully and delicately portrayed an inter-faith couple who are entering another new phase of life has been taken down after the social media bombarded it with hate comments and threats of inflicting violence. One of the Tanishq stores in Gujrat's Gandhidham was threatened by the fringe group and the store manager was forced to write a note of apology for broadcasting an advertisement based around the theme of inter-faith marriage.  As observed by many, the problem is not the content that was being presented but the theme itself. The Right-wing supports found it offensive that ad film promoted love jihad by showing a Hindu girl who was married to a Muslim family.
The Issue With Freedom Of Speech In India
The banning of such books, films, shows, and plays is not new in India. Books like Satanic Verses by Salman Rushdie had been banned during the time when Rajiv Gandhi was in the office. The excuse that was dished out was to protect the citizens from inflicting violence on each other. But in doing so, India is barring the citizens to express themselves freely and utilizing their fundamental right of free speech. As long as the book or a movie follows the rulebook of the government, banning is not imposed. Thus, the entire idea behind freedom of speech and expression collapses.
Western Governments on the other hand has come to terms with the fact that the simplest issues will create a rupture among the mass. The world is filled with bigots and will remain so and no banning of books or movies or ad films will bring them ultimate satisfaction. Western Governments, thus, decided to protect free speech and free expression knowing that certain sectors will resort to violence.
The Effect Of  The Online Hate Campaign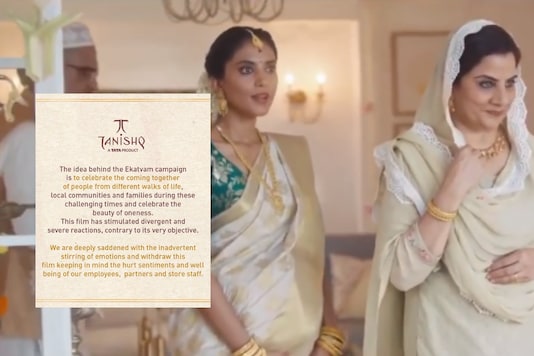 The Tata group also decided to pull down the ad film in the face of dissent and after they saw that people are trying to boycott the brand. The Spokesman of Tata group released a statement after pulling down the ad film, "The idea behind the Ekavatam campaign is to celebrate the coming together of people from different walks of life, local communities and families during these challenging times and celebrate the beauty of oneness. This film has stimulated divergent and severe reactions, contrary to its very objective. We are deeply saddened with the inadvertent stirring of emotions and withdraw this film keeping in mind the hurt sentiments and well-being of our employees, partners, and store staff." They clarified that the only reason they have decided to take down the ad film is to safeguard the interests of their employees who have been assaulted.
Celebrities Reaction
Indian actor Kangana Ranaut, who usually speaks in favor of the right-wing Supports claimed that it glorifies the concept of "Love Jihad and sexism" and vehemently emphasized the point that: civilization needs to be protected. Whereas, Actors like Richa Chadha and Divya Dutta said that they found the ad film to be quite unique and beautiful.