Roshni Nadar Malhotra: India's Richest Woman And New HCL Tech Chairperson
Roshni Nadar Malhotra who became India's richest woman has now taken over the position of chairperson of HCL Technology. She is the only child of the founder of Tech giant HCL Shiv Nadar and succeeded him to be appointed as Chairman of her father's company. Her father will continue on as managing director and chief strategy officer in the company. Roshni Nadar Malhotra is able to achieve this much just as the age of 38. In the year 2019, she had an estimated net worth of Rs 36,800 crore which made her India's richest woman.
Early Life, Education and Career of Roshni Nadar Malhotra
Roshni Nadar Malhotra was born in the Delhi in 1982. She went to Vasant Valley School to complete her early education. After that, she completed her graduation from Northwestern University in Illinois, US. She pursued her graduation in Radio, Communication and TV. Then she pursued her Master's degree in Business Administration from Kellogg.
After completing her education, Roshni began her career as a news producer in the UK. Her first job was at Sky News in London. She has also had internships with CNN and CNBC. She came back to India and began to work as a producer. After working in some companies, Roshni was promoted to the post of CEO within just a year of joining her company in the year 2009. She was just 27 then. She also worked with HCL in the year 2013 as Additional Board Director.
Roshni's interest in Social enterprise
Roshni has been interested in working for a social cause. She is the trustee of Shiv Nadar Foundation, which works for the education and has established some of India's top schools and Colleges.  Her venture, Vidyagyan School at Bulandshahr in UP offered free education to the children belonging to the rural areas.  She is also the chairperson of Vidyagyan Leadership Academy, which works for the empowerment of underprivileged children through education. She is also interested in working for the cause of Education and Wildlife Conversation. For this, she has also established The Habitat Trust. The Habitat Trust is a foundation working to protect India's natural species and their habitats. In one of her interviews with Business Today, Roshni said, "Money-Making and education do not go together."
Achievements
Roshni has won many awards and achievements in her journey. Along with the title of "India's Richest Woman" in the year 2019, she has also been featured in the list of "The World's Most Powerful Women" from 2017 and 2019. She is the 54th World's Most Powerful Woman according to Forbes World's 100 Most Powerful Women List of 2019.
While talking about her entering into her father's business, Roshni says that it is not always easy to work with what you have inherited from your parents. According to her, if you inherit something which your parents have created then you must learn about it to be accountable. She has been receiving a lot of congratulating comments from everyone. We also congratulate her on her success and wish for better performance of HCL Technologies under her supervision.
Controversy Around The Tanishq Ad
The new Tanishq Ad film 'Akavatam', which quite tastefully and delicately portrayed an inter-faith couple who are entering another new phase of life has been taken down after the social media bombarded it with hate comments and threats of inflicting violence. One of the Tanishq stores in Gujrat's Gandhidham was threatened by the fringe group and the store manager was forced to write a note of apology for broadcasting an advertisement based around the theme of inter-faith marriage.  As observed by many, the problem is not the content that was being presented but the theme itself. The Right-wing supports found it offensive that ad film promoted love jihad by showing a Hindu girl who was married to a Muslim family.
The Issue With Freedom Of Speech In India
The banning of such books, films, shows, and plays is not new in India. Books like Satanic Verses by Salman Rushdie had been banned during the time when Rajiv Gandhi was in the office. The excuse that was dished out was to protect the citizens from inflicting violence on each other. But in doing so, India is barring the citizens to express themselves freely and utilizing their fundamental right of free speech. As long as the book or a movie follows the rulebook of the government, banning is not imposed. Thus, the entire idea behind freedom of speech and expression collapses.
Western Governments on the other hand has come to terms with the fact that the simplest issues will create a rupture among the mass. The world is filled with bigots and will remain so and no banning of books or movies or ad films will bring them ultimate satisfaction. Western Governments, thus, decided to protect free speech and free expression knowing that certain sectors will resort to violence.
The Effect Of  The Online Hate Campaign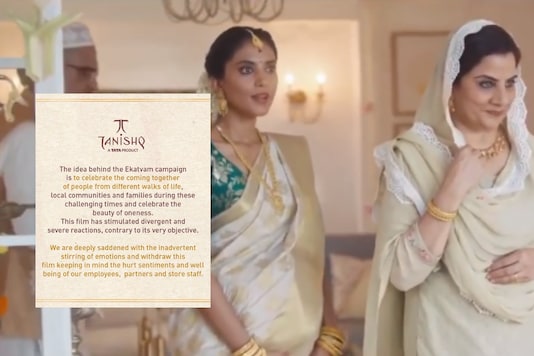 The Tata group also decided to pull down the ad film in the face of dissent and after they saw that people are trying to boycott the brand. The Spokesman of Tata group released a statement after pulling down the ad film, "The idea behind the Ekavatam campaign is to celebrate the coming together of people from different walks of life, local communities and families during these challenging times and celebrate the beauty of oneness. This film has stimulated divergent and severe reactions, contrary to its very objective. We are deeply saddened with the inadvertent stirring of emotions and withdraw this film keeping in mind the hurt sentiments and well-being of our employees, partners, and store staff." They clarified that the only reason they have decided to take down the ad film is to safeguard the interests of their employees who have been assaulted.
Celebrities Reaction
Indian actor Kangana Ranaut, who usually speaks in favor of the right-wing Supports claimed that it glorifies the concept of "Love Jihad and sexism" and vehemently emphasized the point that: civilization needs to be protected. Whereas, Actors like Richa Chadha and Divya Dutta said that they found the ad film to be quite unique and beautiful.