Salman Khan has pledged to financially support 25,000 daily wage workers
Bollywood superstar Salman Khan never fails at Being Human. The Coronavirus pandemic has brought life to a standstill for all but it has majorly affected those working in the informal sectors and now,
Salman Khan has pledged to financially support 25,000 daily wage workers from the film industry.
Bollywood superstar Salman Khan has pledged to financially support 25,000 daily wage workers from the film industry in the wake of the national lockdown, according to Federation of Western Indian Cine Employees (FWICE).
Salman Khan Being Human Foundation has come forward to help daily wage workers. They called us three days ago. We have about 5 lakh workers out of which 25,000 are in dire need of financial help," Tiwari was quoted as saying by PTI.
"Being Human Foundation said they will take care of these workers on their own. They have asked for account details of these 25,000 workers as they want to ensure that money reaches them directly," he added.
Tiwari continued, "The remaining 4,75,000 workers can survive for about a month. We already have huge ration packets for all the workers.
According to FWICE president B N Tiwari, Salman via his Being Human Foundation reached out to their organisation to help the workers.
The daily wage workers across different avenues are badly hit by the 21-day lockdown.
The remaining 4,75,000 workers can survive for about a month. We already have huge ration packets for all the workers but unfortunately due to lockdown, they are not able to come here to collect it. We are thinking of ways how to reach out to them," he added.
Mr. Tiwari said FWICE has reached out to several actors and filmmakers to make a contribution.
"We have written letters and also sent messages to various people in the film industry to come forward and help the workers but we haven't received any response from them. Producer Mahaveer Jain has offered to provide help in terms of food and essential items," he added.
Earlier in the week, filmmakers and actors, including Karan Johar, Taapsee Pannu, Ayushmann Khurrana, Kiara Advani, Rakul Preet Singh, Sidharth Malhotra, and Nitesh Tiwari pledged their support to a new initiative aimed at supporting the daily wage earners.
The initiative, I Stand With Humanity, started by organisations — the International Association for Human Values, the Art of Living Foundation and the Indian Film and TV Industry, will provide families of daily wage workers with 10 days of essential food supplies.
On March 18, the Producers Guild of India announced that they have set up a relief fund for daily wage earners impacted by the shutdown of film, television and web productions amid the coronavirus pandemic.
Their decision came after many filmmakers, including Sudhir Mishra, Vikramaditya Motwane and Anurag Kashyap, raised concerns over the impact of shut down on the daily wage workers.
According to the Health Ministry, the total number of COVID-19 cases rose to 979 on Sunday, with death toll climbing to 25.
Controversy Around The Tanishq Ad
The new Tanishq Ad film 'Akavatam', which quite tastefully and delicately portrayed an inter-faith couple who are entering another new phase of life has been taken down after the social media bombarded it with hate comments and threats of inflicting violence. One of the Tanishq stores in Gujrat's Gandhidham was threatened by the fringe group and the store manager was forced to write a note of apology for broadcasting an advertisement based around the theme of inter-faith marriage.  As observed by many, the problem is not the content that was being presented but the theme itself. The Right-wing supports found it offensive that ad film promoted love jihad by showing a Hindu girl who was married to a Muslim family.
The Issue With Freedom Of Speech In India
The banning of such books, films, shows, and plays is not new in India. Books like Satanic Verses by Salman Rushdie had been banned during the time when Rajiv Gandhi was in the office. The excuse that was dished out was to protect the citizens from inflicting violence on each other. But in doing so, India is barring the citizens to express themselves freely and utilizing their fundamental right of free speech. As long as the book or a movie follows the rulebook of the government, banning is not imposed. Thus, the entire idea behind freedom of speech and expression collapses.
Western Governments on the other hand has come to terms with the fact that the simplest issues will create a rupture among the mass. The world is filled with bigots and will remain so and no banning of books or movies or ad films will bring them ultimate satisfaction. Western Governments, thus, decided to protect free speech and free expression knowing that certain sectors will resort to violence.
The Effect Of  The Online Hate Campaign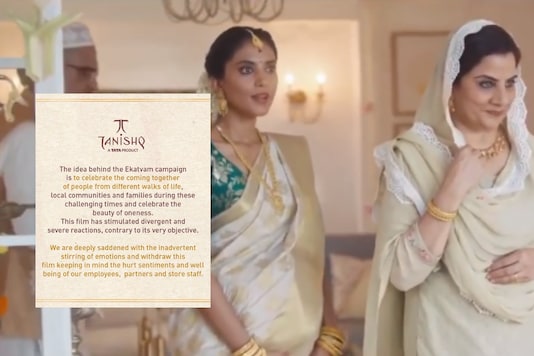 The Tata group also decided to pull down the ad film in the face of dissent and after they saw that people are trying to boycott the brand. The Spokesman of Tata group released a statement after pulling down the ad film, "The idea behind the Ekavatam campaign is to celebrate the coming together of people from different walks of life, local communities and families during these challenging times and celebrate the beauty of oneness. This film has stimulated divergent and severe reactions, contrary to its very objective. We are deeply saddened with the inadvertent stirring of emotions and withdraw this film keeping in mind the hurt sentiments and well-being of our employees, partners, and store staff." They clarified that the only reason they have decided to take down the ad film is to safeguard the interests of their employees who have been assaulted.
Celebrities Reaction
Indian actor Kangana Ranaut, who usually speaks in favor of the right-wing Supports claimed that it glorifies the concept of "Love Jihad and sexism" and vehemently emphasized the point that: civilization needs to be protected. Whereas, Actors like Richa Chadha and Divya Dutta said that they found the ad film to be quite unique and beautiful.