Shekhar Ravjiani Was Charged Rs 1672 for 3 Eggs
Remember Rahul Bose and the curious case of JW Mariott Chandigarh charging him Rs 442.50 for two bananas? Well, this incident about Shekar Ravjiani went viral on social media where after  Bose also tweeted a video telling netizens about the 'expensive' incident.
Now, another celebrity Shekhar Ravjiani has left the internet in shock with a similar incident. The Music director was charged more than Rs 1,000 for just 3 boiled eggs at a 5-star hotel in Ahmedabad. He recently took to Twitter to narrate his bizarre incident and post a picture of the hotel bill explaining the situation.
The famous singer and composer said that he was exorbitantly charged Rs 1,672 for 3 boiled eggs at the Hyatt Regency in Ahmedabad.
He immediately posted the picture of the bill on Twitter yesterday with the caption, "Rs. 1672 for 3 egg whites? That was an Eggxorbitant meal."
After Shekhar posted his tweet, like all things bizarre, the incident immediately went viral all over social media. At the time of penning down the article for this incident , the tweet already had over 522 retweets and 2.6k likes and counting.
Soon after, Twitter got loaded with hilarious jokes on the bizarre situation with some classic middle-class replies and some on the Rahul Bose incident. And believe us, they will amaze you, to say the least.
After the incident of Rahul Bose's unexpected experience of paying INR 442 for two bananas at a plush five-star hotel in Chandigarh earlier this year, a similar situation has cropped up again. This time it is Bollywood singer-composer Shekhar Ravjiani, who was at the receiving end of 'exorbitant' pricing of a five-star hotel in Ahmedabad, Gujarat.
Shekhar posted the bill on his Twitter account with the caption "Rs. 1672 for 3 egg whites??? That was an Eggxorbitant meal". With the caption, Shekhar narrated that he was exorbitantly charged Rs. 1672 for just three egg whites by the hotel on Thursday. In the bill, we can see the order of three boiled eggs at a whopping price – INR 1350. Added to that is the GST and service charge, which brought the price of the eggs to a total of INR 1672.66.
In July, last year Rahul Bose had tweeted a video of himself on all social media platforms which he captioned, "You have to see this to believe it. Who said fruit wasn't harmful to your existence? He captioned to ask the wonderful folks at @JWMarriottChd #goingbananas #howtogetfitandgobroke #potassiumforkings."
Shekhar is half of the popular Vishal-Shekhar duo. He started his career in music composition in 1999 with the movie Pyaar Mein Kabhi Kabhi and has made music for films such as Bluffmaster, Om Shanti Om, Happy New Year, Sultan and most recently War. Shekhar Ravjiani has also acted the opposite role of Sonam Kapoor in Neerja. Do you know that  Earlier, Bose had just ordered two bananas while working out at the gym of JW Marriott in Chandigarh, and had received a bill of Rs 442.5? He later put out the bill on Twitter.
Do you remember that back in July, Rahul Bose tweeted about being charged Rs 442 for two bananas at a 5-star hotel? Well, yet another incident of food items which are sold at overpriced rates at hotels has been shared, this time by Shekhar Ravjiani. The music composer also tweeted a photo of a receipt which clearly showed what he was billed for 3 eggs at a hotel and this time too, the amount has left people shocked.
"Rs. 1672 for 3 egg whites? That was an Eggxorbitant meal," he posted. His post has since collected several angry reactions from people on Twitter.
This caption Rs. 1672 for 3 egg whites??  being shared also on November 14 has gathered almost 5,500 likes and over 1,000 retweets and counting. Netizens have shared mixed reactions to the tweet. While some made fun of the situation by comparing the prices with street-side food stalls, some found the prices reasonable keeping in mind the 5-star property.
Read More: Ranveer Singh Plays The Role of Team India Captain
Controversy Around The Tanishq Ad
The new Tanishq Ad film 'Akavatam', which quite tastefully and delicately portrayed an inter-faith couple who are entering another new phase of life has been taken down after the social media bombarded it with hate comments and threats of inflicting violence. One of the Tanishq stores in Gujrat's Gandhidham was threatened by the fringe group and the store manager was forced to write a note of apology for broadcasting an advertisement based around the theme of inter-faith marriage.  As observed by many, the problem is not the content that was being presented but the theme itself. The Right-wing supports found it offensive that ad film promoted love jihad by showing a Hindu girl who was married to a Muslim family.
The Issue With Freedom Of Speech In India
The banning of such books, films, shows, and plays is not new in India. Books like Satanic Verses by Salman Rushdie had been banned during the time when Rajiv Gandhi was in the office. The excuse that was dished out was to protect the citizens from inflicting violence on each other. But in doing so, India is barring the citizens to express themselves freely and utilizing their fundamental right of free speech. As long as the book or a movie follows the rulebook of the government, banning is not imposed. Thus, the entire idea behind freedom of speech and expression collapses.
Western Governments on the other hand has come to terms with the fact that the simplest issues will create a rupture among the mass. The world is filled with bigots and will remain so and no banning of books or movies or ad films will bring them ultimate satisfaction. Western Governments, thus, decided to protect free speech and free expression knowing that certain sectors will resort to violence.
The Effect Of  The Online Hate Campaign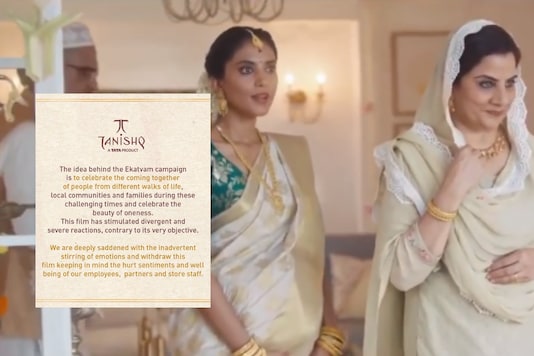 The Tata group also decided to pull down the ad film in the face of dissent and after they saw that people are trying to boycott the brand. The Spokesman of Tata group released a statement after pulling down the ad film, "The idea behind the Ekavatam campaign is to celebrate the coming together of people from different walks of life, local communities and families during these challenging times and celebrate the beauty of oneness. This film has stimulated divergent and severe reactions, contrary to its very objective. We are deeply saddened with the inadvertent stirring of emotions and withdraw this film keeping in mind the hurt sentiments and well-being of our employees, partners, and store staff." They clarified that the only reason they have decided to take down the ad film is to safeguard the interests of their employees who have been assaulted.
Celebrities Reaction
Indian actor Kangana Ranaut, who usually speaks in favor of the right-wing Supports claimed that it glorifies the concept of "Love Jihad and sexism" and vehemently emphasized the point that: civilization needs to be protected. Whereas, Actors like Richa Chadha and Divya Dutta said that they found the ad film to be quite unique and beautiful.