Sonu Sood Keeps His Promise, Opens A Martial Arts Training School For Pune's 'Warrior Aaji'
A few weeks back, video of Pune's 'Warrior Aaji' while performing martial arts on street got viral on social media for her swift martial art and lathi skills. The fact that she is 85 years old and performs just like a young performer made her more popular. If you remember her, you must also be remembering the fact that Sonu Sood had tweeted that he wanted to open a martial arts school for her. Sonu Sood has kept his promise and our Warrior Aaji has a small martial arts school in Pune.
Sonu Sood's tweet
As the video of 85-year-old Aaji got viral on social media, netizens began to praise her for her skills. She used to perform martial arts on the streets of Pune to sustain herself and her family. As her video got viral, it reached our hero Sonu Sood who tweeted that he wanted to open a martial arts school with her so that she could train the women of our country and teach them self defence measures. At that time, everyone praised Sonu Sood for this announcement. Though everyone was sure that Sonu Sood will keep his promise but no one knew that he will open a school for her so soon. He kept his promise and inaugurated her school on the holy occasion of Ganesh Chaturthi.
Reaction of Aaji
In a recent video, Aaji said that her dream has been fulfilled by Sonu and she has named her school after him. In another video, some kids are seen practising with her. She will be teaching methods of self-defence and martial arts to women and young girls in her school. The main idea of Sonu Sood was to enable her to train females in the art of self-defence with the support of Aaji. Even at the age of 85, Aaji's gestures are quite active and swift. She is an inspiration for many.
One more humanitarian act by Sonu Sood
Sonu Sood, the real-life hero who has played a very important role and sending migrants to their home towns has proved once again that humanity is alive. On the basis of humanitarian concerns, he helped Aaji and set an example for every Indian to help others. This act of Sonu Sood has been gaining praise from the public through social media platforms.
Final Words
This act of kindness done by Sonu Sood has made us believe in the existence of instincts of humanity among people. As now our Warrior Aaji has got her own martial arts school, we are quite sure that she will be producing more warriors and talented students in the field of martial arts. Also, Sonu's dream of opening a school in which Aaji will train women in martial arts for self-defence is not too far. Aaji will be soon starting classes in her school. From this incident, this clear, India needs more Sonu Sood.
Controversy Around The Tanishq Ad
The new Tanishq Ad film 'Akavatam', which quite tastefully and delicately portrayed an inter-faith couple who are entering another new phase of life has been taken down after the social media bombarded it with hate comments and threats of inflicting violence. One of the Tanishq stores in Gujrat's Gandhidham was threatened by the fringe group and the store manager was forced to write a note of apology for broadcasting an advertisement based around the theme of inter-faith marriage.  As observed by many, the problem is not the content that was being presented but the theme itself. The Right-wing supports found it offensive that ad film promoted love jihad by showing a Hindu girl who was married to a Muslim family.
The Issue With Freedom Of Speech In India
The banning of such books, films, shows, and plays is not new in India. Books like Satanic Verses by Salman Rushdie had been banned during the time when Rajiv Gandhi was in the office. The excuse that was dished out was to protect the citizens from inflicting violence on each other. But in doing so, India is barring the citizens to express themselves freely and utilizing their fundamental right of free speech. As long as the book or a movie follows the rulebook of the government, banning is not imposed. Thus, the entire idea behind freedom of speech and expression collapses.
Western Governments on the other hand has come to terms with the fact that the simplest issues will create a rupture among the mass. The world is filled with bigots and will remain so and no banning of books or movies or ad films will bring them ultimate satisfaction. Western Governments, thus, decided to protect free speech and free expression knowing that certain sectors will resort to violence.
The Effect Of  The Online Hate Campaign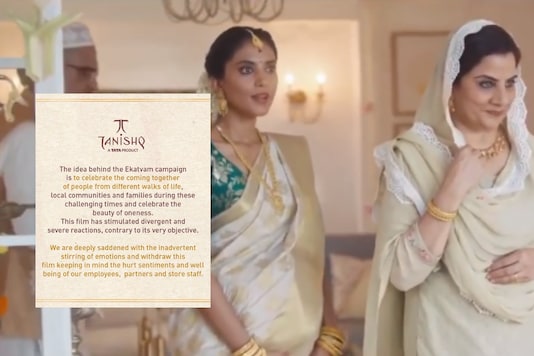 The Tata group also decided to pull down the ad film in the face of dissent and after they saw that people are trying to boycott the brand. The Spokesman of Tata group released a statement after pulling down the ad film, "The idea behind the Ekavatam campaign is to celebrate the coming together of people from different walks of life, local communities and families during these challenging times and celebrate the beauty of oneness. This film has stimulated divergent and severe reactions, contrary to its very objective. We are deeply saddened with the inadvertent stirring of emotions and withdraw this film keeping in mind the hurt sentiments and well-being of our employees, partners, and store staff." They clarified that the only reason they have decided to take down the ad film is to safeguard the interests of their employees who have been assaulted.
Celebrities Reaction
Indian actor Kangana Ranaut, who usually speaks in favor of the right-wing Supports claimed that it glorifies the concept of "Love Jihad and sexism" and vehemently emphasized the point that: civilization needs to be protected. Whereas, Actors like Richa Chadha and Divya Dutta said that they found the ad film to be quite unique and beautiful.