Stranger Things 3 Review
The third season of American Original web series Stranger Things, Stranger Things 3 is now available on Netflix. The series is a pure science fiction-horror drama full of fun and mysteries. The series has already got some reputed awards like 'Screen Actors Guild Awards for Outstanding Performance by an Ensemble', 'Critics' Choice Television Award for Best Supporting Actor in a Drama Series' and successfully created a new fan base itself.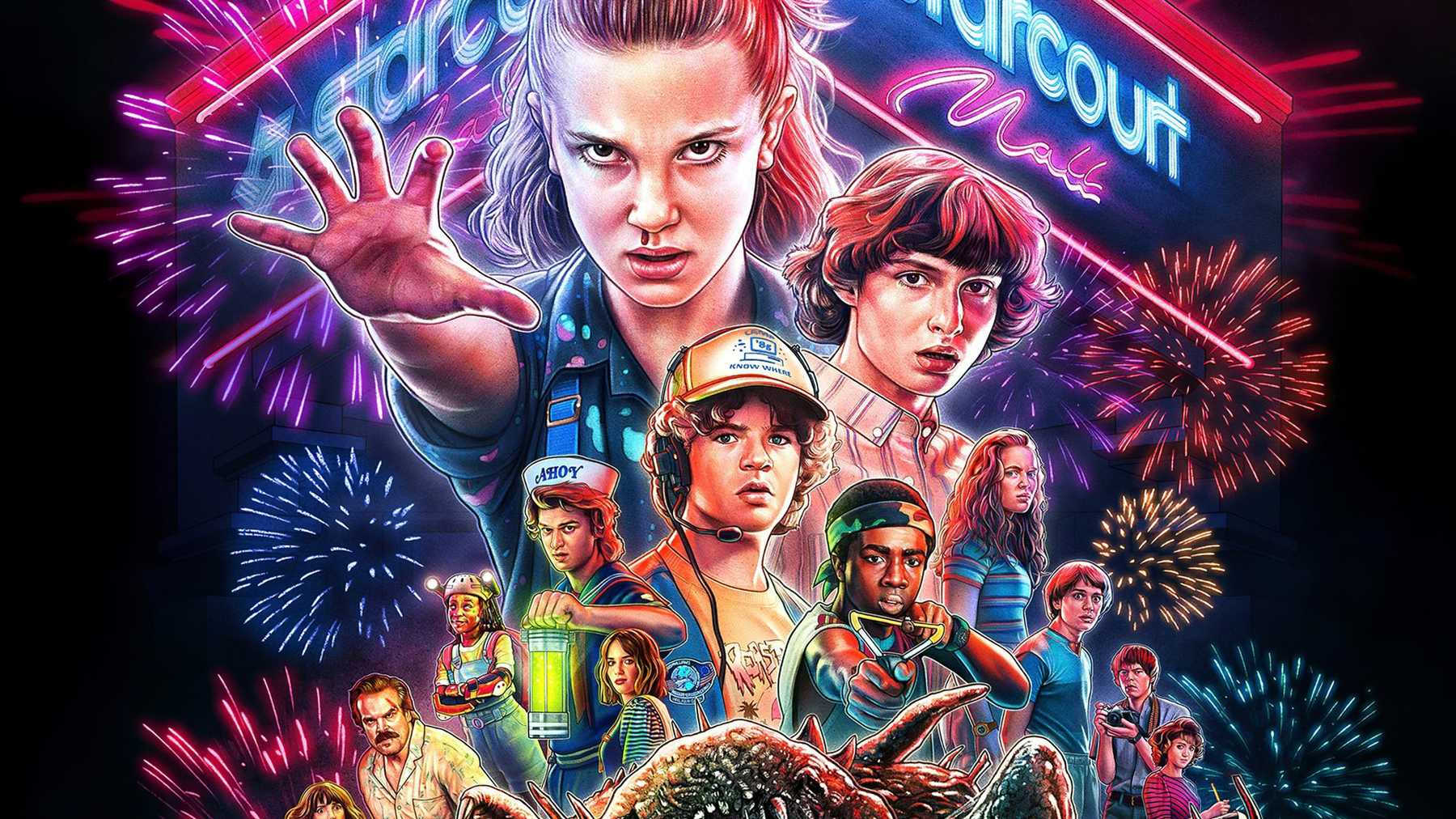 And now, powerful and funny season 3 is here to entertain you.
The series contains eight brand new episodes and continues the story of people living in the sleepy town of Hawkins, IN. You will get to watch how people will save their town from their enemy creatures. It is said that season 3 is better than its preceding season (Season 2).
The characters are grown-up in this season. But Season 3 has three new actors, Maya Hawke (as Robin), Jake Busey (as Bruce) and Cary Elwes (as Mayor Larry Kline).
Robin is Steve's Scoops Ahoy co-worker, Bruce is a reporter for the Hawkins newspaper. They all acted well in the series.
Season 3 is much more creative in terms of story-telling and characters depth and it keeps the audience engaged. The series has got some mad scientists who are trying to achieve some goals and it's interesting to watch them. The Rat disease is troubling the youngsters. There is a new unique 'New Coke' formula, the series introduced to gain some publicity. 'New Coke' formula of the season is in talks as Coca Cola decided to team up with Netflix to revive its history through a web-story.
The strength of season 3 lies in its character as they shine in their own ways to tell the story beautifully. The characters are off for short periods of time on their own adventures to know about new mysteries, later they find different pieces of the puzzle that can solve their problem.
The series has well-timed character moments, a perfectly balanced Action and terror scenes. Its horror sequences make good use of the era's equipment, and pop-culture, emotionally fraught set pieces. You'll be amazed to watch the chase scene and get to suddenly realize that the kids are being hunted in the exact same way the kids are stalked by crazy raptors in the Jurassic Park. Yeah! I know you wouldn't believe but it's like that.
The season 3 has a post-credit scene for the very first time an entire season of Stranger Things. The extra scene surprises the viewers and leaves the door open for the future. The scene raises a bunch of questions as it goes through the new side of the biggest mysteries. It is really exciting to watch the post credit scene, you must watch it, but after completing the whole episodes.
We can't finish reviewing the series without knowing what the critics have got to say about this season. The critics have mixed response, mostly praised the story of this season.
While fans on twitter gone mad and posting their reactions through memes and tweet. Some posted about the relationship between Robin and Steve's, some other praised fashion sense of two best friends.
A user tweeted, "Steve Harrington's character development is really the best, from popular high school douchebag to a spy mother of 6 teenagers #StrangerThings3".
This tweet shows how much the people loved the story, the characters of the new season.
Go, watch out the series and make your summer best with season 3.
 The Social Dilemma: The Lesser-Known Pandemic
Edward Tufte said, "There are only two industries that call their customers 'users': illegal drugs and software". The new Netflix original documentary by jeff Orlowski "the social dilemma" brings to you the dark side of the social media that keeps you addicted to a virtual world. It is a well-documented and a very staunch portrayal of social media.
It explores the spooky side of these platforms which has the capability to manipulate and psychologically affect human beings from people who have closely worked in these industries. These people talk about the distress they felt when they worked for something. How it is taking hold of an individual's life and play around with it to earn profit to become the most successful industries in the history of humankind. This group of people is from social media giants like Google, Facebook, Pinterest, Snapchat, WhatsApp, and many others.
What is the "dilemma"?
As the name suggests, it talks about the dilemma that is social media. I talked to one of my friends from school today, she is doing fine and told me about this new show she is watching. Well, I also saw stumbled upon celebrity news casually scrolling which by the way, has no use for me.  Now, that is the dilemma we are talking about. The documentary talks about our heavy dependence on social media in today's world and how we fell prey to this trap. In today's world, it is not possible for one to totally isolate themselves from social media.
All our work has come to Gmail, Pinterest is the world of ideas, and for much social media is the workplace. We found all our old friends on social media and stay connected with our family and friends. But at the same time, we can't put our down at the dinner table to have an actual conversation with our family. This dilemma is really where we can't go with just the good part, we will take along the repercussion as well. This is the question this documentary puts out there. The dilemma of good and bad. But the question is, "is the payoff of good is enough to compensate for the cost of bad"?
What are these "bad"?
Now, how this social media is affecting you? Manipulation of the Human brain, social media is a world of ideas and how these ideas are presented to you is based on an algorithm that is up to the maker of these platforms to decide. This sequence and control over what one is coming across leads to restricting the way one thinks and builds is the point of view.
Social media has been used as a weapon by many people to pour out false information that is provocative, degrading, and spread negativity across communities resulting in things like riots, violent actions, and sometimes even things like mass killings. We came across this kind of news almost every day. Content related to ideal beauty types, body shaming, hate comments, and constant exposure to advertisements are all constantly floating on social media specifically affecting teenagers and the young generation.
These algorithms work to keep you looking at your screen and is an addiction that needs to be addressed. Unknowingly, social media is affecting all aspects of our life It puts a threat on democracy, increase depression, and even suicides, mob violence, etc. it has also lead to people losing contact from the actual world. Addiction to devices has distanced families and also affects other relationships which are totally opposite to the way humans are supposed to behave, humans as a species are supposed to be open-minded, dynamic, and communicative. Not to just hide behind screens.
Final words
Jeff Orlowski has very rightly called it the social dilemma. But at the end of the day, it's in our hands that how do we want to live How do we want ideas to come to us and how we decide to act to them. All of this can be summed up in one last question – whether we want to live a life that is influenced by people around us, with a wide range of ideas on all aspects from all sources, not just a few selected ones, or a life that is operated by an algorithm.