In Bologna,people are struggling due to Corona Virus
In Bologna, people are struggling to come to terms with their strange new reality ie Corona Virus.
Due to coronavirus, One woman, who runs a hotel near the Piazza Maggiore, with its grand Basilica, said she was confused by what the government is doing.
"One day they say one thing, and the next day they do just the opposite," she told the BBC. "One day they say we are in a terrible period, and the next day they say it is not so bad."
Her business, like so many in the tourist trade, has taken a big hit. This should be high season, but the hotels here are deserted.
Shops and cafes are still open, although customers and staff have to keep a safe distance from each other.
Salvatore, who runs a fish shop, said Italy had "underestimated the problem" of the coronavirus.
"In reality, it's a very important thing, there's a big fear of filling the hospitals and not being able to take care of everyone," he said.
"This is the big demand: we must leave our homes just to buy food to eat [and] to avoid contagion," he added. "After the decree, the Italian people have realised that we are in a serious moment, we have to be well behaved and follow the rules."
People still wander through the porticoed streets and sit out on the steps of the Basilica in the Piazza Maggiore
But a bit farther north, in the town of Piacenza, which has had over 600 cases of coronavirus, things are much quieter. Locals who spoke to me via smartphone told me the streets are very quiet, apart from the sound of ambulance sirens.
Riccardo, a journalist, said he felt "a sense of,  claustrophobia."
There's "a feeling of uncertainty and fear," he said, "because the pillars of your existence, the deep feeling you're living in an orderly society and protected by technology, are vanishing."
"You see depression, you see desperation, you see panic, you see also carelessness," he told me. "You even see the eternal Italian anarchy, people that don't want to follow rules by the government."
But it was not all grim, he said. "You also hear a lot of people taking this situation with a sense of humour, a lot of jokes, people trying to make things lighter."
Anna is a student from Piacenza, who studies at the University of Siena. Currently, in Tuscany, she says her parents have advised her to stay away.
"It's strange to be forced to be away from home," she told me. "Coronavirus became real for us, as I think for many other people in this country when it started to influence our daily routine."
I think everybody should just try to be as responsible as possible and try to follow the measures and the restrictions," she added.
Back in Bologna, Maurizio, who owns a bar and restaurant, said he was very concerned about his business and his 10 employees.
"They have children, and perhaps in the next month, starting from now, salaries will be very small. It's a very, very difficult time," he said.
Benedetta, who works in the real estate business, admitted she was worried.
"I should have a little mask," she said with a nervous laugh. "Maybe I should buy it in a pharmacy. I'm worried because it is quiet in the city centre, quiet."
An Italian doctor at the heart of the coronavirus outbreak that has placed the country under lockdown has painted a grim picture of the deadly illness — likening it to a "tsunami that has swept us all."
Dr. Daniele Macchini, who works at the Humanitas Gavazzeni hospital in the northern city of Bergamo, warned in a lengthy post on Facebook about the dangers of complacency in the relentless war against the insidious virus.
Italy, where more than 460 people have been killed due to corona virus and 9,172 others infected by the virus, has imposed unprecedented national restrictions on its 60 million inhabitants.
"After much thought about whether and what to write about what is happening to us, I felt that silence was not responsible," Macchini wrote in his post, as translated by Dr. Silvia Stringhini, an epidemiologist and researcher at the Geneva University's Institute of Global Health.
Read More:Corona Virus Live Updates
Controversy Around The Tanishq Ad
The new Tanishq Ad film 'Akavatam', which quite tastefully and delicately portrayed an inter-faith couple who are entering another new phase of life has been taken down after the social media bombarded it with hate comments and threats of inflicting violence. One of the Tanishq stores in Gujrat's Gandhidham was threatened by the fringe group and the store manager was forced to write a note of apology for broadcasting an advertisement based around the theme of inter-faith marriage.  As observed by many, the problem is not the content that was being presented but the theme itself. The Right-wing supports found it offensive that ad film promoted love jihad by showing a Hindu girl who was married to a Muslim family.
The Issue With Freedom Of Speech In India
The banning of such books, films, shows, and plays is not new in India. Books like Satanic Verses by Salman Rushdie had been banned during the time when Rajiv Gandhi was in the office. The excuse that was dished out was to protect the citizens from inflicting violence on each other. But in doing so, India is barring the citizens to express themselves freely and utilizing their fundamental right of free speech. As long as the book or a movie follows the rulebook of the government, banning is not imposed. Thus, the entire idea behind freedom of speech and expression collapses.
Western Governments on the other hand has come to terms with the fact that the simplest issues will create a rupture among the mass. The world is filled with bigots and will remain so and no banning of books or movies or ad films will bring them ultimate satisfaction. Western Governments, thus, decided to protect free speech and free expression knowing that certain sectors will resort to violence.
The Effect Of  The Online Hate Campaign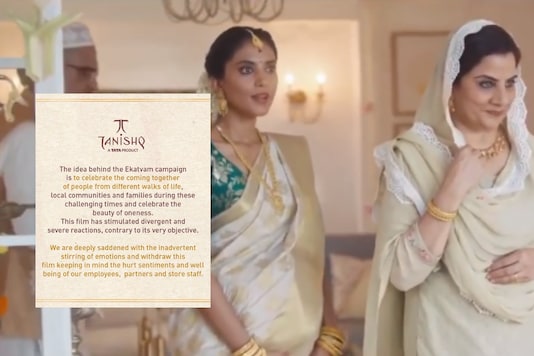 The Tata group also decided to pull down the ad film in the face of dissent and after they saw that people are trying to boycott the brand. The Spokesman of Tata group released a statement after pulling down the ad film, "The idea behind the Ekavatam campaign is to celebrate the coming together of people from different walks of life, local communities and families during these challenging times and celebrate the beauty of oneness. This film has stimulated divergent and severe reactions, contrary to its very objective. We are deeply saddened with the inadvertent stirring of emotions and withdraw this film keeping in mind the hurt sentiments and well-being of our employees, partners, and store staff." They clarified that the only reason they have decided to take down the ad film is to safeguard the interests of their employees who have been assaulted.
Celebrities Reaction
Indian actor Kangana Ranaut, who usually speaks in favor of the right-wing Supports claimed that it glorifies the concept of "Love Jihad and sexism" and vehemently emphasized the point that: civilization needs to be protected. Whereas, Actors like Richa Chadha and Divya Dutta said that they found the ad film to be quite unique and beautiful.