The Success Story Of Start-Ups, Due To The Emergence Of Technology
In the current era, the online market and technology have made life much easier for human beings. We can now simply sit back at our homes and use these applications and services at our fingertips. From ordering food to booking cabs, everything has been made so simple by these huge billionaire companies but have we ever wondered that what was their story behind reaching this landmark? Here are some of the famous success stories of educational startups that went on to build an empire.
Airbnb
This is the story of two struggling people who were finding it hard to pay their rents. Hence they had to move to a different city, where they used to offer bed and breakfast at a very cheap price. They got a first customer and that too a 30-year-old Indian. They had to do this for at least about six months to make the company establish in the market. They went through n number of rejection but received theirA first funding of 112 million dollars from the US, and since then they never looked back.
Alibaba.com
Alibaba story is a highly inspirational one since it shows the journey of a poor guy to becoming the richest man in China, Jack Ma. He was the founder of alibaba.com. He was a low born communist who failed in his University entrance exam twice and was also refused to be a part of various jobs including KFC.
He didn't know anything about programming or coding but the first time he used the internet, he was mesmerized by the way it works. Even after the failure of his two internet ventures, he didn't lose hope and after 4 years he came up with the idea of alibaba.com. he convinced and manipulated all of his connections to invest in alibaba.com and soon enough they saw great growth and now Jack Ma is the richest man in China.
Instagram
This is a story about the Stanford University graduate, named Kevin Systrom who developed one of the most popular applications in the current era, Instagram. Most of us use this photo oriented app daily in our life but none of us knows the struggle behind this development.
Kevin Systrom was a tech genius and learned to code all by himself. Mark Zuckerberg gave him an opportunity to work for him, but he refused in order to complete his graduation. On October 6, 2010, Kevin along with his friend Mike launched this application Instagram. It took them almost eight weeks of hard work to develop this app.
It was quiet and surprising to see that Instagram became the #1 application on iOS and that too in just 24 hours. Within 9 nine, they broke all the records with 7 million users and the rest is history.
All of these stories tell us one thing that there is nothing impossible in our lives, we all start with a small dream only. One needs to take the risk if he wants to go for something big in his. One will come across failure, rejection, disappointment but one needs to keep this in mind that these are the only things that either break us or makes us.
Controversy Around The Tanishq Ad
The new Tanishq Ad film 'Akavatam', which quite tastefully and delicately portrayed an inter-faith couple who are entering another new phase of life has been taken down after the social media bombarded it with hate comments and threats of inflicting violence. One of the Tanishq stores in Gujrat's Gandhidham was threatened by the fringe group and the store manager was forced to write a note of apology for broadcasting an advertisement based around the theme of inter-faith marriage.  As observed by many, the problem is not the content that was being presented but the theme itself. The Right-wing supports found it offensive that ad film promoted love jihad by showing a Hindu girl who was married to a Muslim family.
The Issue With Freedom Of Speech In India
The banning of such books, films, shows, and plays is not new in India. Books like Satanic Verses by Salman Rushdie had been banned during the time when Rajiv Gandhi was in the office. The excuse that was dished out was to protect the citizens from inflicting violence on each other. But in doing so, India is barring the citizens to express themselves freely and utilizing their fundamental right of free speech. As long as the book or a movie follows the rulebook of the government, banning is not imposed. Thus, the entire idea behind freedom of speech and expression collapses.
Western Governments on the other hand has come to terms with the fact that the simplest issues will create a rupture among the mass. The world is filled with bigots and will remain so and no banning of books or movies or ad films will bring them ultimate satisfaction. Western Governments, thus, decided to protect free speech and free expression knowing that certain sectors will resort to violence.
The Effect Of  The Online Hate Campaign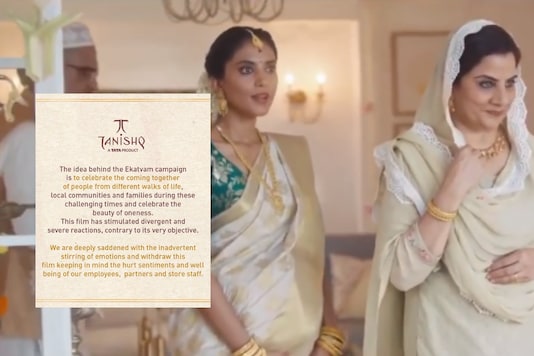 The Tata group also decided to pull down the ad film in the face of dissent and after they saw that people are trying to boycott the brand. The Spokesman of Tata group released a statement after pulling down the ad film, "The idea behind the Ekavatam campaign is to celebrate the coming together of people from different walks of life, local communities and families during these challenging times and celebrate the beauty of oneness. This film has stimulated divergent and severe reactions, contrary to its very objective. We are deeply saddened with the inadvertent stirring of emotions and withdraw this film keeping in mind the hurt sentiments and well-being of our employees, partners, and store staff." They clarified that the only reason they have decided to take down the ad film is to safeguard the interests of their employees who have been assaulted.
Celebrities Reaction
Indian actor Kangana Ranaut, who usually speaks in favor of the right-wing Supports claimed that it glorifies the concept of "Love Jihad and sexism" and vehemently emphasized the point that: civilization needs to be protected. Whereas, Actors like Richa Chadha and Divya Dutta said that they found the ad film to be quite unique and beautiful.