Telly viewers have welcomed the re-run of Ramayana during the 21-day lockdown
Telly viewers have welcomed the re-run of Ramayana during the 21-day lockdown. The channel aired its first episode today, and a majority of the audience praised the iconic show.
Several of them took to Twitter to share interesting anecdotes. There were some who got nostalgic, and there were others who stressed the relevance of having such shows around on the small screen. A few were, however, unhappy with the re-run.
One user wrote, "Full attendance in front of the TV @ 9am. We are reliving our childhood (I was 7 years old and my parents bought a Bush TV for me to see this show)… my kids might never understand but I'm happy they are watching with me."
Another shared, "Ramayan Returns in style * Not just the first episode of Ramayan crashes the Doordarshan website due to high traffic * But also becomes the top searched in India on Google. This shows the love Indians have towards Prabhu Shri Ram.
A nostalgic user tweeted, "Remembered watching Ramayana with whole family and neighbours who didn't have TV also used to gather. TV room used to get full. Never seen such excitement for any serial those days.
He had shared, "Happy to announce that on public demand, we are starting re-telecast of 'Ramayana' from tomorrow, Saturday March 28 in DD National, One episode in morning 9 am to 10 am, another in the evening 9 pm to 10 pm. @narendramodi @PIBIndia @DDNational."
Ramanand Sagar's Ramayana and B R Chopra's Mahabharata made their way to the television screens during the late 1980s to mid-1990's. They were a treat to the audience and widely enjoyed by all on Sundays.
After a huge demand on social media, national broadcaster Doordarshan, popularly called DD, is bringing back the epics of 'Ramayan' and 'Mahabharat' for its audience across the country and abroad.
Doordarshan and DD Bharati will telecast the epics of 'Ramayan' and 'Mahabharat' respectively from today, Union Information and Broadcasting Minister Prakash Javadekar said.
Many social media users had requested the airing of 'Ramayan', directed by Ramanand Sagar, and 'Mahabharat', directed by BR Chopra, amid the 21-day nationwide lockdown. Three days ago, Prasar Bharati CEO Shashi Shekhar Vempati said they were "working on it".
Mr Javadekar tweeted this morning saying, "Please tune in to @DDNational at 9 am & 9 pm to watch 'Ramayan' and @DDBharati at 12 noon and 7 pm to watch 'Mahabharat' today and every day."
Read More:Narendra Modi Speech On Corona Virus
Government Answer On Migrant Crisis
With the starting of the Monsoon session as the parliamentary activities are finally moving, members are all set with their questions for the ruling party. Trinamool Congress MP Mala Roy has questioned Home Ministry about steps taken for the protection of Migrant crisis. Due to the imposition of stringent lockdown in wake of Co-Vid19 labors faced the most of heat. Lack of employment, lack of funds to survive and no transportation to move have contributed to their woes. Mala Roy asked in her question that what actions the Government took to protect them.
Centre says, "No data of migrants"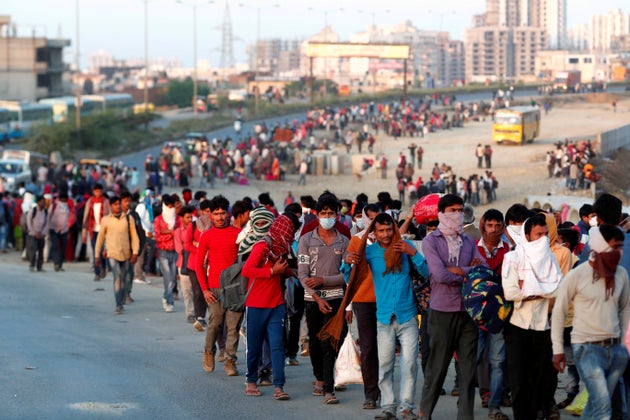 Centre informed in Parliament there is no such data available. Replying to Mala Roy's question and several such questions Ministry of Labour and Employment said that there is no recorded data about the death of Migrants available. A report by World Bank states that due to April's lockdown in the nation about 40 million internal migrants have been hit by employment crisis. Furthermore, to the question, whether any steps are taken for the protection of migrants or any compensation was given? Centre answered that since there is no data no question of compensation. No recorded data of the unemployment due to Covid is found.
Steps taken by the center
One after other shocker is received as Centre has no data of Migrants. Fruit sellers, hawkers, daily wage workers and unskilled labours working in factories are worst hit. The government said that as a country India responded by the local bodies, state governments, NGOs and many others. Government has started special Shramik trains for the labourers. Many facilities are made to help them survive. As the distribution of Cereals, Pulses, Sugar, vegetable spices and water for free.
In some places, cooked food is also distributed for free. Labour Ministry chief said that 1164 trains have operated to help migrants reach their homes. Almost 10.4 million labours have returned. Most of the labours or migrants who have been successfully dropped to their homes are in states of Uttar Pradesh and Rajasthan. On questions of deaths of migrants while on their way to home or even in trains center replies as- non-availability of data.
Data from states are found that almost 63.7 lakh stranded labours are returned to home by Shramik special train. Other migrants who set their journey on foot or by hitch-hiking is still not found. In trains 110 deaths are found to report. The reasons are many some because if illness, some due to accidents, lack of food and non-availability of water. In June the Chief of Labour Commission is ordered to meticulously record data of migrants from various sources under the orders by Central Information Commission. In many states and union territories the advisory guidelines are invoked. Orders are been given to maintain updated labour laws.
The state of labours and migrants is still bad. There seems to be no significant improvement. Due to the labour employment crisis financial wellbeing of country has also taken a hit. In upcoming sessions, the labour crisis and government's actions on it will de looked into with even more depth.