The Introduction of Delhi's first oxygen bar to fight pollution
In between all the measures to fight against the severe air pollution levels in Delhi-NCR, there's one more option for you that ie a bar that has "pure air" attached with it. This product is founded by Aryavir Kumar and Margarita Kuritsyana which is the Delhi's first-ever oxygen bar also named as 'Oxy Pure' which offers 15 minutes of 80-90 per cent pure oxygen starting from Rs 299.
This concept might be new in India but many countries also have oxygen bars for recreational purposes and aromatherapy. This session also hopes to displace harmful free radicals and neutralizes anaerobic infectious bacteria as well as environmental toxins.
Do you know that in Delhi the air quality and pollution has already reached severe+ category? The rising global temperatures in the city is due to climate change which can reverse two decades worth of health benefits. The city is filled with pollution hues for over a fortnight now. In the aftermath of the drop in temperature and burning in areas of Punjab and Haryana, the AQI in Delhi has worsened. Do you know that  Delhi CM Arvind Kejriwal called the city a gas chamber?
 This is a  very unique concept which has emerged in the city battling with Air Pollution crisis, Oxy Pure is a type of bar that was opened in May this year by Aryavir Kumar in Delhi's Saket. It offers visitors pure oxygen for almost fifteen minutes. You can choose to order your oxygen in 7 different aromas and fragrance. Spearmint, peppermint, cinnamon, orange, lemongrass, eucalyptus and lavender flavours are also available.
This bar was launched in May, also offers its customers several aromas to choose from that can be infused with oxygen that is odourless. The aromas include lemongrass, lavender, cherry, eucalyptus and many more flavours.
Customers are given a nasal, lightweight tube, used for supplementary oxygen intake. 
This device is placed near the customer's nostrils through which they were advised to breathe in the aroma-infused oxygen.
According to the aroma that you choose, each session also promises to improve one's sinus, sleep patterns and digestion, cure headaches and migraines, and even claims to work as a remedy for depression.
"Some people, who tried it for the first time, will feel relaxed and fresh. But only those people who undergo the sessions regularly will get real benefits of the aroma.
Irengbam points out that they don't encourage the back-to-back session and advises his customers to stick with the 10 to 15-minute sessions a day.
"Though we have regular customers, doctors don't encourage back-to-back sessions, as increased levels of oxygen in the body can make a person dizzy. It is advisable to do it once or twice a month," doctors said.
Dr Rajesh Chawla, who is also a senior consultant in respiratory medicine at the Indraprastha Apollo Hospital Delhi, said that though these sessions do not have any side-effects, it will not have any long-term benefits either. "Even if you breathe the so-called pure oxygen for two hours in a day, you will go back to breathing the polluted air for the rest of the 22 hours. This is purely a capitalistic move.
Recalling the initial days of the bar, Irengbam admitted that the people were sceptical and only a few people came forward to try it."Many people criticised, saying that we were selling air, others were scared to breathe through the cannula".
Irengbam said this bar saw a significant rise in the number of customers two to three days after Diwali, as the pollution levels were high adding that people are warming up to the idea of an oxygen bar. "They have realised the need for it," he said. The bar also provides portable oxygen cans, which is easy to carry around and works like an inhaler.
Read More: Delhi Pollution
Controversy Around The Tanishq Ad
The new Tanishq Ad film 'Akavatam', which quite tastefully and delicately portrayed an inter-faith couple who are entering another new phase of life has been taken down after the social media bombarded it with hate comments and threats of inflicting violence. One of the Tanishq stores in Gujrat's Gandhidham was threatened by the fringe group and the store manager was forced to write a note of apology for broadcasting an advertisement based around the theme of inter-faith marriage.  As observed by many, the problem is not the content that was being presented but the theme itself. The Right-wing supports found it offensive that ad film promoted love jihad by showing a Hindu girl who was married to a Muslim family.
The Issue With Freedom Of Speech In India
The banning of such books, films, shows, and plays is not new in India. Books like Satanic Verses by Salman Rushdie had been banned during the time when Rajiv Gandhi was in the office. The excuse that was dished out was to protect the citizens from inflicting violence on each other. But in doing so, India is barring the citizens to express themselves freely and utilizing their fundamental right of free speech. As long as the book or a movie follows the rulebook of the government, banning is not imposed. Thus, the entire idea behind freedom of speech and expression collapses.
Western Governments on the other hand has come to terms with the fact that the simplest issues will create a rupture among the mass. The world is filled with bigots and will remain so and no banning of books or movies or ad films will bring them ultimate satisfaction. Western Governments, thus, decided to protect free speech and free expression knowing that certain sectors will resort to violence.
The Effect Of  The Online Hate Campaign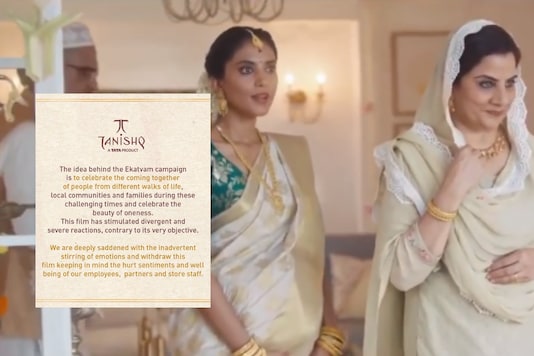 The Tata group also decided to pull down the ad film in the face of dissent and after they saw that people are trying to boycott the brand. The Spokesman of Tata group released a statement after pulling down the ad film, "The idea behind the Ekavatam campaign is to celebrate the coming together of people from different walks of life, local communities and families during these challenging times and celebrate the beauty of oneness. This film has stimulated divergent and severe reactions, contrary to its very objective. We are deeply saddened with the inadvertent stirring of emotions and withdraw this film keeping in mind the hurt sentiments and well-being of our employees, partners, and store staff." They clarified that the only reason they have decided to take down the ad film is to safeguard the interests of their employees who have been assaulted.
Celebrities Reaction
Indian actor Kangana Ranaut, who usually speaks in favor of the right-wing Supports claimed that it glorifies the concept of "Love Jihad and sexism" and vehemently emphasized the point that: civilization needs to be protected. Whereas, Actors like Richa Chadha and Divya Dutta said that they found the ad film to be quite unique and beautiful.