Top Movie Streaming Apps To Watch Your Favorite Movies
Watching movies is the best idea to make good use of your time, especially when a global pandemic is on your door and all the multiplexes and cinemas are closed. But downloading a movie every time before watching it might seem an old fashioned and very time-consuming idea. Thanks to movies streaming apps. These apps are available for both Android and iOS devices and enable you to watch movies in any quality of your choice. And if in any case, you have some data connectivity issues, you can also save or download your favourite movies for offline streaming in future. Let us have a look at some of the top movie streaming apps available, which give you access to watch your favourite movies anytime and anywhere: –
Netflix
Netflix is one of the most popular movies streaming apps worldwide. Not only movies, but it also gives access to watch documentaries, animated content for kids and series. Netflix lets you search your desired content by its name. It also helps you to watch the content of your choice by showing you some shows or movies related to the content you watched previously. The Netflix Original series, movies and documentaries are also a great feature of this app. Most of the famous creators are launching their content directly over Netflix due to the popularity of this platform. Netflix also works on the web. If you are looking for screen sharing, then Netflix allows you to share the screen with 5 people at a time.
Amazon Prime
Amazon Prime is also emerging as a great competitor for Netflix these days. The app enables the user to stream their favourite movies and series in HD quality. The best part is that these videos can also be downloaded through both Wifi and Cellular data in HD quality for offline streaming. The app recommends movies and series to the user based on the previous watch history. There is also an option to create a watchlist in which user can add their favourite videos. Also, for a trial basis, the first episode of every series is free on this app. The app also offers the details of the song while playing it with X-Ray. The app is an overall one-stop destination for your requirements.
YouTube
There will be no one in this world who does not use YouTube. Though there a lot of free movies of movies available on YouTube uploaded by different channels but finding the latest movie might be difficult. For this YouTube enables you to buy or rent any latest movie in HD print. This feature is also available for old movies. Along with movies, YouTube is also a one-stop destination for songs, series, videos, documentaries and everything you want to look up for. For extending its services and presenting good content to its users, YouTube has also start YouTube premium feature which will give access to YouTube originals to the users.
Hulu
Hulu is a very popular platform these days. The reason is its accessibility and content. The app is accessible everywhere while it offers a variety of content. It offers top-class HD quality movies. Along with movies, it also offers series and Live telecasts of sports, news, etc. It enables the user to create up to 6 profiles and watch their favourite movies. Watching Hulu is similar to watching TV in a personalized manner. Hulu also allows user to switch from one season to another season by jumping into the libraries.
Popcornflix
Popcornflix is one of the best free movie streaming apps available. It allows you to watch your favourite movies for free. The movies are sorted according to categories and the latest movies are on the top. Popcornflix also offers to watch a variety of TV series for free. It also offers to watch some of its series called Popcornflix Originals. Even though it is free, there is no compromise with the quality of moves. Movies are of good quality and stream smoothly. If you want to go for a free platform, go for Popcornflix anytime.
 Showbox
Showbox is one of the best and most popular movies streaming apps ever. It allows user to watch their favourite movies for free. It does not ask you to log in to watch your favourite movie. The app also offers the users to watch their favourite series and stream music and all for free. You can sort your videos according to the genre, year, etc. You can select a good series from the categories or catalogues created by Showbox. You can watch everything in HD quality. Subtitles are available if you like them and also you are free to download your favourite videos for watching them in future without an internet connection. The app also offers music streaming features.
VUDU
VUDU allows its users to watch the latest movies as soon as they go on air by renting or buying them. The similar feature is available for series. VUDU allows you to watch your favourite movies in HD quality with limited ads. It also has several shows which you can watch for absolutely free. They are also some free movies on the app which you can watch easily in good quality. The best thing is that the app also has a community forum where you can ask questions and connect with VUDU community.
Disney+Hotstar
Disney+Hotstar is an app developed by star media. It offers various latest and old movies which you can watch in HD quality. The app also has a collection of some free movies. Along with this, it also gives access to the movies by Disney out of which many are also free. You can also stream various series created by Hotstar and some series and animated shows by Disney. The app also gives access to new and old shows of the star media easily. You can also download your favourite videos to watch them later without data connectivity. A lot of latest movies are also being released on this platform during a global pandemic, if you do want to miss them, you can go for it.
Tubi TV
Tubi TV offers to watch a wide range of movies for free by selecting them from the catalogue arranges according to the genre of the movie. You can also log in if you want to save your movies into the queue. The best thing about Tubi Tv is that you will get subtitle with every movie you watch. The screencasting feature is available. You can also cast screen in almost all versions of Tubi Tv including the web version. As far as the quality of the movies is concerned, they are of absolutely high quality and the movie streaming also works smoothly.
Movie Streaming Apps: A Final Conclusion
A lot of movie streaming apps are available these days. Most of them are also providing a large number of movies. But going with an app which updates its movie list recently is the best option. Also, there are many other parameters. If you are not someone who watch movies frequently then going with a free app is the best choice while if you are an enthusiast so you can also go with premium versions of apps.
It will also give you access to watch premium content and latest movies with HD quality. Premium versions also lack ads. Also, the latest trends are of releasing movies on these digital platforms only. So, if you are having a premium version of an app, you can watch movies as soon as it is released. However, other free sources will also make such movies available for you but they might take some time to get a high-quality video.
Controversy Around The Tanishq Ad
The new Tanishq Ad film 'Akavatam', which quite tastefully and delicately portrayed an inter-faith couple who are entering another new phase of life has been taken down after the social media bombarded it with hate comments and threats of inflicting violence. One of the Tanishq stores in Gujrat's Gandhidham was threatened by the fringe group and the store manager was forced to write a note of apology for broadcasting an advertisement based around the theme of inter-faith marriage.  As observed by many, the problem is not the content that was being presented but the theme itself. The Right-wing supports found it offensive that ad film promoted love jihad by showing a Hindu girl who was married to a Muslim family.
The Issue With Freedom Of Speech In India
The banning of such books, films, shows, and plays is not new in India. Books like Satanic Verses by Salman Rushdie had been banned during the time when Rajiv Gandhi was in the office. The excuse that was dished out was to protect the citizens from inflicting violence on each other. But in doing so, India is barring the citizens to express themselves freely and utilizing their fundamental right of free speech. As long as the book or a movie follows the rulebook of the government, banning is not imposed. Thus, the entire idea behind freedom of speech and expression collapses.
Western Governments on the other hand has come to terms with the fact that the simplest issues will create a rupture among the mass. The world is filled with bigots and will remain so and no banning of books or movies or ad films will bring them ultimate satisfaction. Western Governments, thus, decided to protect free speech and free expression knowing that certain sectors will resort to violence.
The Effect Of  The Online Hate Campaign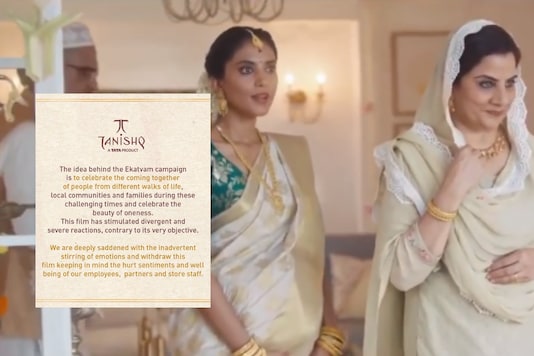 The Tata group also decided to pull down the ad film in the face of dissent and after they saw that people are trying to boycott the brand. The Spokesman of Tata group released a statement after pulling down the ad film, "The idea behind the Ekavatam campaign is to celebrate the coming together of people from different walks of life, local communities and families during these challenging times and celebrate the beauty of oneness. This film has stimulated divergent and severe reactions, contrary to its very objective. We are deeply saddened with the inadvertent stirring of emotions and withdraw this film keeping in mind the hurt sentiments and well-being of our employees, partners, and store staff." They clarified that the only reason they have decided to take down the ad film is to safeguard the interests of their employees who have been assaulted.
Celebrities Reaction
Indian actor Kangana Ranaut, who usually speaks in favor of the right-wing Supports claimed that it glorifies the concept of "Love Jihad and sexism" and vehemently emphasized the point that: civilization needs to be protected. Whereas, Actors like Richa Chadha and Divya Dutta said that they found the ad film to be quite unique and beautiful.