A number of new mobile phones have been announced recently in India. Here are out top 5 picks:
Xiaomi Redmi K20 Pro
Xiaomi smartphones are getting more and more popular because of the strong configuration they offer at an affordable price. The Xiomi Redmi K20 Pro is a great device that bears a 6.39-inch AMOLED display and has Corning Gorilla Glass above the display that acts as an armor against bruises. It offers a screen resolution of 1,080 x 2,340 pixels. It delivers a powerful performance as it has an octa-core Kryo 485 processor which is placed on a Qualcomm Snapdragon 855 chip and. A 6GB RAM and an Adreno 640 GPU handle heavy multitasking. It provides a 64GB non-expandable storage. The Xiaomi Redmi K20 Pro has a wide range of connectivity options including Wi-Fi, Bluetooth v5.0,4G with VoLTE, Mobile Hotspot, etc. There is a triple rear camera having a 48MP main lens, 8MP telephoto lens, and a 13MP super wide-angle sensor.
Samsung Galaxy A80
Samsung has been trying to grab a bigger segment of the Indian smartphone market and plans to launch at least 6-7 Galaxy A series phones this year. The Samsung Galaxy A80 comes with some amazing features. The front camera design, great rear camera, and no notch display are its attractions. The Samsung Galaxy A80 offers a 6.7-inch AMOLED display with a screen resolution of 1,080 x 2,400 pixels. The camera of the device is amazing with the 48MP and 8MP lenses. It is powered by Qualcomm Snapdragon 730G chip and an octa-core processor. This device comes with an inbuilt storage capacity of 128GB, which can alone suffice the need of the users.
OPPO K3
The OPPO K3 comes with a panorama display and gradient back panel. With the mid-range budget, It offers great battery capacity with fast charging features and high-resolution lenses. The OPPO K3 flaunts a tall 6.5-inch AMOLED display that provides an amazing view with the screen resolution of 1,080 x 2,340 pixels. The camera of the device comes with 16MP and 2MP lenses. It gets a 16MP front pop-up lens, which produces great pictures. OPPO K3 has a 2.2GHz dual-core Kryo 360 processor alongside a 1.7GHz hexa-core Kryo 360, which is based on a Qualcomm Snapdragon 710 chip. The OPPO K3 comes with an internal memory of 64GB.
Lenovo Z6 Pro
The Lenovo Z6 Pro is a star device that comes with amazing features. The Lenovo Z6 Pro comes with an AMOLED display, a 6.39-inch display and has a screen resolution of 1,080 x 2,340 pixels. It is protected with Corning Gorilla Glass that keeps away the marks.  It comes with a combination of Qualcomm Snapdragon 855 chip and an Adreno 640 GPU. The primary lens comes with the quad camera setup, having 48MP, 16MP, 8MP, and 2MP sensors and the secondary is a 32MP resolution. To keep the files, data, apps, and games, there is 128GB internal storage that is sufficient. In terms of connectivity, the device has 4G VoLTE support, GPS with A-GPS, NFC, USB Type-C, Wi-Fi 802.11, Mobile Hotspot, Bluetooth, etc
Nokia X71
The Nokia X71 is one of the new generation smartphones that has a very sharp display and good battery backup for the users to enjoy. The Nokia X71 comes with a 2.2GHz quad-core Kryo 260 and 1.8Ghz quad-core Kryo 260 processors that further has Qualcomm Snapdragon 660 MSM8956 chipset. There is a 6.39-inch display that embraces a full HD resolution of 1,080 x 2,316 pixels. The Nokia X71 has two SIM slots and the device has Wi-Fi 802.11, a/ac/b/g/n, Mobile Hotspot, Bluetooth v5.0, and USB Type-C port, in terms of connectivity. The Nokia X71 has an internal storage of 128GB. The Nokia device has a rear camera setup having 48MP, 5MP, and 8MP lenses.
Controversy Around The Tanishq Ad
The new Tanishq Ad film 'Akavatam', which quite tastefully and delicately portrayed an inter-faith couple who are entering another new phase of life has been taken down after the social media bombarded it with hate comments and threats of inflicting violence. One of the Tanishq stores in Gujrat's Gandhidham was threatened by the fringe group and the store manager was forced to write a note of apology for broadcasting an advertisement based around the theme of inter-faith marriage.  As observed by many, the problem is not the content that was being presented but the theme itself. The Right-wing supports found it offensive that ad film promoted love jihad by showing a Hindu girl who was married to a Muslim family.
The Issue With Freedom Of Speech In India
The banning of such books, films, shows, and plays is not new in India. Books like Satanic Verses by Salman Rushdie had been banned during the time when Rajiv Gandhi was in the office. The excuse that was dished out was to protect the citizens from inflicting violence on each other. But in doing so, India is barring the citizens to express themselves freely and utilizing their fundamental right of free speech. As long as the book or a movie follows the rulebook of the government, banning is not imposed. Thus, the entire idea behind freedom of speech and expression collapses.
Western Governments on the other hand has come to terms with the fact that the simplest issues will create a rupture among the mass. The world is filled with bigots and will remain so and no banning of books or movies or ad films will bring them ultimate satisfaction. Western Governments, thus, decided to protect free speech and free expression knowing that certain sectors will resort to violence.
The Effect Of  The Online Hate Campaign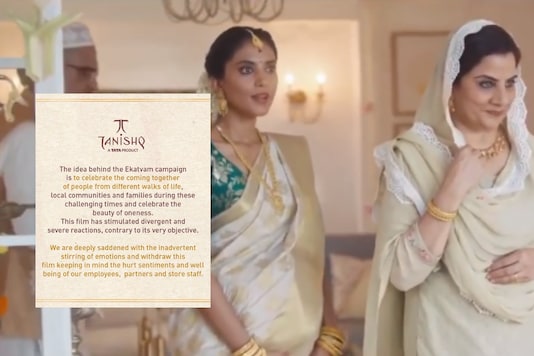 The Tata group also decided to pull down the ad film in the face of dissent and after they saw that people are trying to boycott the brand. The Spokesman of Tata group released a statement after pulling down the ad film, "The idea behind the Ekavatam campaign is to celebrate the coming together of people from different walks of life, local communities and families during these challenging times and celebrate the beauty of oneness. This film has stimulated divergent and severe reactions, contrary to its very objective. We are deeply saddened with the inadvertent stirring of emotions and withdraw this film keeping in mind the hurt sentiments and well-being of our employees, partners, and store staff." They clarified that the only reason they have decided to take down the ad film is to safeguard the interests of their employees who have been assaulted.
Celebrities Reaction
Indian actor Kangana Ranaut, who usually speaks in favor of the right-wing Supports claimed that it glorifies the concept of "Love Jihad and sexism" and vehemently emphasized the point that: civilization needs to be protected. Whereas, Actors like Richa Chadha and Divya Dutta said that they found the ad film to be quite unique and beautiful.