Why Climate Change should be declared State Emergency?
We all know the bad consequences of Global Warming and the threats it created for our planet. We all are directly or indirectly facing issues caused by a climatic disorder in our daily life. Climate change is the real issue which we are ignoring from the last 20 years. Shrinking Glaciers, rising sea-water level, intense heat waves are the consequences of Climate change that the environment is facing from past.
Scientists have already said that the earth's temperature will continue to rise. IPCC's reports shows," the extent of climate change effects on individual regions will vary over time and with the ability of different societal and environmental systems to mitigate or adapt to change". IPCC is the Intergovernmental Panel on Climate Change is a reputed panel which works on reporting climate change and measuring its adverse effects.
Climate Change Performance Index (or CCPI) provides a ranking of countries based on their aggregated performance regarding 14 different indicators within four specific categories namely GHG Emissions, Renewable Energy and Energy Use, and Climate Policy, in a unique policy section of the index.
Sweden, Morocco, Lithuania are the top three performers while Saudia Arabia, United States, and Iran are the bottom three performers.
These countries need to take the issue seriously and initiate the steps to improve their ranking. The United States, being one of the developed and powerful countries would definitely don't want to see itself at the bottom in the list.US hosted several conferences, summits on their own land, made policies and did agreements to improve climate change, it's surprising to see the US performing that bad.
The consequences are scary and overwhelming. We usually think that these issues are not to concern about, it's the responsibility of Scientists and Political leaders to think about it. But, it's that time when we need to stop thinking about other issues and start thinking about the real 'Climate Change' which is going to ruin the human civilization one day.
As a good sign of concern, in April, the UK parliament became the world's first national legislative body to declare a state of climate emergency. This historic move is taken as a result of rebellion protests done by protesters. They blocked traffic in main parts of central London for a week in April. Their demands were simple and clear: achieve carbon neutrality by 2025 and create a citizens' assembly to help with that process. The protesters and climate activists embraced the parliament decision and hoping for a better future.
After UK's appreciable decision on May 1, Ireland declared a climate emergency to become the only second country in the world.
Though the decision is hope for a better future the experts say that we can't rely on the policies and agreement, we need to eliminate emissions by 2028. The Harward University Professor James Anderson did a research and the reports can scare you for sure. His reports conclude that the Greenland ice sheet is melting four times faster than the original speed and it can alone raise the sea-level by 23 feet.
Recently, in Late June, New York became the largest city in the world to call an immediate climate emergency. After that, Los Angeles's established a "Climate Emergency Mobilization Department" to increase the co-operation between citizen and govt. authorities to take action against Earth-warming emissions.
We could hope for more countries to come forward and declare Climate change a state emergency.
Government Answer On Migrant Crisis
With the starting of the Monsoon session as the parliamentary activities are finally moving, members are all set with their questions for the ruling party. Trinamool Congress MP Mala Roy has questioned Home Ministry about steps taken for the protection of Migrant crisis. Due to the imposition of stringent lockdown in wake of Co-Vid19 labors faced the most of heat. Lack of employment, lack of funds to survive and no transportation to move have contributed to their woes. Mala Roy asked in her question that what actions the Government took to protect them.
Centre says, "No data of migrants"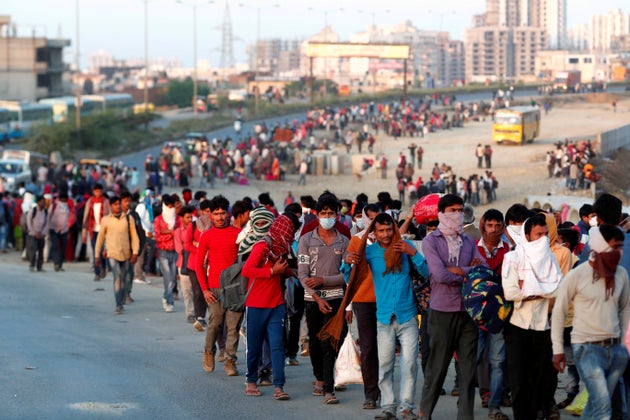 Centre informed in Parliament there is no such data available. Replying to Mala Roy's question and several such questions Ministry of Labour and Employment said that there is no recorded data about the death of Migrants available. A report by World Bank states that due to April's lockdown in the nation about 40 million internal migrants have been hit by employment crisis. Furthermore, to the question, whether any steps are taken for the protection of migrants or any compensation was given? Centre answered that since there is no data no question of compensation. No recorded data of the unemployment due to Covid is found.
Steps taken by the center
One after other shocker is received as Centre has no data of Migrants. Fruit sellers, hawkers, daily wage workers and unskilled labours working in factories are worst hit. The government said that as a country India responded by the local bodies, state governments, NGOs and many others. Government has started special Shramik trains for the labourers. Many facilities are made to help them survive. As the distribution of Cereals, Pulses, Sugar, vegetable spices and water for free.
In some places, cooked food is also distributed for free. Labour Ministry chief said that 1164 trains have operated to help migrants reach their homes. Almost 10.4 million labours have returned. Most of the labours or migrants who have been successfully dropped to their homes are in states of Uttar Pradesh and Rajasthan. On questions of deaths of migrants while on their way to home or even in trains center replies as- non-availability of data.
Data from states are found that almost 63.7 lakh stranded labours are returned to home by Shramik special train. Other migrants who set their journey on foot or by hitch-hiking is still not found. In trains 110 deaths are found to report. The reasons are many some because if illness, some due to accidents, lack of food and non-availability of water. In June the Chief of Labour Commission is ordered to meticulously record data of migrants from various sources under the orders by Central Information Commission. In many states and union territories the advisory guidelines are invoked. Orders are been given to maintain updated labour laws.
The state of labours and migrants is still bad. There seems to be no significant improvement. Due to the labour employment crisis financial wellbeing of country has also taken a hit. In upcoming sessions, the labour crisis and government's actions on it will de looked into with even more depth.