Yoga:Is It The Need Of The Hour?
The latest statistics show that improving flexibility is the most popular reason for starting yoga, and research does prove that it's one of the biggest benefits of regular practice.
However there are a number of asanas that can help to make you more flexible than the rest.
Did you know that the spinal cord is responsible, in some way or the other, to keep the whole body together and healthy? It is the root that strengthens and keeps the body erect. But thanks to our sedentary, unhealthy lifestyles, most of us are stuck with a whole lot of back problems, sciatica included. Being a victim of a weak spine myself, I know how difficult it can be to cope with the pain. What's more? A bad posture and a paunch.
Not anymore! Time to snap out of the pain, the slouching, and the lethargy. Practicing these few simple yoga asanas every day will strengthen your back and help reduce the pain, while also enhancing your posture. Is yoga good for back pain? And the answer is definitely yes! These asanas might seem challenging to you in the beginning. But with practice, and as your back feels more erect, you will ease into the poses and enjoy them too.
This is how yoga eases out your back pain.
It helps strengthen your back, hamstrings, as well as hip flexors and makes them more flexible.

It helps to ease stress and anxiety levels and also calms you down.

It improves and stimulates blood circulation.
One of the famous Poses:
1. Bhujangasana
The eighth pose of the 12 poses of the Surya Namaskar, Bhujangasana is also called the Cobra Pose. It is one of the most important backward bending asanas in yoga. In this asana, the trunk and head resemble the raised hood of a cobra. Bhujanga means cobra in Sanskrit.
How To Do It
Lie flat on your stomach. Place your hands on the side and ensure that your toes touch each other.
Then, move your hands to the front, making sure they are at the shoulder level, and place your palms on the floor.
Now, placing your body's weight on your palms, slowly raise your head and trunk. Note that your arms should be bent at your elbows at this stage.
You need to arch your neck backwards, in an attempt to replicate the cobra with the raised hood.
Hold the asana for a few seconds while breathing normally. Feel your stomach pressed against the floor. With practice, you should be able to hold the asana for up to two minutes.
To release the pose, slowly bring your hands back to the sides, and rest your head on the ground by bringing your forehead in contact with the floor. Place your hands under your head. Then, slowly rest your head on one side and breathe.
Repeat this pose thrice for best results.
Variation
This asana has a variation called the Bheka Bhujangasana, where the legs are bent at the knees, and the feet are joined.
Benefits
The Bhujangasana affects the back and the abdomen. The muscles on the back and lower back are worked, and the spine's flexibility is increased. The back is strengthened, and any kind of stress and pain in the back is relieved.
It also tones the organs that lie in the lower abdomen. It stimulates the digestive, reproductive, and urinary systems. It also helps regulate metabolism, thus regulating the weight.
Read More:Zomato And Swiggy Have Started Delivering Across Cities
Government Answer On Migrant Crisis
With the starting of the Monsoon session as the parliamentary activities are finally moving, members are all set with their questions for the ruling party. Trinamool Congress MP Mala Roy has questioned Home Ministry about steps taken for the protection of Migrant crisis. Due to the imposition of stringent lockdown in wake of Co-Vid19 labors faced the most of heat. Lack of employment, lack of funds to survive and no transportation to move have contributed to their woes. Mala Roy asked in her question that what actions the Government took to protect them.
Centre says, "No data of migrants"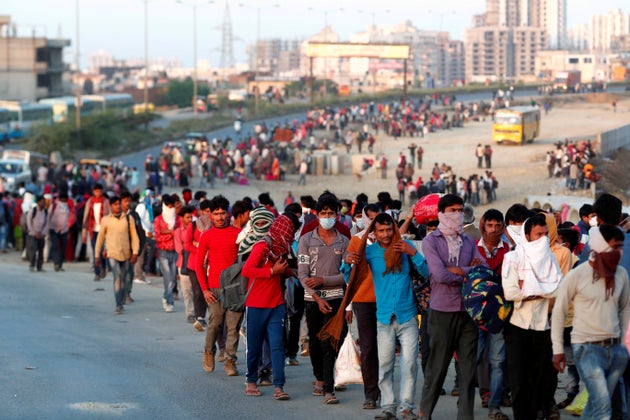 Centre informed in Parliament there is no such data available. Replying to Mala Roy's question and several such questions Ministry of Labour and Employment said that there is no recorded data about the death of Migrants available. A report by World Bank states that due to April's lockdown in the nation about 40 million internal migrants have been hit by employment crisis. Furthermore, to the question, whether any steps are taken for the protection of migrants or any compensation was given? Centre answered that since there is no data no question of compensation. No recorded data of the unemployment due to Covid is found.
Steps taken by the center
One after other shocker is received as Centre has no data of Migrants. Fruit sellers, hawkers, daily wage workers and unskilled labours working in factories are worst hit. The government said that as a country India responded by the local bodies, state governments, NGOs and many others. Government has started special Shramik trains for the labourers. Many facilities are made to help them survive. As the distribution of Cereals, Pulses, Sugar, vegetable spices and water for free.
In some places, cooked food is also distributed for free. Labour Ministry chief said that 1164 trains have operated to help migrants reach their homes. Almost 10.4 million labours have returned. Most of the labours or migrants who have been successfully dropped to their homes are in states of Uttar Pradesh and Rajasthan. On questions of deaths of migrants while on their way to home or even in trains center replies as- non-availability of data.
Data from states are found that almost 63.7 lakh stranded labours are returned to home by Shramik special train. Other migrants who set their journey on foot or by hitch-hiking is still not found. In trains 110 deaths are found to report. The reasons are many some because if illness, some due to accidents, lack of food and non-availability of water. In June the Chief of Labour Commission is ordered to meticulously record data of migrants from various sources under the orders by Central Information Commission. In many states and union territories the advisory guidelines are invoked. Orders are been given to maintain updated labour laws.
The state of labours and migrants is still bad. There seems to be no significant improvement. Due to the labour employment crisis financial wellbeing of country has also taken a hit. In upcoming sessions, the labour crisis and government's actions on it will de looked into with even more depth.